There's nothing better than waking up with a hankerin' for a hearty, mouth-watering breakfast. And when it comes to whippin' up a delicious dish to share with family and friends, Mexican scrambled eggs never fail to impress!
First impressions matter in the kitchen, and when it comes to ingredients, quality is key. To make these delectable eggs, start by picking up some fresh eggs and veggies from your local farmer's market – it'll make all the difference, trust me.
With my trusty knife, I get to choppin' those colorful bell peppers, onions, and jalapeños. You know, adding a little heat to your dish creates a zest for life like nothin' else! I also dice up those juicy tomatoes just right and set them aside for later. Pro tip: don't skip the cilantro, it makes everything taste so dang fresh.
As they say, variety is the spice of life, so let's mix it up a bit – I like to add some Mexican chorizo to my scrambled eggs. Cookin' it nice and slow, breakin' up the chorizo as it cooks, fills the air with that mouthwatering aroma.
Now it's time to crack those fresh eggs we've been dyin' to use! I whisk 'em up with a pinch of salt and a smidge of pepper, then pour them over the heavenly smellin' chorizo, stirrin' the mixture as it cooks.
Once the eggs start to set, it's veggie time! I toss in those fabulously diced bell peppers, onions, and jalapeños, and watch as the eggs get a punch of powerful colors. Quick tip for true Mexican vibes: speak to your scramble in your best accent, it'll thank you later. Now, fold in those bright red tomatoes and fresh cilantro, and let this fiesta of flavors finish cookin'. Can't have a proper scramble without a cheesy grand finale, so sprinkle some queso fresco on top!
The whole house wakes up to the intoxicating aroma of my Mexican scrambled eggs, and I can't help but smile as everyone digs in. Buen provecho!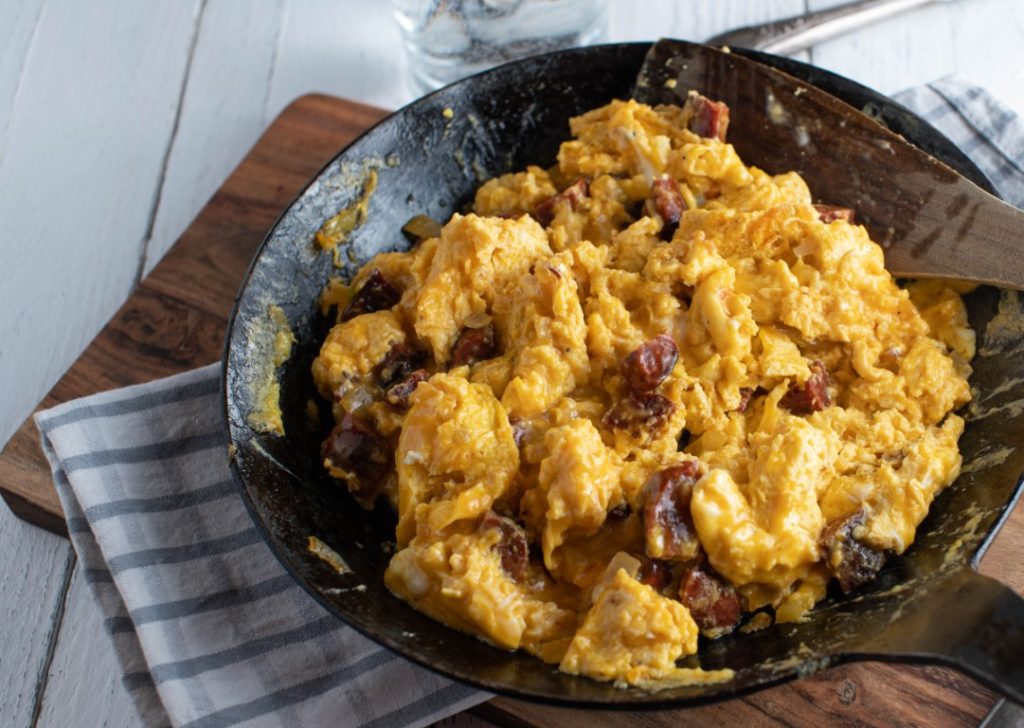 Gather ingredients: 6 fresh eggs, 1 bell pepper (color of choice), 1 small onion, 1 jalapeño, 2 medium tomatoes, 1/2 cup chopped cilantro, 1/2 lb Mexican chorizo, salt and pepper, 1/3 cup crumbled queso fresco.
Finely dice bell pepper, onion, jalapeño, and tomatoes; set aside.
Chop cilantro; set aside.
Preheat a large non-stick skillet over medium heat.
Add chorizo to the skillet, ensuring to break it up into small pieces, and cook until it starts to brown.
While chorizo cooks, crack eggs into a bowl, season with salt and pepper, and whisk.
Pour whisked eggs over cooked chorizo in the skillet, stirring the mixture occasionally as it cooks.
Once eggs begin to set, add diced bell pepper, onion, and jalapeño, stirring to evenly distribute.
Allow mixture to cook for a few minutes until vegetables begin to soften.
Fold in diced tomatoes and chopped cilantro, cooking until the tomatoes have warmed through.
Remove skillet from heat and sprinkle crumbled queso fresco on top.
Let the scramble sit for a minute to slightly melt the cheese.
Serve with warm corn tortillas or crusty bread and enjoy your Mexican scrambled eggs!
That was fresh!