Holy smokes! When the sun's shining and the grill's fired up, there's nothing I love more than treating my family and friends to a mouthwatering, spicy grilled shrimp extravaganza. It's the perfect way to add a little sizzle to our backyard get-togethers, and it never fails to have everyone coming back for more!
First things first, I head to the local fishmonger to pick up some fresh, juicy shrimp. You can't skimp on quality when it comes to seafood, that's for sure! With my shrimp in hand, it's time to whip up a fiery marinade that'll have our taste buds dancing for joy.
In a large mixing bowl, I combine a generous glug of olive oil, a squeeze of zesty lime juice, a pinch of red pepper flakes, and a smattering of minced garlic. I'm telling you, this mix is a flavor bomb waiting to happen! I toss in the shrimp, making sure they're all coated in that spicy goodness, and let them marinate for about half an hour. No need to overdo it – you want the shrimp to soak up those flavors without turning mushy.
With my shrimp all fired up and ready to go, I thread them onto skewers, fire up the grill, and lay them down to sizzle. The smell alone is enough to make your mouth water! I give them a quick flip after a few minutes, making sure they're cooked to perfection without drying out.
Finally, it's time to serve up my spicy grilled shrimp masterpiece! I pile the skewers high on a platter, garnish with a sprinkling of chopped cilantro, and pass them around to my eagerly awaiting guests. As we dig in, it's clear that my spicy grilled shrimp has truly set our taste buds ablaze – in the best possible way!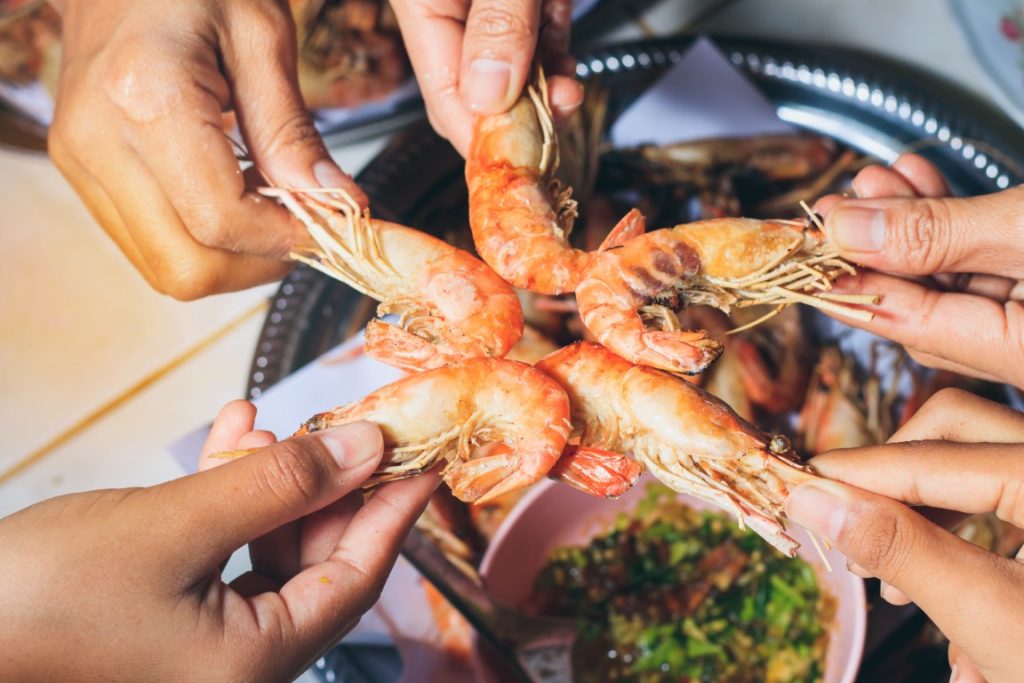 Ingredients:
1 lb. large shrimp, peeled and deveined
2 tablespoons olive oil
1 tablespoon paprika
1 tablespoon chili powder
1 teaspoon garlic powder
1 teaspoon onion powder
1/2 teaspoon cayenne pepper (adjust to desired level of spiciness)
Salt and black pepper, to taste
Skewers (if using wooden skewers, soak them in water for at least 30 minutes prior to using to prevent burning)
Instructions:
Preheat your grill to medium-high heat.
In a bowl, combine olive oil, paprika, chili powder, garlic powder, onion powder, cayenne pepper, salt, and black pepper.
Add the shrimp to the bowl and toss until evenly coated in seasoning.
If using wooden skewers, thread the shrimp onto the skewers, leaving a little bit of space between each shrimp.
Once the grill is hot, place the skewers on the grill and cook for 2-3 minutes per side, or until pink and slightly charred.
Remove the skewers from the grill and transfer to a serving dish.
Serve hot with your favorite dipping sauce or over a bed of salad for a light and refreshing meal.
That was fresh!