Ah, the magical wonders of a heartwarming cream of mushroom soup! It's about time I share my all-time favorite recipe and take you along for the ride. And let me tell you, folks, this isn't your run-of-the-mill canned concoction. This homemade masterpiece will put you on cloud nine with its delightful dance of flavors that'll have everyone clamoring for seconds.
But first, a quick trip to the market to grab some fresh and flavorful ingredients. You know the old saying – you're only as good as the tools you're working with! I like to get my hands on some button mushrooms or even crimini if they're available. And let's not forget our lovely vegetable friends like onions and carrots.
Once the kitchen is stocked, it's time to get this show on the road! Before diving in, remember the golden rule of cooking: always wash your hands – because, well, that's just common sense. Back to the soup – it's essential to give the mushrooms a thorough rinse and pat dry. You don't want any dirt or grit hanging around at our soup party!
Then, the magic begins with sautéing diced onion and garlic until they're nice and tender. Oh, the aroma that fills the kitchen… it's practically music to my taste buds! I like to throw in the carrots, celery, and mushrooms next, sautéing them for a few minutes until they soften up.
Wait! Can't forget the pièce de résistance – a generous dollop of butter! Watching it melt into those veggies, enveloping them like a cozy blanket, makes my heart skip a beat every time. And now, to thicken the plot – er, I mean, soup – let's whisk in a bit of flour to give it that rich, creamy texture we all know and love.
At this point, our little melody of flavors gets a boost from vegetable broth, a touch of salt and pepper, and a drop (just a drop!) of my secret weapon – Worcestershire sauce. What can I say? Some things are better kept under wraps.
Finally, the grande finale: all these wonderful ingredients simmer for about 30 minutes, melding and mingling like a symphony. Once softened to perfection, it's time to blend everything together until smooth, silky, and oh-so-satisfying. And before you know it, we have homemade cream of mushroom soup that's ready to be served and savored by all!
Let me tell you, my friends, it's simply impossible not to fall head over heels for this step-by-step serenade to sublime cream of mushroom soup. Bon appétit!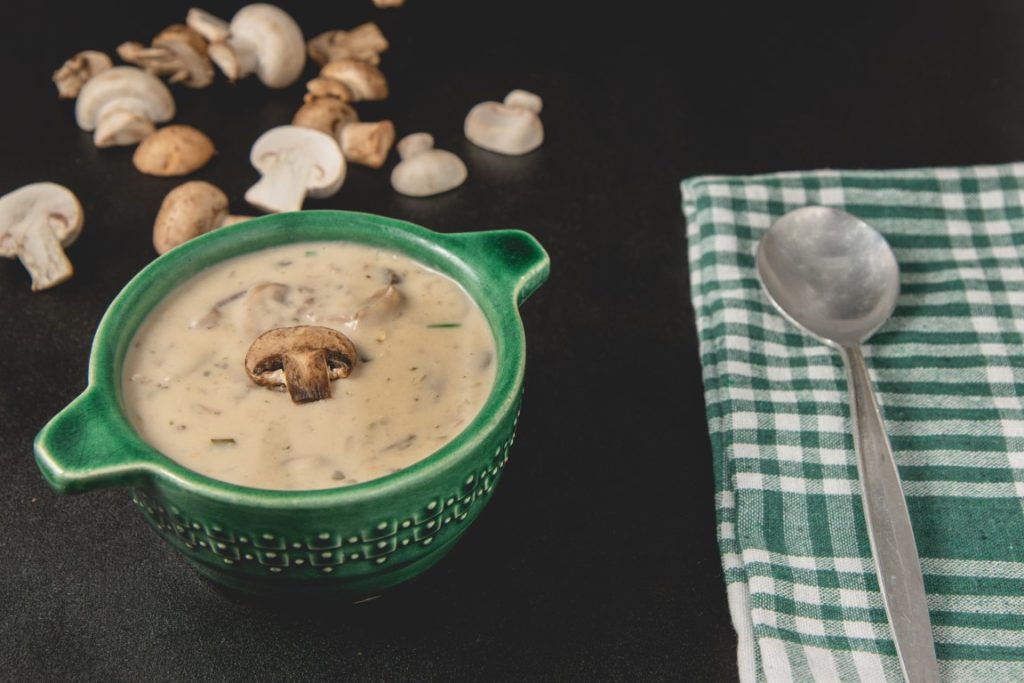 Cream of Mushroom Soup Recipe:
Ingredients:
1 lb fresh button or crimini mushrooms, cleaned and sliced
1 medium onion, diced
2 cloves garlic, minced
2 medium carrots, chopped
2 celery stalks, chopped
4 cups vegetable broth
1/3 cup all-purpose flour
1/3 cup unsalted butter
2 cups whole milk or heavy cream
1 tbsp Worcestershire sauce (optional)
Salt and pepper, to taste
Chopped parsley or fresh chives for garnish (optional)
Instructions:
In a large soup pot, melt butter over medium heat.
Add diced onion and garlic, sauté until softened, about 3-4 minutes.
Add the chopped carrots and celery, continue to cook for another 3-4 minutes.
Stir in the sliced mushrooms and cook until slightly softened, about 5 minutes.
Add flour to the pot, quickly mixing it with the vegetables to form a paste (roux). Cook for 1-2 minutes.
Slowly pour in the vegetable broth while continuously stirring to combine and eliminate any lumps of flour.
Bring the soup to a boil, then reduce heat to a simmer.
Add the Worcestershire sauce (if using), salt, and pepper, stirring well.
Allow the soup to simmer for about 30 minutes or until the vegetables are tender.
Use an immersion blender or carefully transfer the soup to a blender (in batches, if needed) to blend the soup until smooth and creamy.
Return the soup to the pot and stir in the milk or heavy cream. Warm over low heat until heated through.
Taste and adjust seasoning with additional salt and pepper, if desired.
Serve hot, garnished with chopped parsley or chives, if desired.
Enjoy your homemade Cream of Mushroom Soup!
That was fresh!