If there's one thing I'm known for among my family and friends, it's my undying love for cooking up a storm in the kitchen. I've got this burning passion to try new things and explore the culinary world at every opportunity. And one of my all-time favorite dishes to whip up is my homemade Four Cheese Margherita Pizza, packed with fresh ingredients and oozing with flavor.
Now, you may be thinking, What's so special about a Margherita Pizza? or I can just swing by that pizzeria on the corner, right? Well, let me tell you, once you've tried my fresh homemade version, you'll never go back to the store-bought ones. It's like night and day, really!
I start by making the pizza dough from scratch (I know, it's a bit of a hassle, but trust me, it's worth it), using a trusty recipe that's been passed down through generations. Once the dough is ready to roll (quite literally), I shape it into the perfect pizza pie, ensuring the crust is just the right thickness – not too thin, not too thick. And, of course, I always make a little extra for those who prefer a stuffed crust. Yum!
Now it's time to bring on the stars of the show: the cheeses! I'm talking about a heavenly blend of mozzarella, parmesan, ricotta, and gorgonzola, each bringing their own unique taste and texture to the mix. To balance the cheese extravaganza, I add fresh, thinly sliced tomatoes and a sprinkle of basil, taking this dish to the next level. A little drizzle of olive oil, and it's ready for the oven.
I let that bad boy cook until the crust is golden and the cheeses are melted and bubbly. The aroma wafting through the house is enough to make anyone's mouth water. As I pull it out of the oven, my family and friends are already gathering around, eager to grab a slice of the cheesy goodness.
So the next time you're craving a pizza, why not give this magnificent Four Cheese Margherita a go? Trust me – it'll be a hit!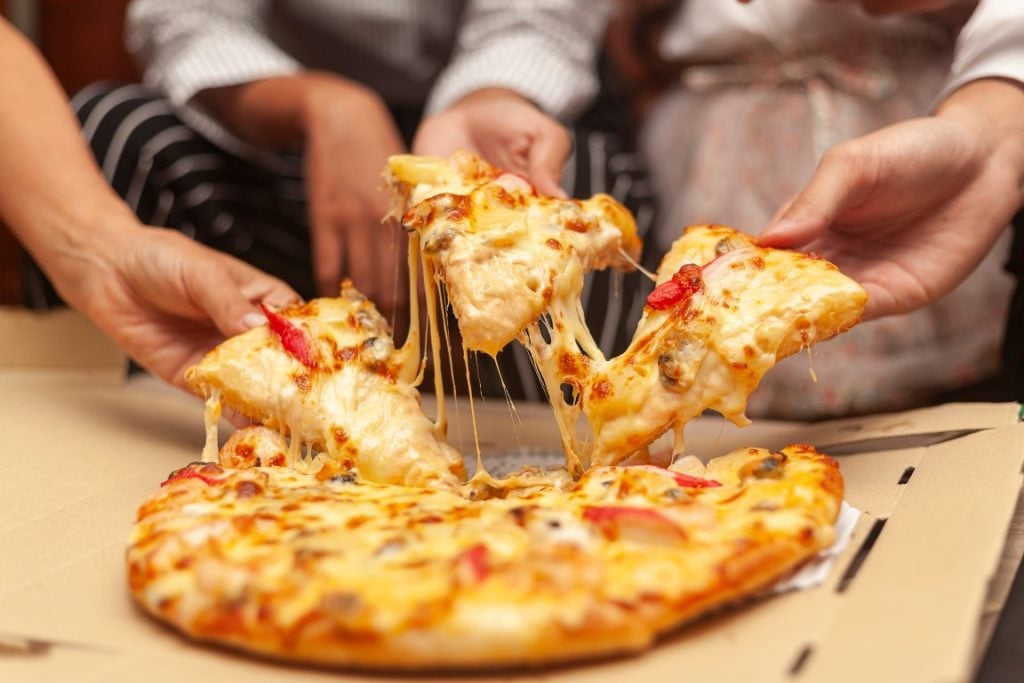 Prepare the pizza dough:
a. Combine 2 cups all-purpose flour, 3/4 cup warm water, 1 tablespoon sugar, 1 teaspoon salt, and 2 1/4 teaspoons instant yeast in a large mixing bowl.
b. Mix and knead the dough until it's smooth and elastic.
c. Place the dough in a greased bowl and cover with a clean kitchen towel.
d. Allow it to rise for 1-2 hours, or until it has doubled in size.
Preheat the oven to 475°F (245°C) and place a pizza stone or baking sheet in the oven to heat up.
Prepare the cheese blend:
a. Grate 1 cup of mozzarella cheese and 1/2 cup of parmesan cheese.
b. Combine the grated cheeses with 1/2 cup ricotta cheese and 1/4 cup crumbled gorgonzola cheese in a bowl.
Slice 2-3 ripe tomatoes into thin slices.
Chop a handful of fresh basil leaves.
Roll out the pizza dough on a floured surface, shaping it into a circle with your desired thickness.
Transfer the rolled-out dough onto a piece of parchment paper or a pizza peel dusted with cornmeal.
Spread an even layer of the cheese blend over the dough, leaving a 1-inch border around the edges for the crust.
Arrange the tomato slices on top of the cheese layer.
Sprinkle the chopped basil over the tomatoes.
Drizzle the pizza with 1-2 tablespoons of extra-virgin olive oil.
Slide the pizza onto the preheated pizza stone or baking sheet in the oven.
Bake for 12-15 minutes, or until the crust is golden brown and the cheese is bubbly and melted.
Remove the pizza from the oven and let it cool for a few minutes before cutting into slices and serving. Enjoy your homemade Four Cheese Margherita Pizza!
That was fresh!