Oh boy! It's that time of the week again when my kitchen turns into a bustling bazaar of fragrances and flavors, ready to transport my loved ones to the exotic land of India. You know, there's just something about preparing Chana Masala that makes my heart sing and my taste buds dance.
First things first, you can't make a rockin' Chana Masala without chickpeas. Nope, it just won't do. I always make sure to use the freshest, plumpest little garbanzos I can find. Nothing but the best for my family and friends!
Now, a proper Chana Masala can't just be thrown together willy-nilly. Oh no, it's a labor of love that starts with a tantalizing mix of spices – we're talkin' cumin, coriander, turmeric, and garam masala. Throw in some hot cayenne pepper if you're feeling bold, but, hey, it's not for the faint of heart.
Once my spices are all lined up and ready for action, it's onion chopping time. I know, I know – it's a tear-jerking task, but no one ever said that love was easy, did they? And hey, a little trick I've learned is to keep a piece of bread in your mouth while you chop – it helps keep the tears at bay!
Now that those pesky onions are all softened up in some sizzlin' oil, it's time to let the garlic and ginger join the party. Oh man, the smell of these two rockstars together is simply divine. A few seconds more and it's time to toss in those aromatic spices, baby!
Before you know it, my whole house is fillin' up with the exotic smells of India. Once those spices have cooked out and my tomatoes are reduced to a lip-smacking, saucy goodness, in go those lovely chickpeas I carefully selected.
As the Chana Masala simmers away, the anticipation in the room is palpable. Everyone knows something magical is brewing in my kitchen. So, here's a little something I like to do – I pop in a couple of cardamom pods just for an extra hint of mystery. It's the secret ingredient that'll have 'em coming back for seconds, trust me!
Finally, it's time to eat. This Chana Masala has been pampered, nurtured and coaxed into a mouthwatering masterpiece, and we can't wait to dive in. So, gather 'round, everyone, grab a piece of warm naan bread or a heapin' spoonful of rice, and indulge in the magical taste of Chana Masala. Your belly will thank you. Cheers!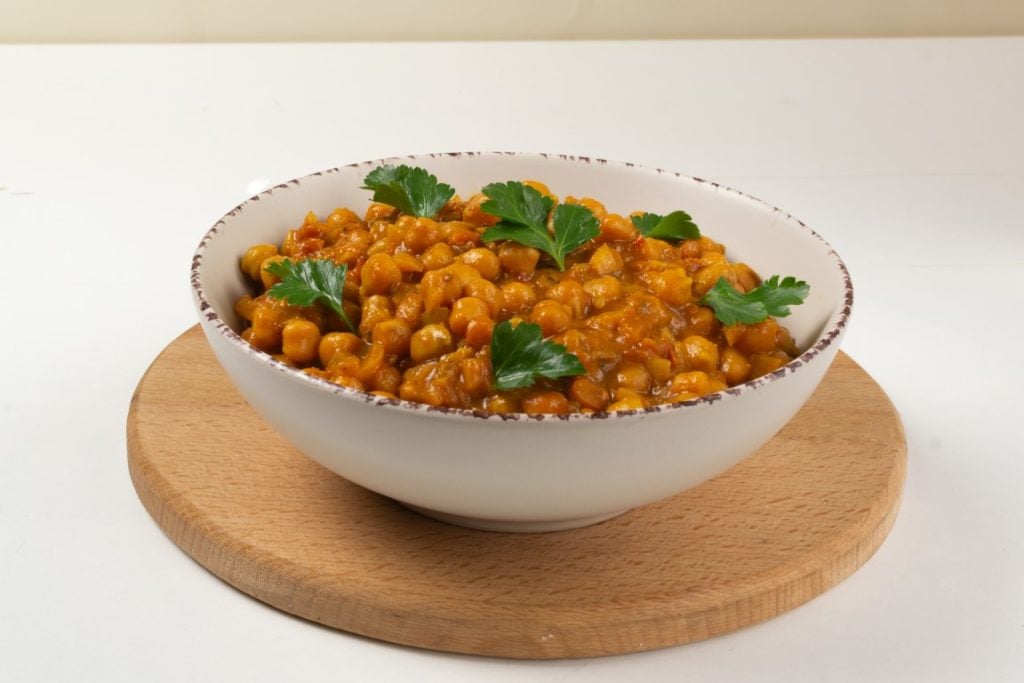 Ingredients:
2 cups cooked chickpeas (drained and rinsed if using canned)
2 tbsp vegetable oil
1 large onion (finely chopped)
3 garlic cloves (minced)
1-inch piece of ginger (grated)
1 tsp ground cumin
1 tsp ground coriander
1/2 tsp ground turmeric
1 tsp garam masala
1/4 tsp cayenne pepper (optional)
1 can (14 oz) crushed tomatoes
1/2 tsp salt
2 cardamom pods (optional)
Fresh cilantro (chopped, for garnish)
Cooked rice or naan bread (for serving)
Instructions:
a. Heat oil in a large skillet or saucepan over medium heat.
b. Add onions and cook until soft and translucent, about 5-7 minutes.
c. Stir in garlic and ginger, cook for 1-2 minutes until fragrant.
d. Add cumin, coriander, turmeric, garam masala, and optional cayenne pepper. Stir well to ensure even distribution of spices.
e. Pour in the crushed tomatoes and salt. Stir well and let the mixture come to a simmer.
f. Add the cooked chickpeas to the saucepan, stirring well to coat with the tomato-spice mixture.
g. Drop in cardamom pods, if using.
h. Cover the saucepan, reduce heat to low and let the Chana Masala simmer gently for 15-20 minutes, stirring occasionally.
i. Remove from heat and discard the cardamom pods.
j. Garnish with chopped fresh cilantro.
k. Serve hot, accompanied by cooked rice or warm naan bread.
That was fresh!