Oh, the unending joy of cooking for my loved ones! The kitchen is my sanctuary, the place where I can experiment and whip up some scrumptious meals. And speaking of which, one of my favorite treats to prepare is none other than the delightful, healthy, and oh-so-versatile hummus. I mean, who doesn't love a good dip, right?
Now, making hummus from scratch is a piece of cake. Oops! I meant, it's as easy as pie – no baking involved, I promise. The essential ingredients you'd need are as follows: chickpeas, tahini (think: sesame seed's pride and joy), lemon juice, garlic, olive oil, and just a pinch of salt. You see, it really doesn't take much to make a bowl full of goodness.
So, starting off, I always make sure to use cooked chickpeas – either canned or boiled from the good ol' bag of dried ones. Honestly, it's perfect to solve that Hunger Games situation. You know, when your stomach's making a racket, and you can't decide whether to cook a feast or just indulge in some chips and dip.
Once I have my chickpeas ready, it's time for my trusty food processor to work its magic. In go the chickpeas, tahini, lemon juice, garlic, and that pinch of salt. Uh-oh, forgot to mention, if you're feeling fancy, go ahead and throw in a dusting of cumin too. Next, it's all about achieving that smooth, creamy texture. The secret? Drizzling in some olive oil while the food processor runs, taking it from a chunky mess to a silky smooth wonder.
After that, bam! Your homemade hummus is ready to be gobbled up. But wait, don't forget presentation is key. So, I usually scoop that hummus goodness into a beautiful bowl, create a little indent in the center, drizzle some more olive oil and sprinkle with a pinch of paprika or chopped parsley. Let's say it adds that extra oomph and wow-factor.
Serve it with some crackers, carrot sticks, cucumber slices, or pita, and watch your friends and family go to town on it. The best part? Not only is it absolutely delicious, but it's also brimming with health benefits. Who says you can't find the perfect combo of taste and nutrition? Happy hummus-making, folks!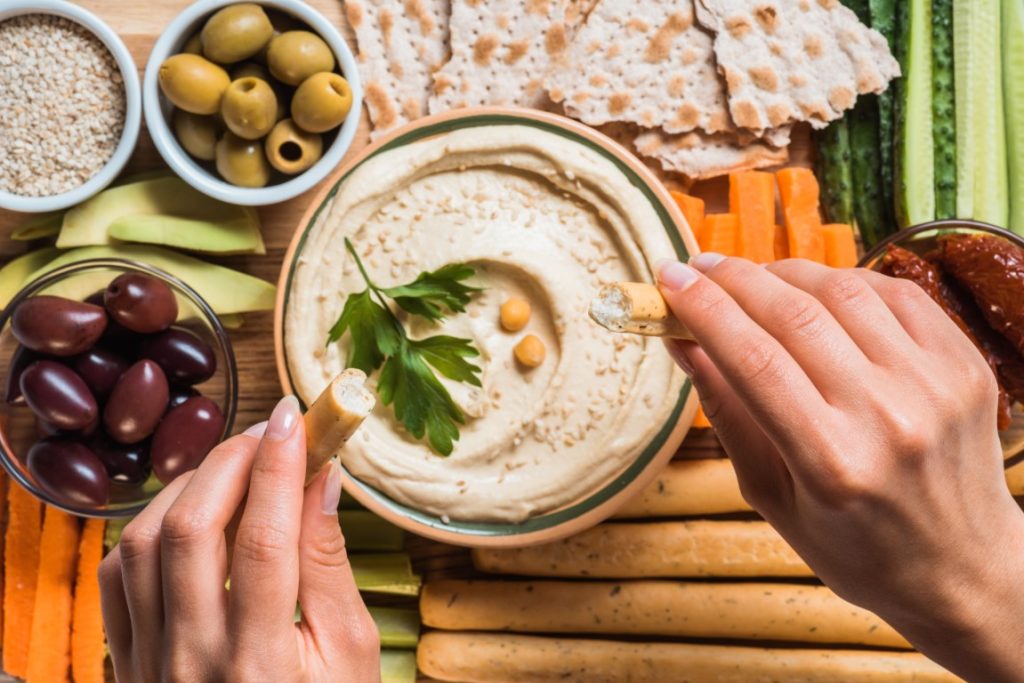 Gather your ingredients:
– 1 and 1/2 cups cooked chickpeas (either canned or boiled from dried chickpeas)
– 1/3 cup tahini
– Juice from 1 lemon (about 3 tablespoons)
– 1 to 2 cloves of garlic, minced
– 1/4 cup extra virgin olive oil, plus more for drizzling
– 1/2 teaspoon salt (adjust to taste)
– Optional: 1/4 teaspoon ground cumin, a pinch of paprika, and some chopped parsley for garnish
Place the following ingredients into a food processor:
– Cooked chickpeas
– Tahini
– Lemon juice
– Minced garlic
– Salt
– Optional: ground cumin
Instructions:
Turn on the food processor and blend the ingredients, scraping down the sides as needed.
While the food processor is still running, slowly drizzle in the 1/4 cup of olive oil. Continue blending until the hummus is smooth and creamy.
Taste and adjust the seasoning if needed, adding more salt, lemon juice or garlic as per your preference.
Transfer the hummus to a serving bowl.

Optionally, create a shallow indent in the center of the hummus for additional olive oil.

Garnish the hummus with a drizzle of olive oil, a pinch of paprika, and some chopped parsley (if desired).
Serve the hummus with your choice of crackers, carrot sticks, cucumber slices, pita chips or bread for dipping. Enjoy!
That was fresh!