Boy, do I love cooking for my dear family and friends! And let me tell you, when it comes to whipping up something fresh and healthy, there's no holding me back. Today, I'm going to share my spin on a classic cobb salad, a mouth-watering delight the whole gang's sure to love. Get ready for a flavor explosion, folks!
To kick things off, I make a mad dash to the local farmers' market early in the morning to grab the freshest ingredients possible. They say you eat with your eyes first, right? No skimping on vibrant, crunchy veggies here! I hunt down some beautifully ripe cherry tomatoes, plump avocados, and leafy romaine lettuce – the backbone of our scrumptious cobb salad.
Now, for the delicious part. When it comes down to the proteins, I'm no stick-in-the-mud; I get a little creative with it. Sure, grilled chicken is a classic choice, but I've been known to throw in some juicy shrimp, salmon, or even tofu in the mix! It keeps things fresh and exciting, and the crew never knows quite what to expect!
Once I've cooked my protein to perfection, I start assembling my colorful masterpiece. Oh, the anticipation! In a humongous salad bowl, I lay out a bed of crisp romaine lettuce, then go ahead and toss in those juicy cherry tomatoes and avocado chunks. Is your mouth watering yet?
Next, I sprinkle in some crumbled blue cheese and crunchy bacon bits for that perfect blend of salty and tangy. Holy smokes, we're almost there! Lastly, I drizzle some homemade buttermilk dressing on this culinary work of art, and – voilà! – my mouth-watering cobb salad is ready for devouring.
It's time to call in the troops and watch their eyes widen with delight as they dig into this fresh, scrumptious masterpiece. This cobb salad is sure to keep their taste buds guessing and entertained, just like our mealtime conversations. Bon appétit!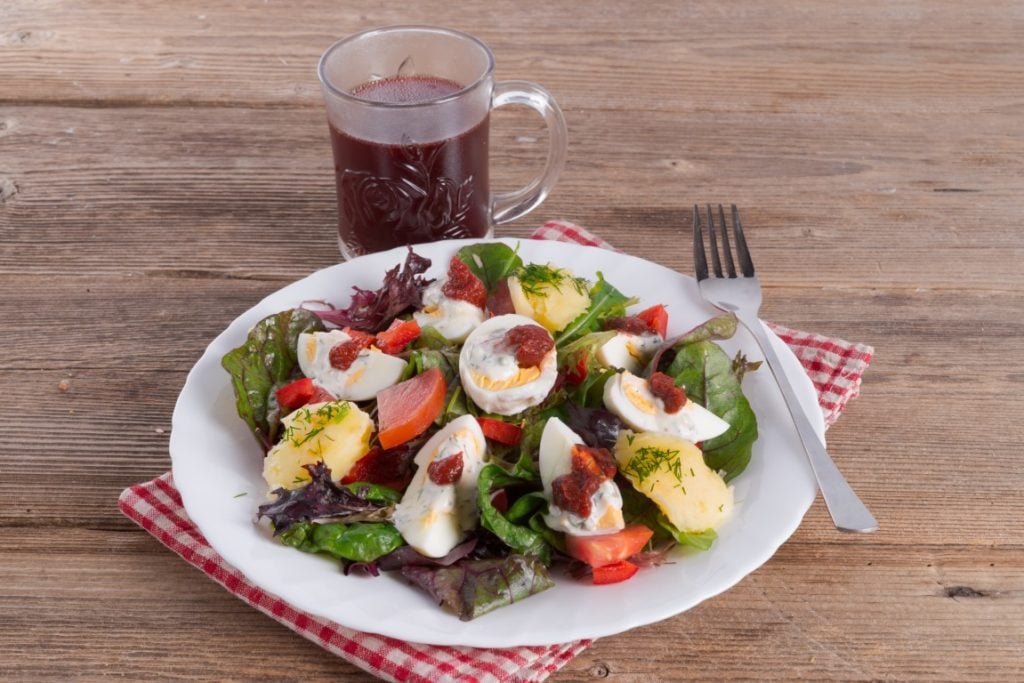 Cobb Salad Recipe
Gather the ingredients:
6 cups chopped romaine lettuce
1½ cups cherry tomatoes, halved
1 large avocado, cubed
½ cup crumbled blue cheese
4-6 slices cooked bacon, crumbled
2 cups cooked protein (grilled chicken, shrimp, salmon, or tofu)
3 hard-boiled eggs, sliced
½ cup homemade buttermilk dressing (or your favorite dressing)
Prepare and cook the protein:
Choose your desired protein (chicken, shrimp, salmon, or tofu)
Season with salt and pepper or your favorite seasoning blend
Cook/grill until fully cooked, then chop or slice
Assemble the salad:
In a large salad bowl, place the chopped romaine lettuce as the base layer
Arrange the halved cherry tomatoes, avocado cubes, sliced eggs, and cooked protein on top of the lettuce
Sprinkle crumbled blue cheese and bacon bits evenly over the salad
Dress the salad:
Drizzle your homemade buttermilk dressing or favorite dressing over the salad
Serve and enjoy:
Toss the salad gently until ingredients and dressing are combined, or let each person add their own dressing and mix individually
Serve the cobb salad immediately and enjoy!
That was fresh!