Oh, honey, hold on to your hats! It's time to dive fork-first into the delightful world of salads with an all-time classic – the Cobb Salad. Now, don't you roll your eyes at me! There's nothing dreary about salads when you've got a medley of flavors dancing on your taste buds.
Getting down to business, I'm a big believer in starting with the freshest of ingredients. You know, farm to table, that sort of thing. I love how the early morning sun kisses the dew off the lettuce in my garden. I'll be the first one to admit, there's something almost magical about running your hands over those dew-kissed leaves before plucking them straight from the earth. Heaven!
When you mix and match, you create a culinary party, my friend. Doesn't matter one bit if you're a chop-it-all-together kind of gal or a layer-everything-neatly fella. The beauty of a Cobb Salad is you can march to your own drum. Cook up some juicy chicken, boil some eggs 'til they're just right, and don't forget the crispy bacon. Add some ripe tomatoes, a bit of cheese, and a hearty helping of avocado. Voila!
Of course, the cherry on the top is that zingy dressing. For me, nothing beats a zesty vinaigrette made from scratch – a little bit of vinegar, a squeeze of lemon, a whisper of mustard, and a dash of honey. Talk about a symphony in your mouth!
Isn't it a thrill to toss that salad together? With every bite, you get a different flavor combo, keeping your palate on its toes. A Cobb salad is never just a salad. It's a treasure hunt for your taste buds, and trust me, they'll be thanking you later.
Well, let's quit dilly-dallying! Cobb salads won't prepare themselves, you know. It's time to impress your kinfolk and make some unforgettable memories around your table. Because, after all, food that's made with love, tastes like heaven, doesn't it? By Jove, I think I've outdone myself this time – I can't wait for all the oohs and aahs!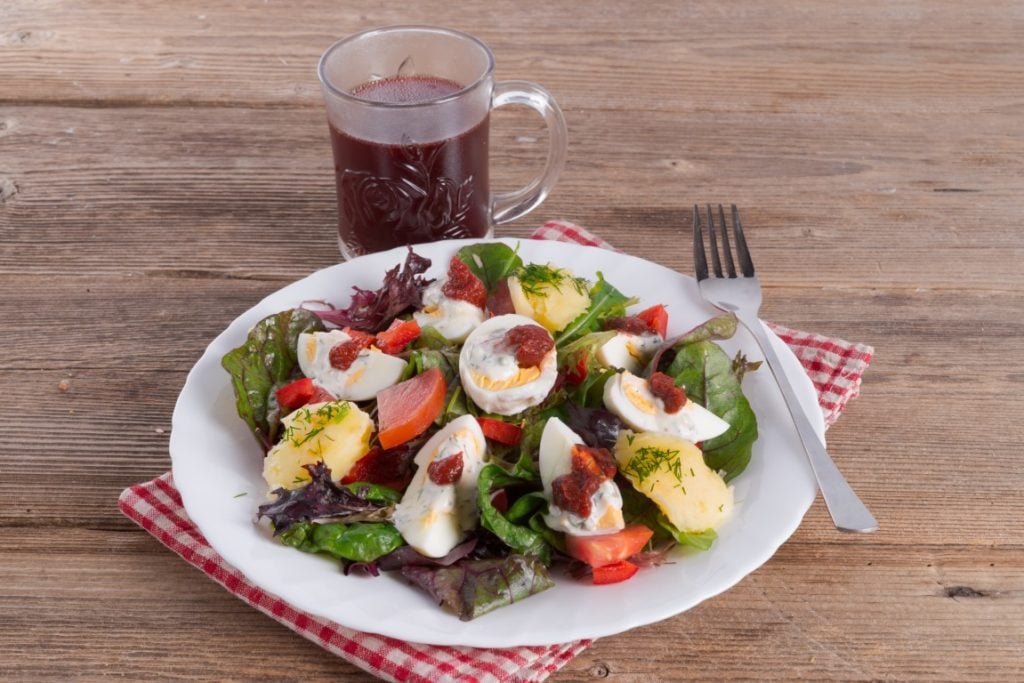 Gather your fresh ingredients: a head of lettuce, two boneless chicken breasts, 6 strips of bacon, 2 ripe avocados, 3 hard-boiled eggs, 2 large diced tomatoes, and a half cup of blue cheese crumbles.
Don't forget your homemade dressing ingredients: 3 tablespoons of apple cider vinegar, 2 tablespoons of honey, 1 tablespoon of Dijon mustard, and half a cup of olive oil.
Start by cooking your boneless chicken breasts and bacon until they are done to your liking. Allow them to cool, then chop into bite-sized pieces.
While your meats rest, start on your salad dressing. Combine the vinegar, honey, and Dijon mustard in a bowl. Slowly drizzle in olive oil while whisking vigorously until the dressing is thoroughly mixed.
Hard-boil your eggs. Peel and chop them, then set them aside.
Chop your lettuce and tomatoes, halve—dice and peel your avocados.
Now comes the fun part! Arrange your salad with sections of each ingredient. There's no wrong way to do it; it's your masterpiece.
Drizzle your dressing over the top, making sure to get a little on each section.
Sprinkle your salad with blue cheese crumbles, and there you have it! Cobb salad, homemade and full of love.
That was fresh!