There's just something so magical about ravioli – those delightful little parcels of pasta with exquisite fillings, tenderly hugged in a sensational sauce. Beyond scrumptious! Let me tell you folks, whipping up ravioli with a gorgeous, meaty sauce is one of my most favorite go-to dishes when I've got friends or family around the table. It's a blast to make and oh-so-comforting to eat.
Now, first things first. Dust off your apron, crank up your favorite tunes, and let's roll up our sleeves! When it comes to the ravioli dough, I always go the extra mile, making it from scratch. Honestly, it's a whole lot easier than it looks. Just a little bit of elbow grease, some high-quality semolina, and voilà – sublime pasta perfection. Handmade pasta has this certain je ne sais quoi that just can't be replicated, trust me.
While the dough's resting like a weary traveler, it's time to concoct the filling. Fresh spinach and ricotta – a match made in heaven, don't you think? Wilt that spinach down, give it a good old squeeze to get rid of any excess liquid (nobody likes a soggy ravioli), and mix it up with some creamy ricotta. Season to taste, and maybe even throw in a cheeky pinch of nutmeg for good measure.
Alright, now here comes the pièce de résistance – the meat sauce. Oh, mama! Ground beef, aromatic onions, garlic that'll knock your socks off, and plump tomatoes make this sauce a culinary triumph. Simmer away, and let those flavors meld into a beautiful harmony of deliciousness.
Finally, master the art of tucking that ravioli into its cozy little pasta bed. Fold, press, and trim like a pro. Cook 'em up, smother them in that rich, meaty sauce, and brace your taste buds for an explosion of yum.
There you have it, my friends – ravioli and meat sauce, a symphony of flavors where passion dances on the plate. Bon appétit!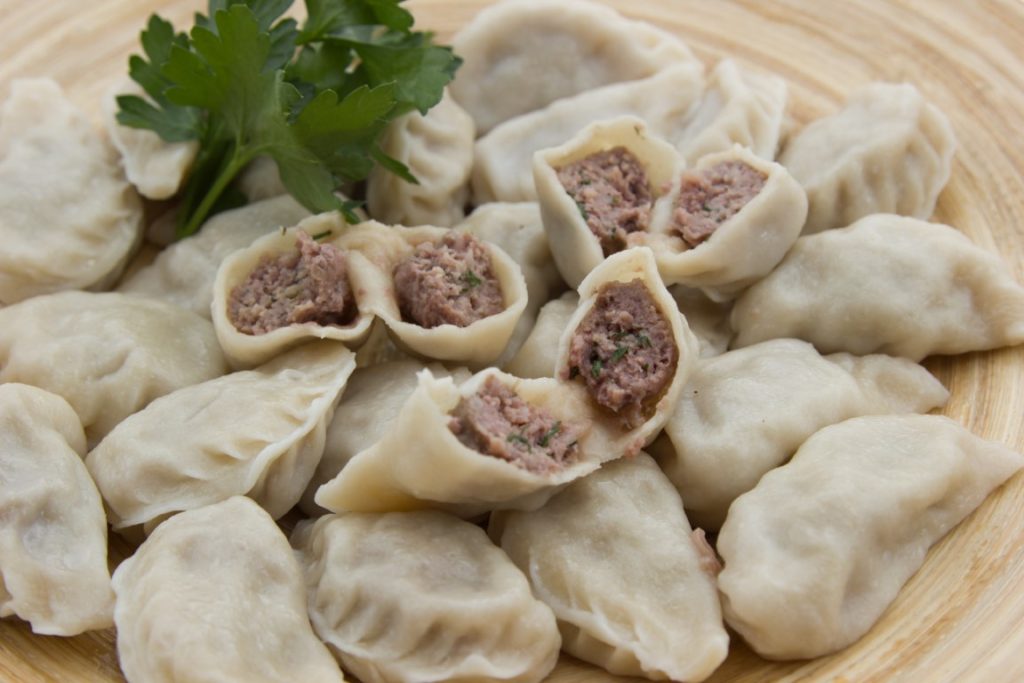 Prepare ingredients:
For pasta dough: 2 cups all-purpose flour, 3 large eggs, pinch of salt
For filling: 2 cups fresh spinach, 1 cup ricotta cheese, 1/4 cup grated Parmesan cheese, salt and pepper to taste, pinch of nutmeg (optional)
For meat sauce: 1 lb ground beef, 1 medium onion (diced), 2 cloves garlic (minced), 1 can (28 oz) crushed tomatoes, 2 tbsp olive oil, salt, and pepper to taste, 1 tsp dried oregano, 1 tsp dried basil, 1/2 tsp dried thyme
Make pasta dough:
Create a well in the center of the flour, crack eggs into it, add a pinch of salt
Gradually mix eggs into the flour using a fork or your hands
Knead the dough until smooth and elastic, then wrap it in plastic wrap and let it rest for 30 minutes
Prepare filling:
Sauté spinach in a pan until it wilts, then drain and chop finely
Combine chopped spinach, ricotta cheese, Parmesan cheese, salt, pepper, and nutmeg (if using) in a bowl, mix well
Roll out pasta dough:
Divide dough into quarters, work with one piece at a time (keeping remaining pieces covered)
Roll out dough into a thin sheet using a rolling pin or pasta machine
Assemble ravioli:
Place small spoonfuls of filling along one side of the pasta sheet, leaving space between each spoonful
Fold the other side of the pasta sheet over the fillings, press around the edges to seal, and cut out individual ravioli using a knife or ravioli cutter
Make meat sauce:
Heat olive oil in a large skillet, sauté onion and garlic until fragrant
Add ground beef, cook until browned, and season with salt and pepper
Stir in crushed tomatoes, oregano, basil, and thyme, simmer for 20-25 minutes
Cook ravioli:
Bring a large pot of salted water to boil, gently add ravioli and cook for 3-5 minutes or until they float to the surface
Using a slotted spoon, remove cooked ravioli from the water and place onto serving plates
Serve ravioli:
Spoon the meat sauce over cooked ravioli and enjoy!
That was fresh!