Let me tell you, nothing beats the joy of cooking up a storm in my kitchen, especially when it means bringing the family and friends together. Is there anything more comforting than a meal made from scratch? I think not! Well, buckle up folks, because I'm about to introduce you to a culinary delight – Maple-Glazed Meatballs. Boy oh boy, are these scrumptious little gems just the bee's knees!
Right off the bat, you've got this killer combination of savory meatballs and a sweet, sticky maple glaze. Trust me, we're talking mouthwatering perfection here. I mean, who wouldn't be over the moon about such an incredible fusion of flavors? It's practically impossible to resist!
So, first things first, you'll need to get your hands on a few ingredients. We're talking ground meat (a mix of pork and beef is my go-to), breadcrumbs, eggs, onion, and some herbs and spices – like parsley, salt, and pepper – all rolled up into some lovely, little orbs. Next stop: cooking these bad boys.
Let me give you a little tip that'll save you some trouble in the kitchen — oven-bake those meatballs instead of frying them. Yeah, yeah, I know, it might not sound as exciting, but trust me on this one. Not only will they turn out just as scrumptious and juicy, but you'll also be cutting back on the messy stovetop splatter. Sounds like a win-win to me!
Now, it's time for the pièce de résistance – the glorious maple glaze. Goodness gracious, this stuff is so finger-licking good, you'll want to put it on everything! In a small saucepan, combine pure maple syrup, apple cider vinegar, and little touches of soy sauce, garlic powder, and pepper. Oh, and let's not forget the cornstarch to thicken things up… because, baby, we want that glaze nice and sticky!
So there you have it: Maple-Glazed Meatballs that are sure to knock your socks off. Serve them over a bed of fluffy, steamed rice or alongside some crisp greens, and watch how happy bellies will undoubtedly result. Enjoy!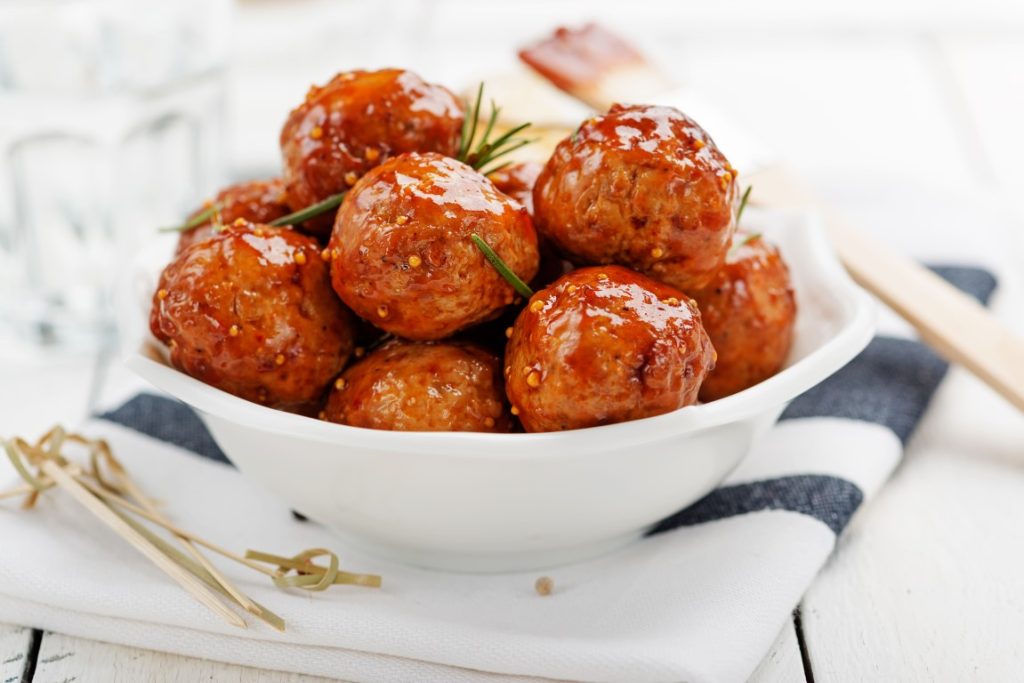 Gather ingredients:
Meatballs:

1 lb ground meat (half pork, half beef)
1/2 cup breadcrumbs
1 egg
1/4 cup diced onion
1/4 cup fresh parsley, chopped
Salt and pepper to taste

Glaze:

1/2 cup pure maple syrup
3 tbsp apple cider vinegar
1 tbsp soy sauce
1/4 tsp garlic powder
1/4 tsp pepper
1 tbsp cornstarch
1 tbsp cold water
Instructions:
Preheat oven to 400°F (200°C) and line a baking sheet with parchment paper.
In a large mixing bowl, combine ground meat, breadcrumbs, egg, diced onion, chopped parsley, salt, and pepper.
Using your hands, mix ingredients until well combined.
Shape mixture into small, evenly sized meatballs and place on the prepared baking sheet.
Bake in preheated oven for 20-25 minutes or until meatballs are fully cooked.
While meatballs are baking, prepare the glaze by combining maple syrup, apple cider vinegar, soy sauce, garlic powder, and pepper in a small saucepan over medium heat.
In a separate bowl, mix cornstarch and cold water to create a slurry.
When the glaze mixture starts to simmer, whisk in the cornstarch slurry and let it cook for 3-4 minutes or until thickened, stirring occasionally.
Remove meatballs from the oven and let them cool slightly.
Carefully coat each meatball in the maple glaze, using tongs or a spoon.
Serve maple-glazed meatballs warm over steamed rice, with vegetables or on toothpicks as an appetizer.
That was fresh!