Don't you just love it when a mouthwatering recipe simply sweeps you off your feet? For me, that's none other than the ever-luscious and hugely popular Coconut Shrimp Curry. I can't help but drool every time I even think about its delightful symphony of fragrant spices, creamy coconut milk, and succulent shrimps. Yum!
So, whenever I have family or friends coming over, it's a no-brainer that this dish makes an appearance on the table. Let me tell you, it's not that hard to whip up either! In fact, it's pretty darn simple, and the end result is nothing short of pure magic.
First things first, I always make sure to kickstart my curry by prepping the mise en place, because as they say, a stitch in time saves nine! Plus, don't forget to nab some fresh shrimps from your local grocer— big, juicy, and oh-so-scrumptious! After peeling and deveining the shrimps, it's time to give 'em a good ol' wash, so they're perfectly clean and ready to rock 'n' roll.
Next up – the spice game! I rummage through my trusty spice cabinet for some ground turmeric, cumin, and coriander. Don't get me started on the fragrances wafting through the air as these spices blend and sizzle; it's a taste of paradise! A teeny dollop of red curry paste (remember, a little goes a long way!) takes it up a notch, and that, my friends, is where the magic unfolds.
To bring out the richness of the curry, I pour in some creamy coconut milk – oh, how it transforms that spice blend into a whole new world of flavors! As the sauce simmers away, I can hardly contain my excitement. In go the shrimps, and a generous sprinkle of salt and pepper, and I'm just itching to dig in!
Once everything's cooked to perfection, I bust out my colorful bowls, pile up the fluffy rice, and ladle the swoon-worthy Coconut Shrimp Curry right on top. It's nothing short of bliss watching as the folks dive right in – not a picky eater in sight – and there's a little piece of my heart in every bite!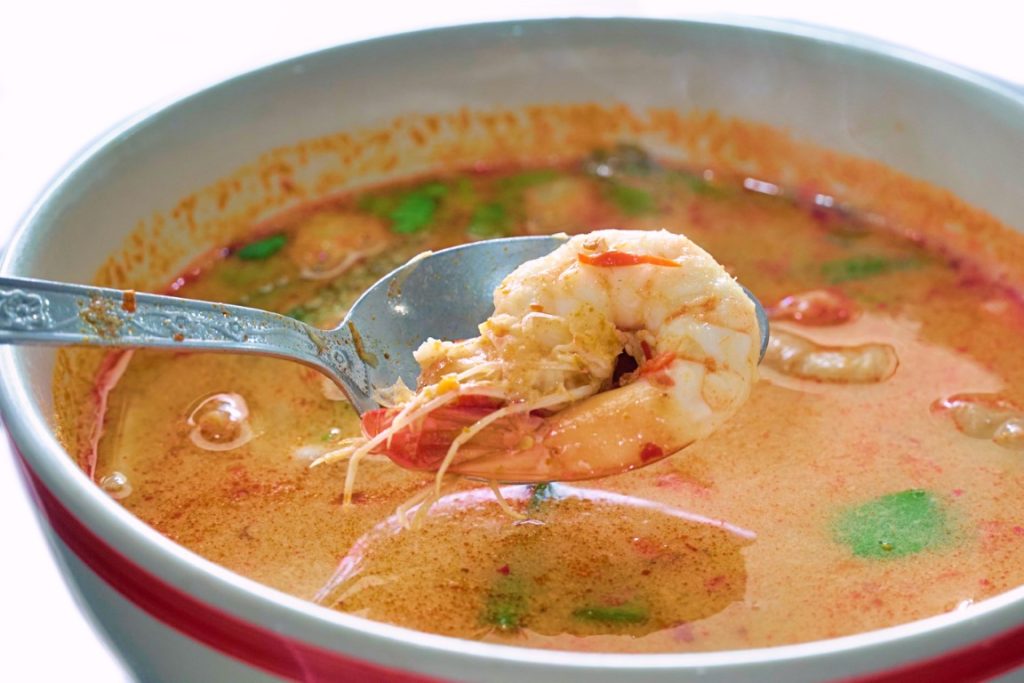 Gather and prepare ingredients:
1 pound large shrimp, peeled and deveined
1 tablespoon vegetable oil
1 small onion, finely chopped
2 cloves garlic, minced
1-inch piece ginger, peeled and minced
1 teaspoon ground turmeric
1 teaspoon ground coriander
1 teaspoon ground cumin
1 to 2 tablespoons red curry paste (adjust based on heat preference)
1 can (14 oz) coconut milk
Salt and pepper, to taste
Fresh cilantro, chopped, for garnish
Lime wedges, for serving
Cooked jasmine rice, for serving
Instructions:
Heat vegetable oil in a large skillet over medium heat.
Add the chopped onion to the skillet and cook until softened and translucent, about 5 minutes.
Stir in the minced garlic and ginger and cook for another 1 to 2 minutes, until fragrant.
Add the ground turmeric, coriander, cumin, and red curry paste to the skillet, stirring well to combine.
Pour in the coconut milk, stirring to blend the spices and create a smooth sauce.
Bring the mixture to a gentle simmer and let it cook for about 10 minutes, allowing the flavors to meld.
Add the shrimp to the skillet and season with salt and pepper to taste.
Cook the shrimp for 3 to 4 minutes per side, or until they are pink and cooked through.
Serve the Coconut Shrimp Curry over cooked jasmine rice, garnished with fresh chopped cilantro and a squeeze of lime.
Enjoy your delicious and aromatic homemade Coconut Shrimp Curry!
That was fresh!