We all love a sandwich! In fact, we even have a National Sandwich Day, claiming that this most humble of lunchtime feasts is enjoyed by 300 million Americans every day.
And while the most popular sandwich fillings are likely to induce a yawn so large you could eat a baguette in one go, there's so much more to the humble sandwich than cheese, ham, or egg mayo!
This article shares 20 quick and easy sandwich filler ideas that will transform your lunchbox from a rainy-gray tumbleweed of a day into a sandwich celebration — every day of the week!
What's the world's most popular sandwich
I hope you have matchstick propping open your eyelids, people, because you're in for a very disappointingly predictable list of five sandwiches that Planet Earth deems their go-to lunches.
Ready?
Cheese
Ham and cheese
Ham (and the adventurous among us might even add a few salad leaves)
Sausage
Cheese and onion
Egg mayo
So, there you have it — we food-eating planet dwellers are officially dull.
Just imagine a world where there were other ways to fill out lunchboxes. Well, you're in the right place.
Strap in: this is going to be interesting!
The Top 7 EXCITING sandwich filler ideas!
The Chorizo Ciabatta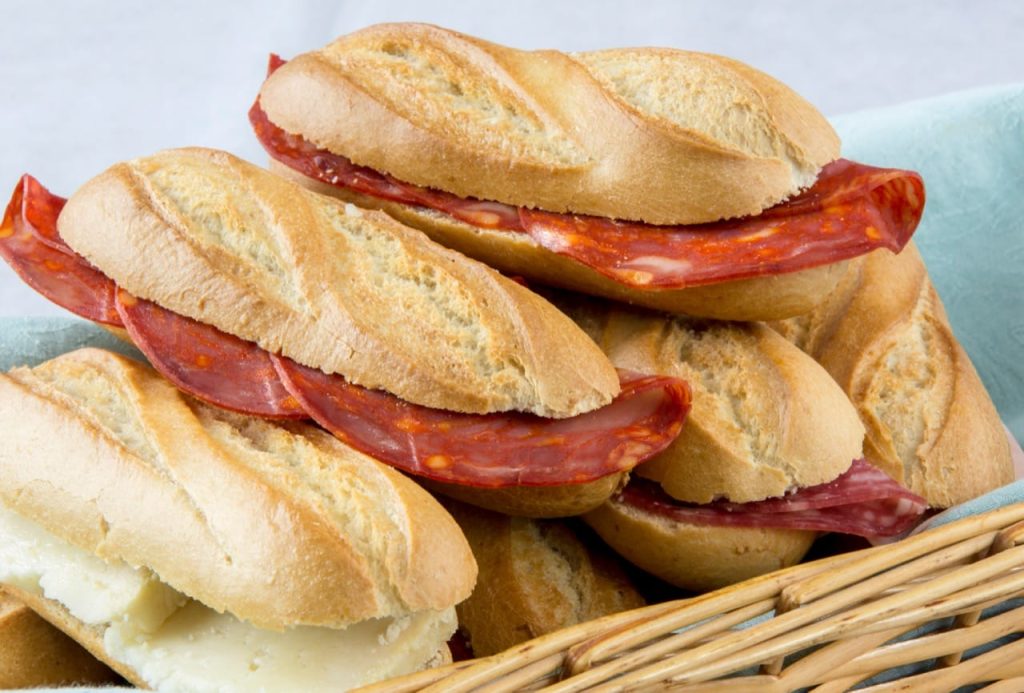 If you're a strictly pre-sliced loaf type, you could start exciting your taste buds with a range of different breads.
And if you haven't tried the Italian Ciabatta, you're certainly in for a treat — crusty, chewy, salty, and full of air, ciabatta is made with olive oil, making it the healthier alternative to factory-baked white bread!
The chorizo ciabatta uses shop-bought chorizo slices, a smear of pesto, roasted red peppers from a jar, and a handful of arugula.
If you want to be totally posh, you can warm up the ciabatta in the oven and griddle the chorizo in a pan for five minutes. Then, spread the pesto on the bottom half of the ciabatta, layer on the red peppers, and add the warmed chorizo and arugula. Place the top half of the ciabatta on the top of the sandwich, and you're in a delightful world of fantastic sandwiches!
Herby chickeny gyros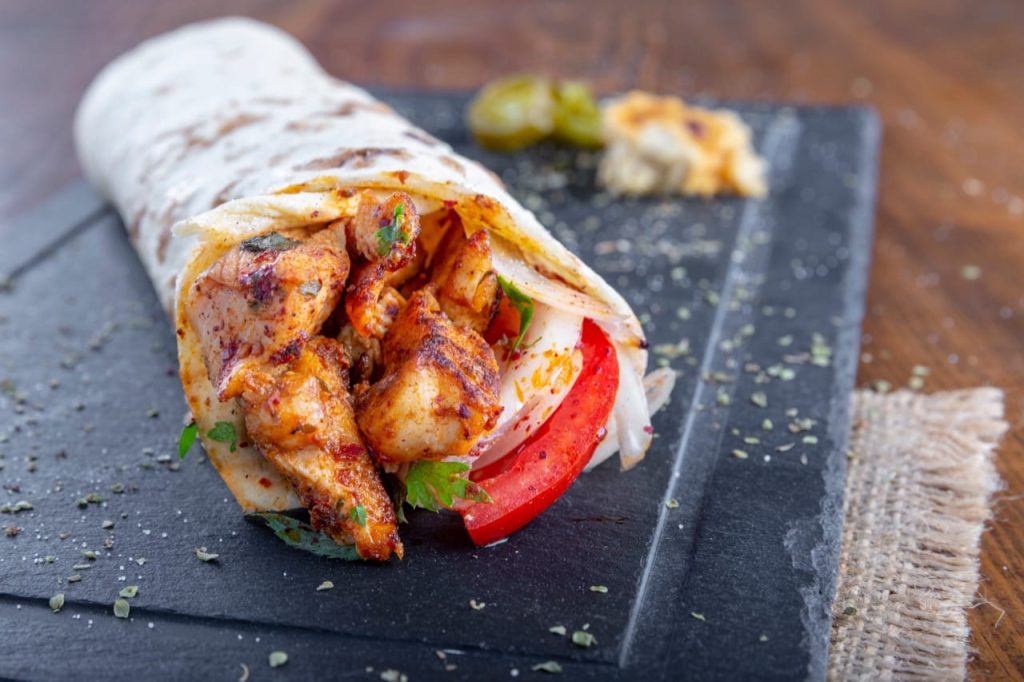 A gyros is a Greek kabob, using a pitta bread as a delightful pocket of herby chicken deliciousness.
Pitta is lower in calories than standard sliced bread, so it's not just your tastebuds you're treating to a yummy sandwich. And you can use pre-cooked chicken if you're in a rush.
Sprinkle your pitta bread with a little water from the tap, then grill it for thirty seconds or so until the bread feels warm and pliable. Then, slice down one side of the bread to create a little pocket to fill with your cooked chicken and the other yummy ingredients.
Prepare your chicken breast with some good olive oil and sprinkle chopped garlic, oregano, and seasoning to taste. Leave it to marinate for an hour before griddling until cooked.
Chop the chicken into pieces and mix them into Greek yogurt, along with chopped mint and cucumber. Add a few sliced tomatoes and a red pepper from a jar, and you have a lunchtime meal set for royalty!
If you're preparing in advance, don't add the yogurt until you're ready to eat; otherwise, it'll go soggy.
Get sloppy with Sloppy Joes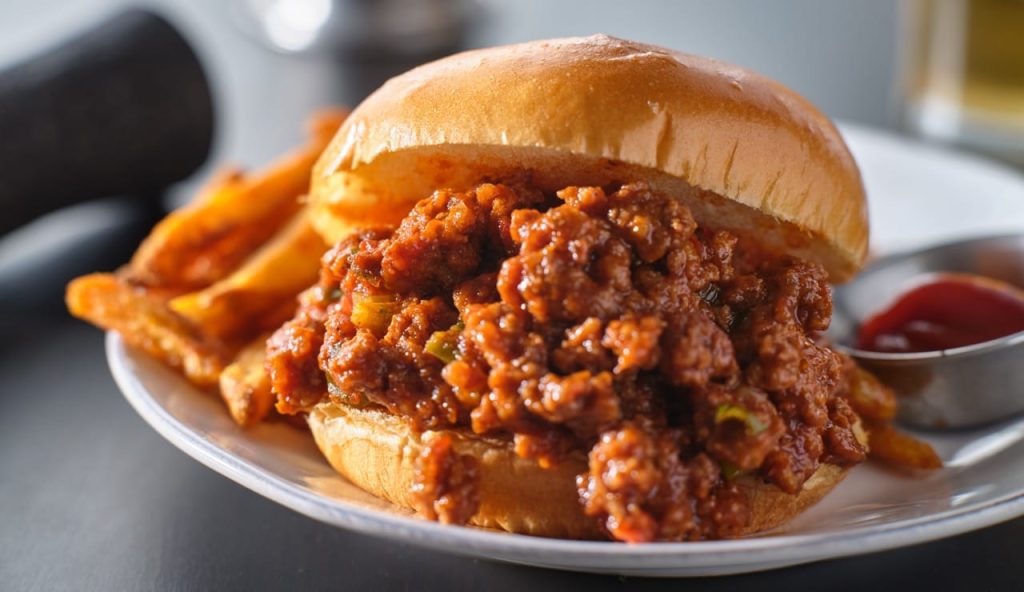 You're gonna need a napkin cos things are getting mighty messy with a Sloppy Joe!
Basically, a Sloppy Joe consists of a cooked beef mince ragu — soften onions and fresh red peppers, then add a pack of mince, stirring until it goes brown and sizzly (about 8-10 minutes). Then, add a can of chopped tomatoes and your favorite BBQ or chili sauce if you like things spicy, and simmer for 25 minutes.
Add some cheese slices to the top of the ragu and cover for two minutes, letting it melt into the sauce.
Grab some burger buns and pile the meat sauce into the buns, along with some lettuce and chopped tomatoes.
And enjoy! Cover your clothes — it's gonna get messy.
Prawn and bean sprout omelet baguette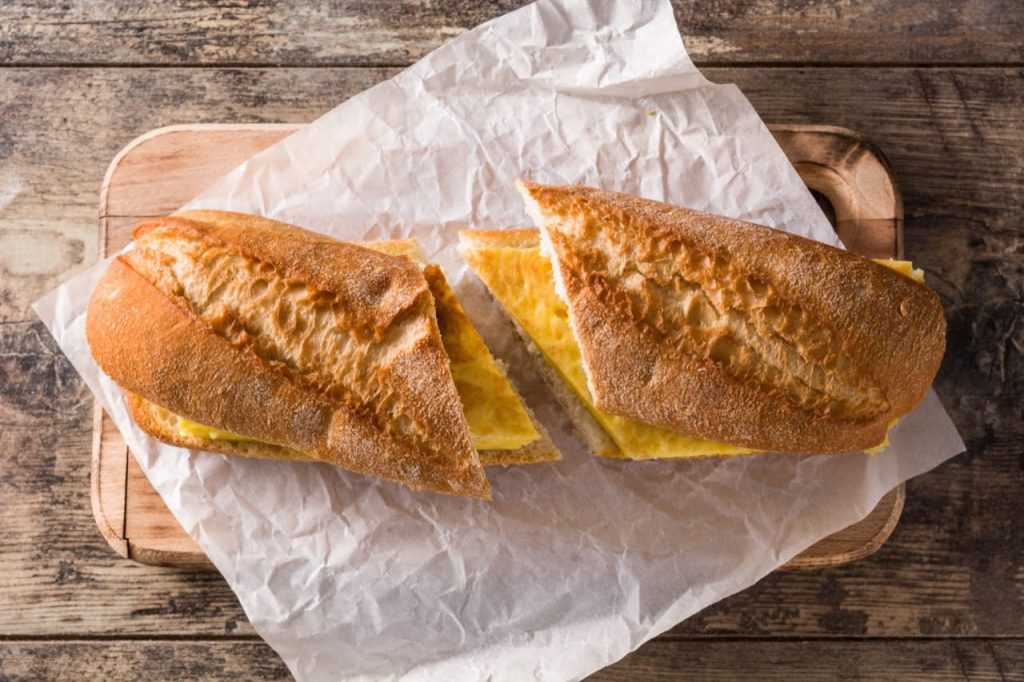 Yes, you read this correctly! We haven't gone crazy — this omelet baguette is all the rage in Vietnam.
This is how to make it:
Whisk your eggs with a splash of fish sauce and a splash of water. Mix well.
Fry some spring onions and prawns in a pan, moving them over to one side of the pan when cooked. Pour the egg mixture into the other side of the pan, then shake it till the mixture runs into all the gaps, frying until the omelet is nutty and slightly browned.
Then, scatter bean sprouts, chopped chili, and coriander (if you're a fan). Spoon a dressing of lime, garlic, fish sauce, and brown sugar over the cooked omelet and remove it from the pan.
Cut the omelet into four long strips, adding each one along the length of the baguette. Add some carrot matchsticks and more coriander leaves before adding the top of the baguette to the sandwich, and hey presto: a thoroughly delightful lunchtime sanger.
Cheese, chili, and mango toastie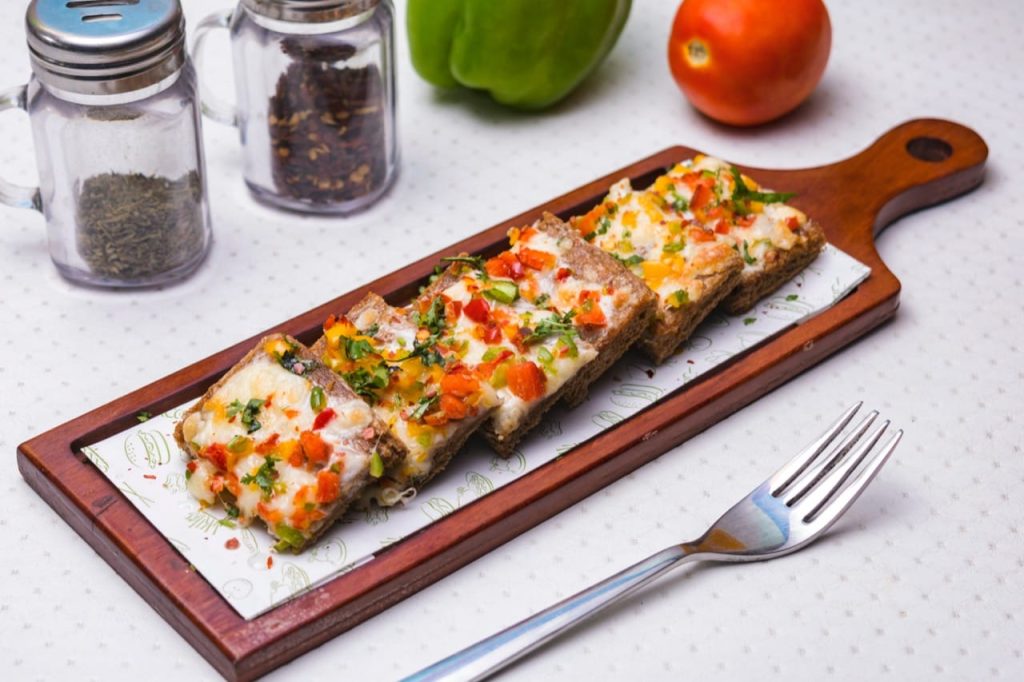 A toastie is a treat like no other — full of hot, stringy cheese, this super-simple toastie idea will have you housebound for the rest of your life (because you'll never need to leave, not anything more sinister!).
For best results, use a sandwich toaster and prepare like you would a typical sandwich.
BUT:
In this sandwich, we use the best quality cheddar you can feasibly get your hands on and combine it with a smattering of jalapenos, a few coriander leaves, some finely chopped red onion, and a smear of mango chutney.
Butter the outside of the bread, grill it in your sandwich toaster for 2-3 minutes until toasty and browned, and eat.
You're welcome!
Tahini, feta, and honey toastie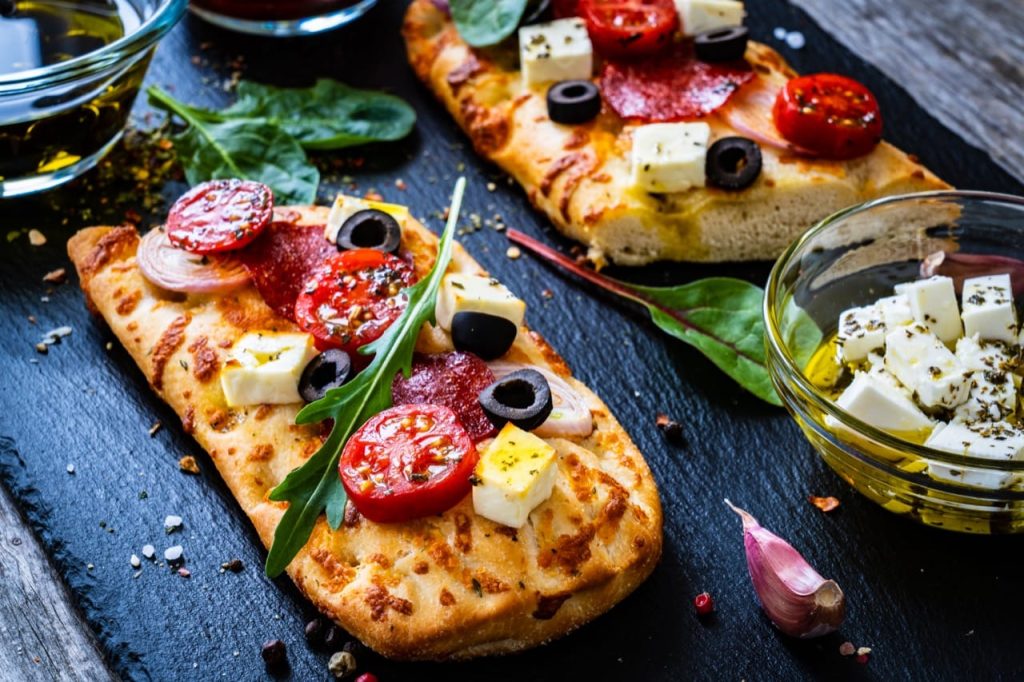 Well, you got me on the toasties now! I bet you wish you'd never asked.
The tahini, feta, and honey toastie — of course — follow precisely the same method as any toastie, just with more exciting flavors.
This melty toastie introduces the salty tartness of hot feta cheese to the creamy nuttiness of tahini and is balanced with the delicate sweetness of a honey drizzle.
Add a few thyme leaves and a scattering of sesame seeds, and you'll be (once more) in toastie heaven with no plans of returning.
Sticky sausage baguettes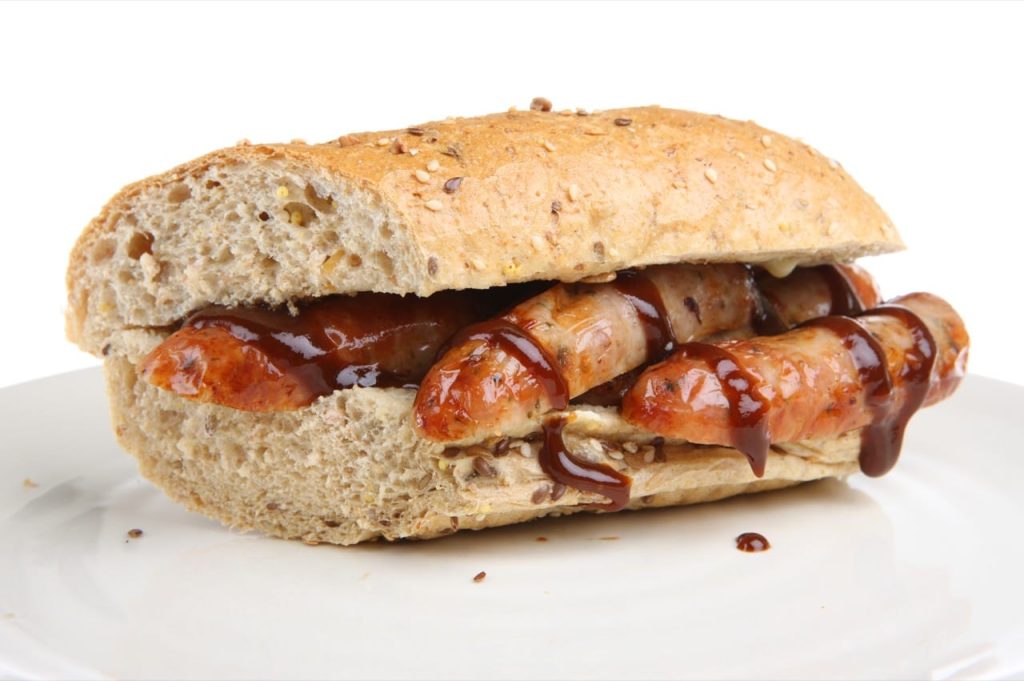 In a little break from tradition, this is the way to make sausages exciting.
Roast your chosen sausages in a roasting tin for 20 minutes. While they're baking, mix soy, honey, and mustard. Then, once cooked, drain the fat from the roasting pan, pour most of the soy/honey/mustard mix, and bake for another 10 minutes until sticky.
Serve the sausages in a baguette or bread of your choice, drizzling the remainder of the sauce.
Yum!
Seven scrumptious sandwich recipes
So there you have it. Seven scrumptious sandwiches that change lunchtime forever.
Come back soon for more great lunchtime ideas!
Thanks for reading.