Well, folks, I've got a treat for y'all today! Whenever my family and friends gather around my dinner table, eager to dig into the latest mouthwatering meal I've whipped up, they know they're in for a real culinary delight. It warms my heart to see the smiles on their faces as they take in the tantalizing aromas wafting through the air. Today, I'm gonna share my secret recipe for a finger-licking delicious Scallion Chicken dish that'll blow their socks off!
First things first – y'all know I never cut corners when it comes to fresh ingredients. After all, you're only as good as the ingredients you're working with, right? So, head on out to your local farmer's market and pick up the juiciest chicken you can find, along with some vibrant green scallions. Oh, and don't forget the garlic – lots of garlic!
Once you've got your ingredients in order, it's time to prep the main attraction – the chicken. Season your chicken pieces generously with salt and pepper, then give 'em a good ol' massage with some minced garlic. Trust me, this will make the flavors come alive. Set that heavenly mixture aside for a spell, while you slice up those beautiful scallions.
Now, let's get cookin'! Heat a smidgen of oil in the largest skillet you've got, then brown those garlic-infused chicken pieces to perfection – we're talkin' crispy, golden brown, my friends. Once they're done, it's time to jazz things up with a splash of white wine, a squeeze of lime, and those lovely scallions. Give it a stir, and let those flavors simmer and mingle like they're at the best house party ever.
The only thing left to do is serve up your sumptuous Scallion Chicken with a side of your choice – I personally love it with some freshly steamed rice or roasted veggies. Then, bask in the glow of admiration from your loved ones as they devour your truly scrumptious Scallion Chicken. Bon appétit!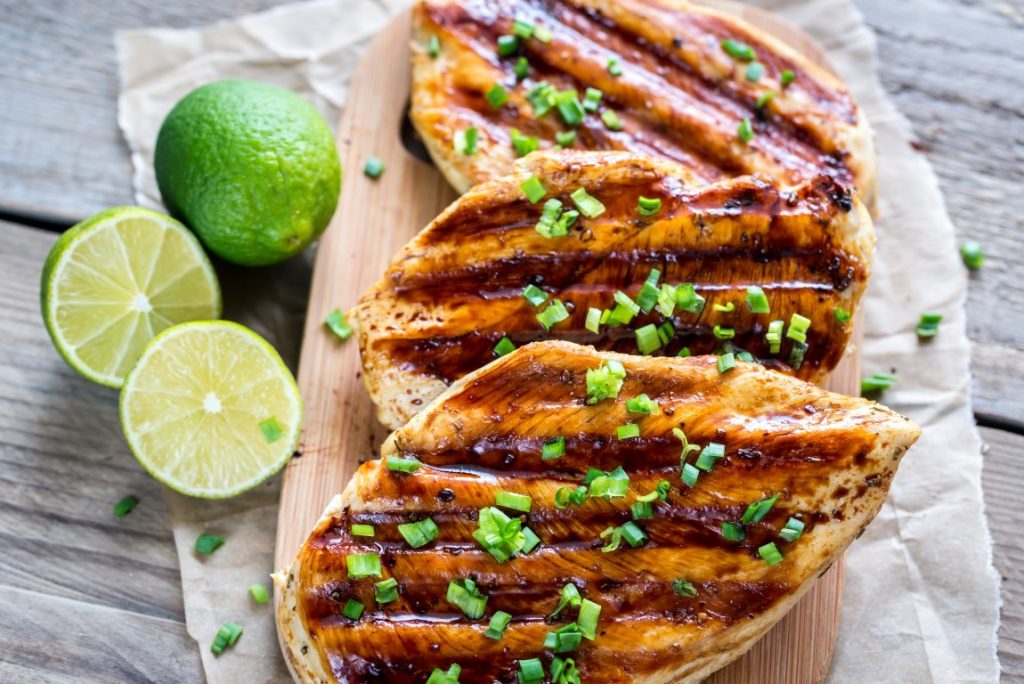 Gather the following ingredients:
4 bone-in, skin-on chicken thighs
Salt and pepper, to taste
3 garlic cloves, minced
1 bunch scallions, sliced into 1-inch pieces
2 tablespoons vegetable oil
1/4 cup white wine
Juice of 1 lime
Steamed rice or roasted veggies for serving (optional)
Instructions:
Pat the chicken dry with paper towels and season generously with salt and pepper.
Massage minced garlic into the chicken, ensuring it is evenly distributed.
Set chicken aside for a few minutes to let the flavors meld.
Slice scallions into 1-inch pieces, separating white and green parts, and set aside.
Heat vegetable oil in a large skillet over medium-high heat.
Add chicken to skillet, skin-side down, and cook until browned and crispy, about 5-7 minutes per side.
Transfer browned chicken to a plate and set aside.
In the same skillet, add white parts of the scallions and cook for 1-2 minutes until fragrant.
Pour white wine into the skillet and let it bubble for a moment, scraping up any browned bits from the bottom of the skillet.
Return the chicken to the skillet, skin-side up, and add the green parts of the scallions.
Reduce heat to medium-low, cover the skillet, and let chicken cook for 20-25 minutes, until fully cooked and tender.
Drizzle lime juice over the chicken and scallions in the skillet and stir gently to combine.
Serve Scallion Chicken with its pan sauce drizzled on top, and a side of steamed rice or roasted veggies, if desired. Enjoy!
That was fresh!