You know what they say, the best way to someone's heart is through their stomach! And boy, do I love preparing homemade beef empanadas for my loved ones. It's the perfect savory treat, complete with a mouthwatering filling and a flaky, golden crust. I mean, who wouldn't want to indulge in such delicious pockets of joy?
Alright, let's get this show on the road! First off, the key to a perfect empanada dough is keeping your ingredients super cold. Yep, ice-cold butter and even some chilled water make all the difference when it comes to creating that crisp, flaky crust. I even chill my rolling pin – no joke!
Now, as for the filling, I like to get down to business with some lean ground beef, onions, garlic, bell peppers, and a bit of tomato paste. I like to spice it up with some cumin, smoked paprika, and a touch of cayenne. Oh, and let's not forget a generous handful of olives and raisins – the salty-sweet combo is just divine!
Once the filling is all mixed up and simmering away, I roll out my dough and start cutting out circles, careful not to waste a single inch of that precious crust. Then comes the fun part – assembly! I spoon the beef mixture onto the dough circles like Picasso with a paintbrush, taking care not to overfill them. We don't want any unfortunate spillage in the oven, now do we?
Now, I'm no mathematician, but when it comes to closing up these delectable little parcels, crimping the edges is a piece of pie! Just fold over the dough, pinch it tight, and BAM! Empanadas ready for baking!
Finally, I pop these babies into the oven, brush them with an egg wash for that golden glow, and – ugh, the hardest part – wait eagerly for them to bake.
And there you have it, folks! Fresh, homemade beef empanadas, perfect for feeding a crowd or simply tucking into as a solo treat. With a labor of love like this, your taste buds will be practically singing with joy. Enjoy!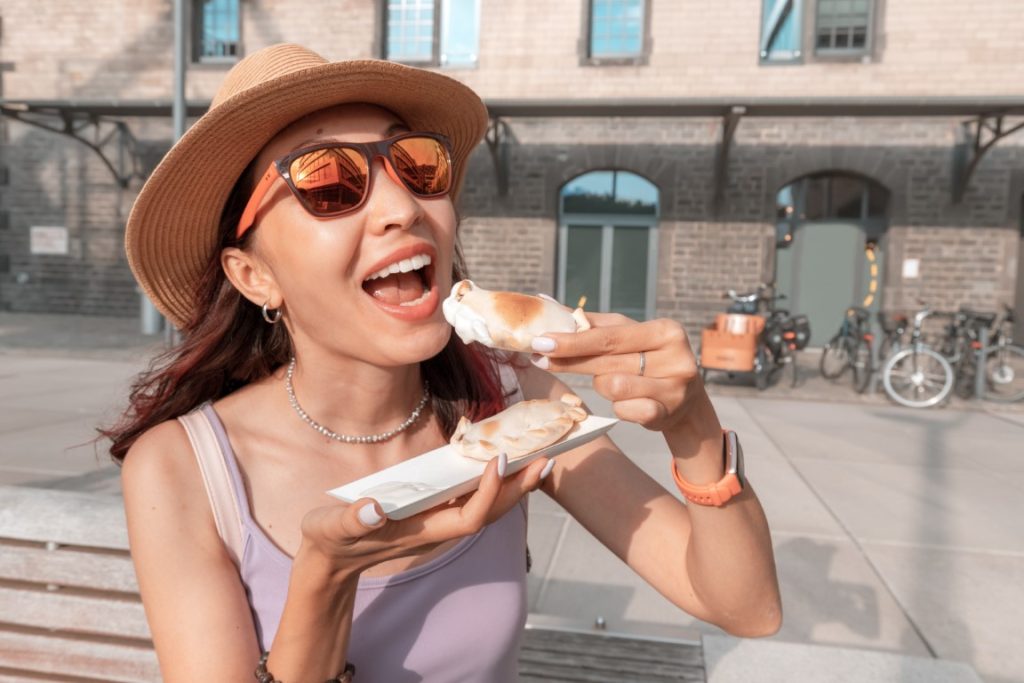 First, gather your ingredients:
For the dough:
3 cups all-purpose flour
¼ teaspoon salt
1 cup unsalted butter, cold and cut into pieces
1 large egg
⅓ cup ice-cold water
1 tablespoon white vinegar For the filling:
1 tablespoon olive oil
1 medium onion, finely chopped
2 cloves garlic, minced
½ bell pepper, diced
1 lb lean ground beef
1 teaspoon cumin
1 teaspoon smoked paprika
¼ teaspoon cayenne pepper
Salt and pepper, to taste
1 tablespoon tomato paste
¼ cup pitted green olives, chopped
¼ cup raisins For assembly:
1 egg, beaten with a splash of water (for egg wash)
Instructions:
Prepare the dough by mixing together the flour and salt in a large bowl, then add the cold butter pieces and mix until the mixture resembles coarse crumbs.
Beat the egg, ice-cold water, and vinegar together, then add to the flour mixture, mixing until just combined.
Shape the dough into a disk, wrap in plastic wrap, and refrigerate for at least 1 hour.
Preheat the oven to 400°F and line a baking sheet with parchment paper.
Next, prepare the filling by heating the olive oil in a large skillet over medium heat, then sauté the onion, garlic, and bell pepper until softened.
Add the ground beef, breaking it up, and cook until browned.
Add the cumin, smoked paprika, cayenne pepper, salt, and pepper, and mix well.
Stir in the tomato paste, olives, and raisins, and let the mixture simmer for about 10 minutes.
Roll out the chilled dough on a floured surface and cut out circles, approximately 4 to 5 inches in diameter.
Spoon the beef filling onto the dough circles, fold the dough over the filling, and crimp the edges to seal.
Transfer the empanadas to the prepared baking sheet and brush them with the egg wash.
Bake the beef empanadas for 20-25 minutes or until golden brown.
Allow the empanadas to cool slightly before serving. Enjoy!
That was fresh!