Oh, the joys of cooking! There's simply nothing like watching my loved ones gather 'round a table filled with delicious, made-from-scratch dishes. You know, the kind of food that just warms your soul and brings everyone together? Well, I think I have another hit on my hands, and today, I'm going to share it with you – my very own creamy beef pasta recipe!
Now, don't get me wrong – I am all about fresh, healthy foods. And while this dish might sound indulgent, I've found some sneaky ways to lighten it up while still delivering all those scrumptious flavors. Enough chit-chat, let's get to it!
Tedious as it may seem, I always start by prepping my fresh ingredients. Dicing an onion, zesting a lemon, chopping some fresh basil – these small touches make a world of difference. Trust me, your taste buds will thank you later.
Next, I get down to business with the crux of the dish – the creamy beef sauce. I typically use lean ground beef to keep the excess fat in check. Brown it nicely and set it aside while you work some magic on the sauce. Oh, and don't forget to season the beef – who said healthy has to be bland?
Some might argue that the sauce's star ingredient is the cream; I beg to differ. My game-changing secret? Cottage cheese! It gives the sauce an unbelievable creaminess without all those extra calories. And the pièce de résistance – a splash of white wine to elevate the flavors into gourmet territory.
Now comes the moment we've all been waiting for – combining that divine sauce with your favorite pasta. Cook it al dente and mix everything together, adding in the fresh basil and a generous handful of grated Parmesan.
Voilà! A hearty, comforting, and simply sublime pasta dish that has everyone lining up for seconds. So, grab your apron, fire up that stove, and whip up a creamy beef pasta that's sure to impress even the most discerning of taste buds. Bon appétit!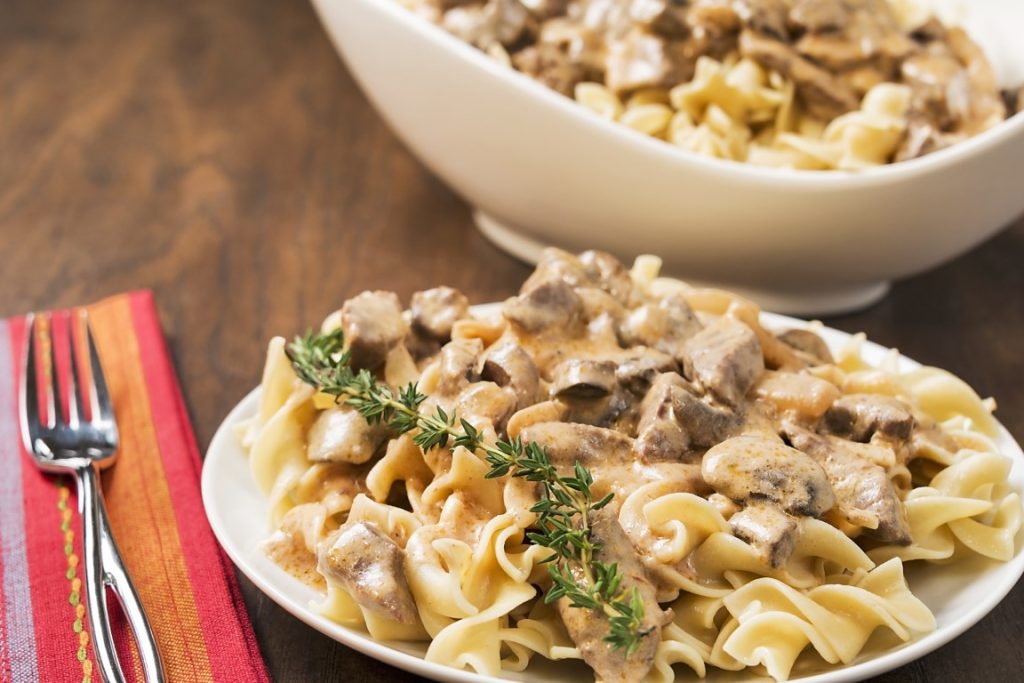 Gather ingredients: lean ground beef, pasta of your choice, onion, garlic, lemon, fresh basil, cottage cheese, white wine, grated Parmesan, olive oil, salt, and pepper.
Prep ingredients: dice onion, mince garlic, chop fresh basil, and zest lemon.
Heat olive oil in a large skillet over medium heat.
Add diced onion and minced garlic to skillet, sautéing until softened.
Add lean ground beef to skillet, breaking it up and seasoning with salt and pepper.
Cook the ground beef until browned and set aside, draining any excess fat if necessary.
Begin boiling water in a large pot for the pasta and cook according to package instructions for al dente.
In the same skillet the beef was cooked in, add a splash of white wine and let it simmer to deglaze the pan.
Stir in cottage cheese to create the creamy sauce, adding more seasoning if desired.
Allow the sauce to come to a simmer, stirring occasionally to blend flavors.
Add the cooked and drained beef back to the skillet, gently mixing it into the sauce.
Drain the cooked pasta, reserving a small amount of pasta water.
Combine the pasta with the creamy beef sauce, tossing gently to evenly coat each noodle.
Add fresh basil, lemon zest, and a handful of grated Parmesan to the pasta, folding together for even distribution.
If the sauce is too thick, add a bit of the reserved pasta water to achieve desired consistency.
Serve immediately, with additional Parmesan and freshly cracked black pepper for garnish. Enjoy!
That was fresh!