Ah, the Caesar Salad! It's always been one of my go-to dishes when I have people over. I mean, what's not to love? It's fresh, healthy, and absolutely delicious! Plus, it's a classic that never fails to please a crowd. Let me tell you a little bit about how I whip up this delightful dish.
First off, you can't have a Caesar Salad without some crispy, golden croutons. Now, I could take the easy way out and simply buy a bag of store-bought croutons, but where's the fun in that? No siree, it's homemade or bust for me! I just dice up some day-old bread – any type will do, but I'm especially partial to a good sourdough – toss it with a little olive oil, salt, and black pepper, then bake them until they're crunchy and irresistible. Believe you me, once you've had a taste of these homemade croutons, there's no going back!
Next, I whip up a dressing that's simply to die for. Caesar purists might balk at my choice of using Greek yogurt instead of raw eggs, but I find that it adds a lovely tanginess and, let's be honest, there's quite enough raw egg anxiety going around without adding to it. So, I combine Greek yogurt, anchovies (don't be shy, they're the star of the show!), freshly grated Parmesan, lemon juice, garlic, and a touch of Worcestershire sauce. The result is a creamy, zippy, savory dressing that ties the whole salad together.
Finally, it's time for the pièce de résistance: bringing it all together. I give my romaine lettuce a good wash, dry it thoroughly (nobody likes a soggy salad!), and tear it into generous bite-sized pieces. Then, it's just a matter of tossing the lettuce with the dressing, adding those delightful croutons, and giving it all a good mix. A sprinkle of extra Parmesan and black pepper on top, and voilà: a hearty Caesar Salad that's sure to get rave reviews from family and friends alike!
So, next time you're in search of a crowd-pleasing dish, why not give this Caesar Salad a whirl? I promise you won't be disappointed!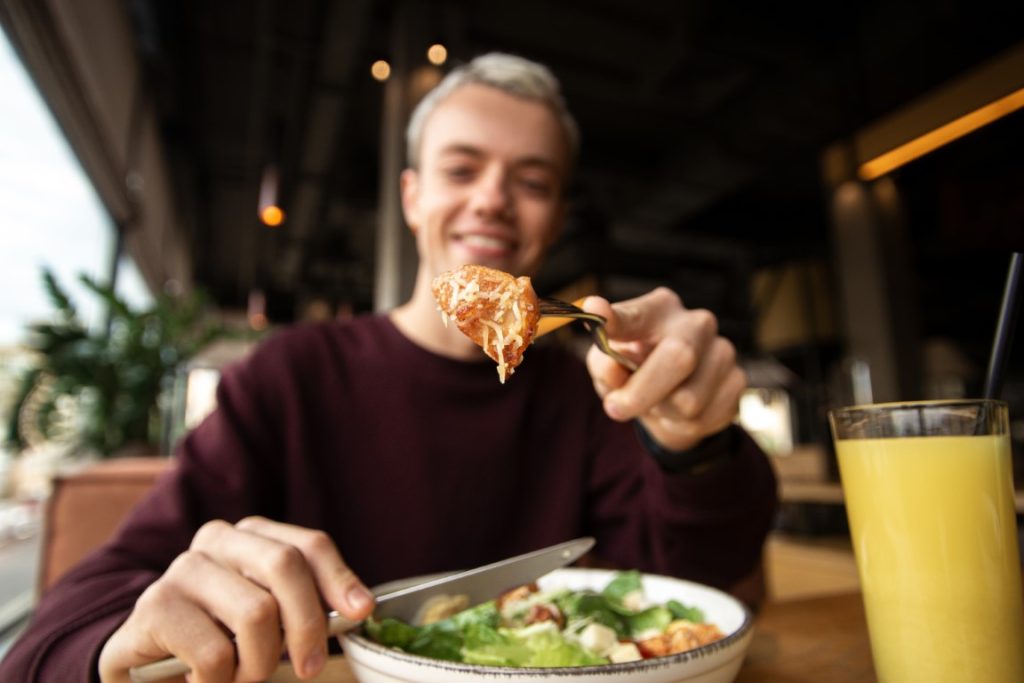 Gather ingredients: romaine lettuce, day-old bread (sourdough works great), olive oil, salt, black pepper, Greek yogurt, anchovies, fresh Parmesan cheese, lemon juice, garlic, and Worcestershire sauce.
Preheat oven to 375°F (190°C) for croutons.
Dice day-old bread into bite-sized cubes.
Toss bread cubes with a drizzle of olive oil, a pinch of salt, and some cracked black pepper.
Spread bread cubes onto a baking sheet and bake for 10-15 minutes or until golden and crispy, stirring occasionally to ensure even baking.
In a bowl, mix together 1/2 cup Greek yogurt, 4 minced anchovy fillets, 1/4 cup freshly grated Parmesan cheese, juice of 1 lemon, 2 pressed garlic cloves, and 1 teaspoon Worcestershire sauce.
Taste dressing and adjust seasoning as needed, adding more lemon, anchovies, or black pepper according to personal preference.
Wash and dry romaine lettuce, then tear into bite-sized pieces.
In a large salad bowl, toss lettuce with the Caesar dressing until evenly coated.
Top the dressed lettuce with homemade croutons and another sprinkle of grated Parmesan cheese.
Finish with a crack of black pepper and serve immediately. Enjoy!
That was fresh!