Well, in my humble opinion, there's nothing that warms the heart (and the stomach) more than a freshly baked batch of chocolate zucchini muffins. As a cooking enthusiast and self-confessed chocoholic, this recipe remains an all-time favorite among my family and friends. So, without further ado, let's dive in and explore the journey to creating these scrumptious treats, chock-full of nutrients and love!
It all starts with picking the freshest ingredients. A couple of plump zucchinis, rich cocoa powder, farm-fresh eggs – you get the drift. It's always better to buy local, if possible, so you know what exactly is going into your precious muffins. Plus, it's better for the environment, and we all know that every bit counts!
Now, onto the fun part – getting our hands dirty! But trust me, fingers coated with chocolate batter ain't too shabby. First, we're going to grate that zucchini. And let me tell you, it's a workout for your arms! I love zoodle-ing zucchinis for regular pasta dishes, but grating the squash for these muffins is a welcome change of pace.
At this point, it's all about teaming up the dry and wet ingredients. Whisking the dry ingredients together with a pinch of this and a dash of that – you'll start to see the chocolate magic happen! When it comes to the wet ingredients, be sure to wring out the excess moisture from your zucchini pals. The last thing you want is soggy muffins.
As you fold the wet ingredients into the dry, the anticipation is palpable! The silky chocolate batter gets thicker, and those do-gooder zucchinis are discreetly hidden, lurking within like secret agents on a mission to give us a tasty health boost. Into the muffin tins they go, and before you know it, the oven door closes with a satisfying thud. The sweet aroma begins to fill the house, and you can't help but beam with pride.
As you gather around with your loved ones, the first bite into these scrumptious chocolate zucchini muffins will definitely make this labor of love all worth it. Enjoy!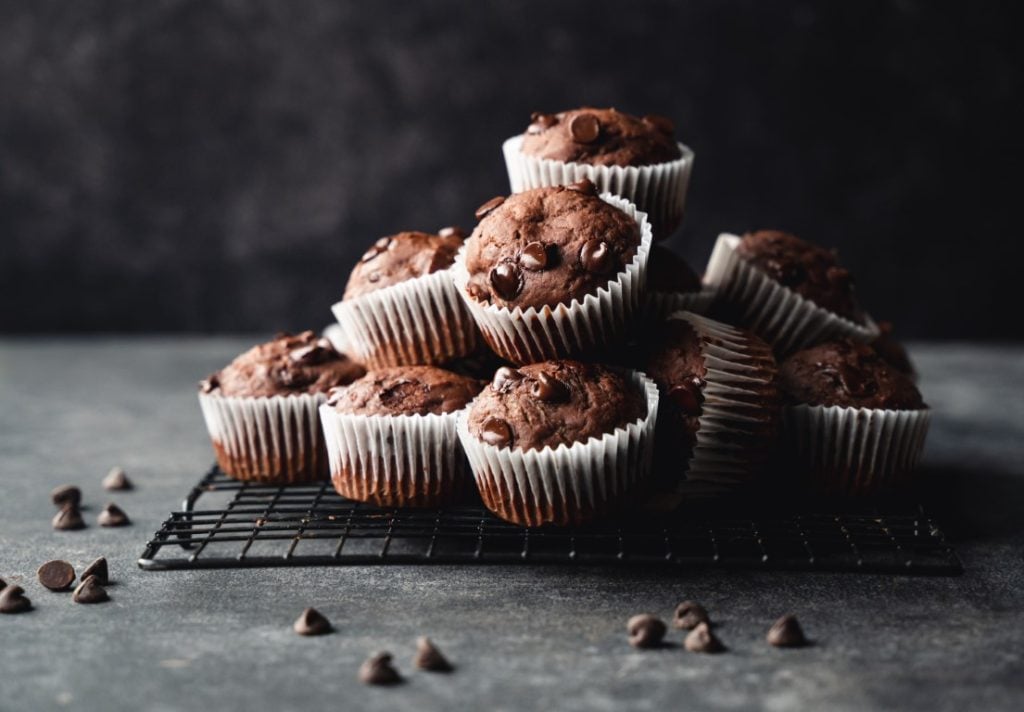 Chocolate Zucchini Muffins Recipe:
Ingredients:
1 1/2 cups grated zucchini (about 1 large zucchini)
1 3/4 cups all-purpose flour
1/2 cup unsweetened cocoa powder
1 tsp baking soda
1/2 tsp baking powder
1/2 tsp salt
1/4 tsp ground cinnamon
1/2 cup granulated sugar
1/2 cup packed brown sugar
1/3 cup vegetable oil
2 large eggs, at room temperature
1 tsp vanilla extract
3/4 cup semi-sweet chocolate chips
Optional: 1/4 cup chopped walnuts or pecans
Instructions:
Preheat oven to 350°F (175°C) and line a 12-cup muffin tin with paper liners.
Wash and grate zucchini; pat dry and set aside.
In a large bowl, whisk together flour, cocoa powder, baking soda, baking powder, salt, and cinnamon.
In a separate bowl, whisk together granulated sugar, brown sugar, vegetable oil, eggs, and vanilla extract until smooth.
Add the grated zucchini to the wet ingredients; mix well.
Slowly add the dry ingredients to the wet ingredients; stir gently until just combined (do not overmix).
Fold in chocolate chips and optional nuts, if desired.
Divide batter evenly among the muffin cups, filling each about 2/3 full.
Bake for 20-25 minutes or until a toothpick inserted in the center of a muffin comes out clean.
Allow muffins to cool in the tin for 5 minutes, then remove and let them cool completely on a wire rack.
Enjoy your delicious chocolate zucchini muffins!
That was fresh!