Oh boy! There's no better feeling than waking up to the heavenly aroma of freshly baked chocolate chip muffins. Baking is my realm and when it's muffin day, trust me, everyone is in for a treat.
Nothing quite hits the button than handcrafting a batch of muffins from scratch. You roll up your sleeves and let the wafting scent of rich cocoa, coupled with the comforting warmth of the oven, wrap around you like a cozy blanket. It's like taking part in some sort of culinary dance-off sprinkled with dashes of creativity.
While most recipes call for a straightforward mix, pour, and bake approach, I prefer to add a pinch of fun, a dollop of love, and a generous heaping of enthusiasm. My muffins don't just taste luscious—they narrate delicious tales straight out from my heart too.
The zestiness kicks in when it's time to play with the chocolate chips. Ah, my precious little cocoa nuggets! Let me tell you a secret – I'm not known for keeping count of those chips. Some say I scatter them like a squirrel collecting nuts for winter. Well, to heck with stinginess when you're serving joy in a muffin cup! After all, there's no such thing as too many chocolate chips, right?
Oh, and the anticipation that builds as they rise – that's the sweetest form of torture! As soon as those muffin tops turn into a beautiful golden brown—voila—it's Magic Time! The room becomes alive with the exquisite smell that brings everyone flocking to the kitchen.
Muffin preparations might seem ordinary to some, but in my kitchen, they're a delectable blend of love, fun, and absolute pandemonium. With every dollop of batter, I pour out my heart. Now, who's ready for a batch of these tasty morsels topped with melty chocolate chips?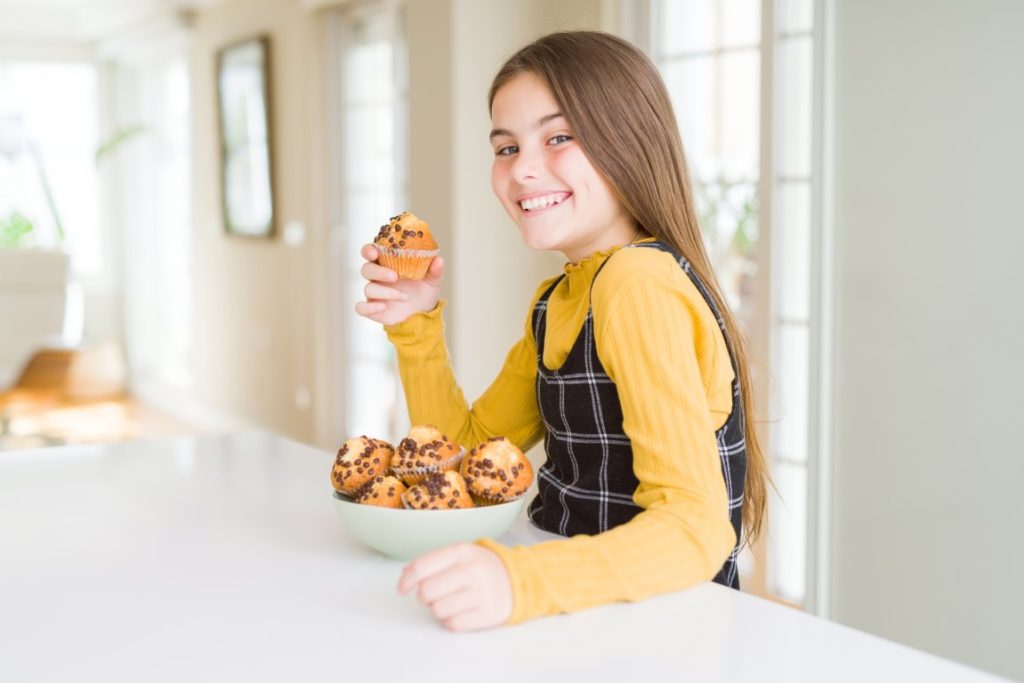 Gather all your ingredients: 2 cups all-purpose flour, 1/2 cup granulated sugar, 1/2 cup packed brown sugar, 3/4 cup unsalted butter, 2 eggs, 2 teaspoons vanilla extract, 1/2 teaspoon salt, 2 teaspoons baking powder, 1/2 cup milk, and 1 and 1/2 cups chocolate chips.
Preheat your oven to 375 degrees Fahrenheit and prepare your muffin tin by either greasing or lining with paper muffin cups.
In a large bowl, whisk together flour, both types of sugar, baking powder, and salt.
In a separate bowl, beat the eggs. Melt the butter and let it cool a bit before adding it to the eggs. Stir in vanilla extract.
Combine the egg-butter-vanilla mixture with the dry ingredients, ensuring not to overmix.
Gradually add milk to the mixture, then fold in chocolate chips.
Scoop batter into the prepared muffin tin, making sure each cup is about three-quarters filled with batter.
Bake in your preheated oven for 20-25 minutes, or until a toothpick inserted into the center comes out clean.
Let the muffins cool in the pan for about 5 minutes, then remove and let them cool on a wire rack.
Enjoy your home-baked chocolate chip muffins with a glass of cold milk or a cup of freshly brewed coffee.
That was fresh!