Howdy, folks! I'm downright excited to dish out the secrets to one of my absolute favorite (Greek, mind you) dishes—Chicken Souvlaki. Trust me; it's the bee's knees if you're hankering for a healthy meal that'll make your family and friends sing praises to the culinary gods (or just shower you with compliments).
So, let's dive right in, shall we? First off, the star of the show is, of course, the juicy, mouthwatering chicken. I find it just heavenly to marinate those tender pieces overnight. Oh, the anticipation! My go-to marinade ingredients are olive oil, lemon juice, garlic, oregano, salt, and pepper. Take a gander at your pantry and fridge and feel free to toss in whatever the heart desires for a personalized twist (rosemary, chili flakes, or cumin, perhaps?). Just let your garden-variety culinary instincts take the wheel—playing around with flavors is half the fun!
Once the chicken's marinated, call me old-fashioned, but I find it best to spear 'em on to skewers, letting it roast as it dangles over a delicious bed of sizzling charcoal. But hey, you don't have to fight tooth and nail to follow tradition—a grill or oven broiler would do the trick too. Just be on the lookout for those lovely golden grill marks, and make sure 'em puppies are cooked through.
Now, no Chicken Souvlaki party is complete without its soulmate—Tzatziki, a luscious sauce-like concoction that will knock your socks off. Fresh Greek yogurt, grated cucumber, minced garlic, and a dollop of white vinegar, all seasoned with salt and a dash of pepper. Give 'er a whirl! Feel free to prettify your masterpiece with a sprinkle of dill or mint.
Set the finished product on a throne-worthy platter, and let the revelry ensue. Friends and family will be hugging you like a jitterbug in a windstorm once they get a taste of this Greek masterpiece. Happy cookin', y'all!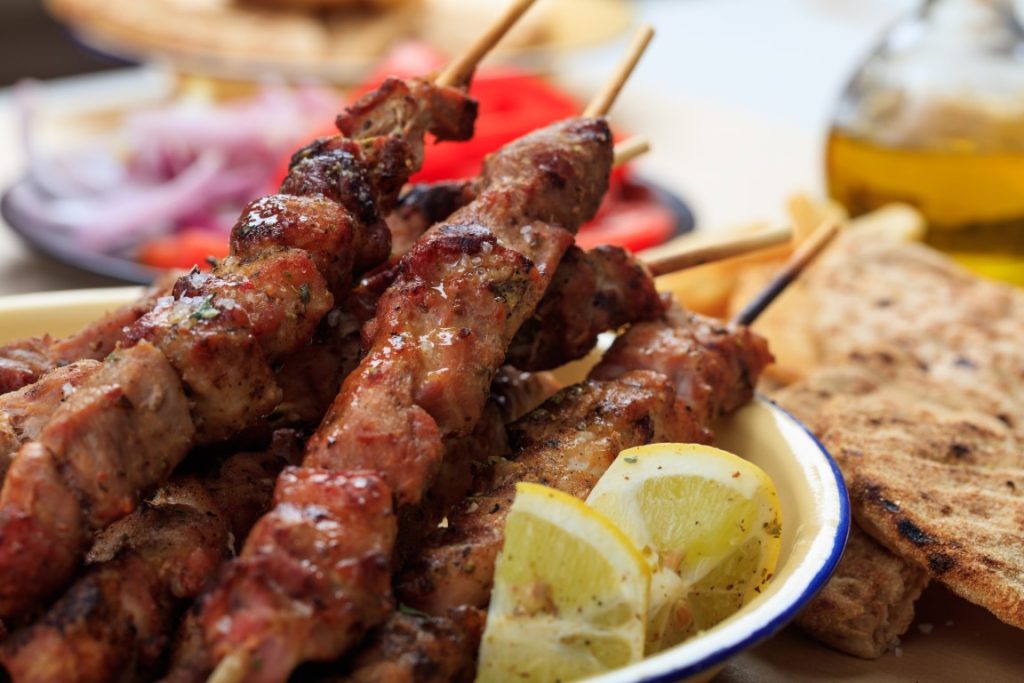 Gather ingredients:
2 lbs boneless and skinless chicken breasts, cut into bite-sized pieces
1/4 cup olive oil
1/4 cup lemon juice
3 garlic cloves, minced
1 tbsp dried oregano
Salt and pepper, to taste For Tzatziki sauce:
1 cup Greek yogurt
1/2 cucumber, grated and drained
2 garlic cloves, minced
1 tbsp white vinegar
Salt and pepper, to taste
Optional: fresh dill or mint
Prepare the marinade:
Combine olive oil, lemon juice, minced garlic, oregano, salt, and pepper in a bowl.
Add chicken pieces and toss until well coated.
Cover and refrigerate overnight or at least for 2 hours.
Prepare the Tzatziki sauce:
In a bowl, combine Greek yogurt, grated cucumber, minced garlic, and white vinegar.
Season with salt and pepper, and mix well.
Add a sprinkle of dill or mint, if desired.
Refrigerate until ready to serve.
Assemble skewers:
Remove chicken from marinade, discarding leftover marinade.
Thread chicken onto skewers, leaving space between each piece.
Cook the Chicken Souvlaki:
Grill skewers over medium-high heat, turning occasionally, for 10-12 minutes or until chicken is cooked through and has nice grill marks.
Alternatively, broil in the oven on high for 10-12 minutes, flipping halfway.
Serve Chicken Souvlaki:
Arrange skewers on a platter, and serve with Tzatziki sauce on the side for dipping.
Optional: serve over a bed of rice, with pita bread, or accompanied by a fresh Greek salad.
That was fresh!