Holy hotcakes! Preparing potato pancakes are a fabulous way to flip dull dinner plans into a top-notch culinary escapade. Ever since I picked up a spatula, I've been a zealous devotee of nurturing my loved ones via the cuisines I craft. This time, potato pancakes have been my weapon of choice!
Right off the bat, potatoes reign supreme due to their versatility. These down-to-earth tubers can transform into a gazillion palatable preparations, but oh baby, nothing hits the jackpot like nicely browned, crispy potato pancakes. They're the bee's knees, the cat's pajamas if you will! Not to blow my own trumpet, but my version of these humble goodies is indeed a game-changer.
Now, getting to the nuts and bolts, I like to start with the star of the show, our humble spuds. I prefer them grated because, in the wise words of every grandma ever, why mess with tradition? Do keep in mind, though, my curious connoisseurs, it's all fun and games until you grate a knuckle. Heads up!
Next comes the dazzler: onions. A fine chop of red or white onions adds a symphony of flavor in every bite. The union of potatoes and onions, well, it's one heck of a match made in heaven.
Then I add a bit of that food magic, aka eggs, and a pinch – okay, maybe two – of flour to bind it all together. A sprinkle of salt and a dash of pepper are all you need to season these bad boys.
Funny how quickly these things come together, eh? A quick sizzle in hot oil and voilà! These lovely, golden-brown circles of happiness are ready to savor!
So, folks, next time you're dangling in the fraught decision of what to cook that's healthy, hearty, and downright delicious – give my potato pancakes a whirl! Trust me, they're worth the hype. Enjoy the peeling, grating, and sizzling! Happy cooking!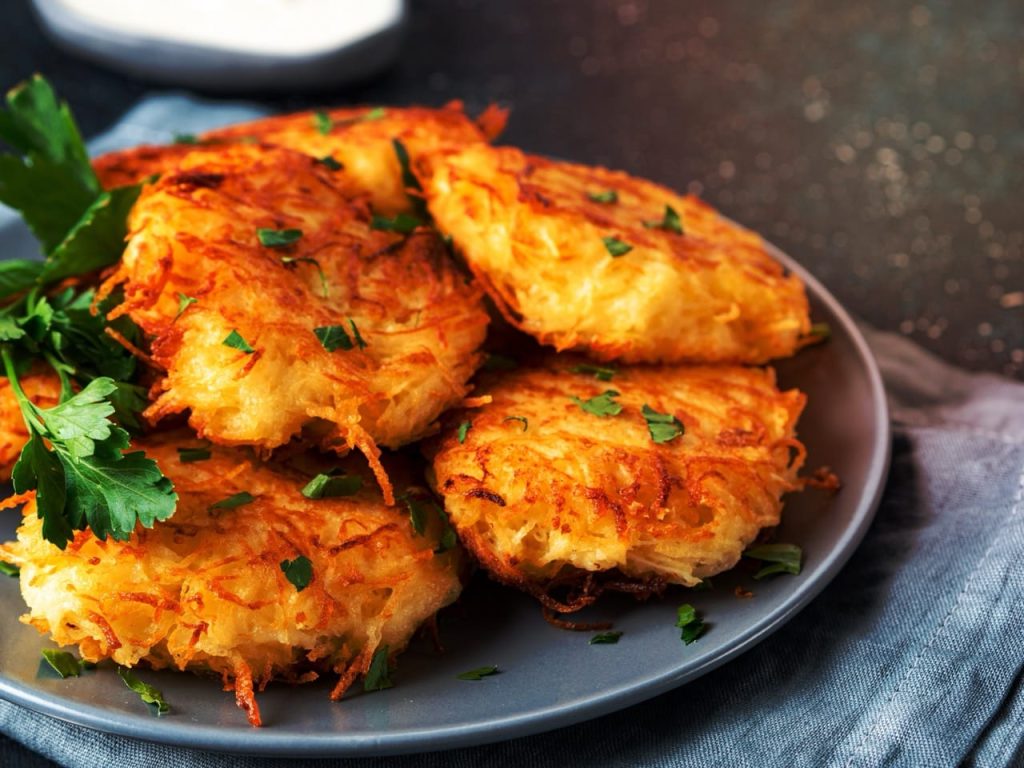 Let's Get To Work!
Gather the necessary ingredients: two medium-sized potatoes, one small onion, one egg, two tablespoons of flour, salt, and pepper to taste, and enough oil to cover the bottom of your frying pan.
Start by peeling and grate the potatoes into a large bowl.
Finely chop the onion and add it to the bowl.
Beat the egg in a separate dish and then add it into the bowl.
Stir in the flour until you have a good consistency. The batter should be thick but not too doughy.
Add salt and pepper according to your taste.
Heat the oil in a frying pan over medium heat.
Drop spoonfuls of the potato mixture into the hot oil.
Flatten the pancakes with a spatula and fry for about 3-4 minutes on each side, or until golden brown.
Scoop the pancakes out of the oil with a slotted spoon and place them on a paper towel-lined plate to drain any excess oil.
Repeat these steps until you have used all the potato mix.
Serve hot, possibly with a dollop of sour cream or applesauce for an authentic touch.
That was fresh!