Oh boy, do I have a treat for y'all! If there's one thing I adore, it's whipping up meals that not only tantalize the taste buds but also bring people together, sharing in the deliciousness. Today, let's spice things up a notch with a fresh and scrumptious Mexican Corn Salad that'll have your friends and family begging for seconds (and thirds!).
First things first, let's gather the ingredients, the more colorful, the better! You'll need fresh corn (kernels off the cob, please), cherry tomatoes (I prefer mixed colors), red onion, avocado, and cilantro. For the dressing, we'll shake up some olive oil, lime juice, chili powder, cumin, and – of course – a pinch of salt and pepper.
Time to roll up our sleeves and dive into the fun part – making the salad! In a large bowl, combine those juicy corn kernels, halved cherry tomatoes, finely chopped red onion, and diced avocado. Now, I know some folks have mixed feelings on cilantro (some even say it tastes like soap, can you believe it?). But don't worry; you can add as much or as little as you like, so it suits everyone's tastes. Give it a good toss, ensuring that all those bright colors are well-incorporated.
Now, let's kick it up a notch with that zesty dressing. In a small jar (with a lid), combine the olive oil, lime juice, chili powder, cumin, salt, and pepper. Give it a good ol' shake, shake, shake until everything is thoroughly mixed.
Last but not least, drizzle that flavor-packed dressing over the salad and give it one last toss to coat everything in scrumptious goodness. I mean, talking about a fiesta for your taste buds, am I right?
So, next time you're in need of a crowd-pleaser, don't sweat it. This Mexican Corn Salad is sure to win over even the most discerning of palates. Happy cooking, amigos!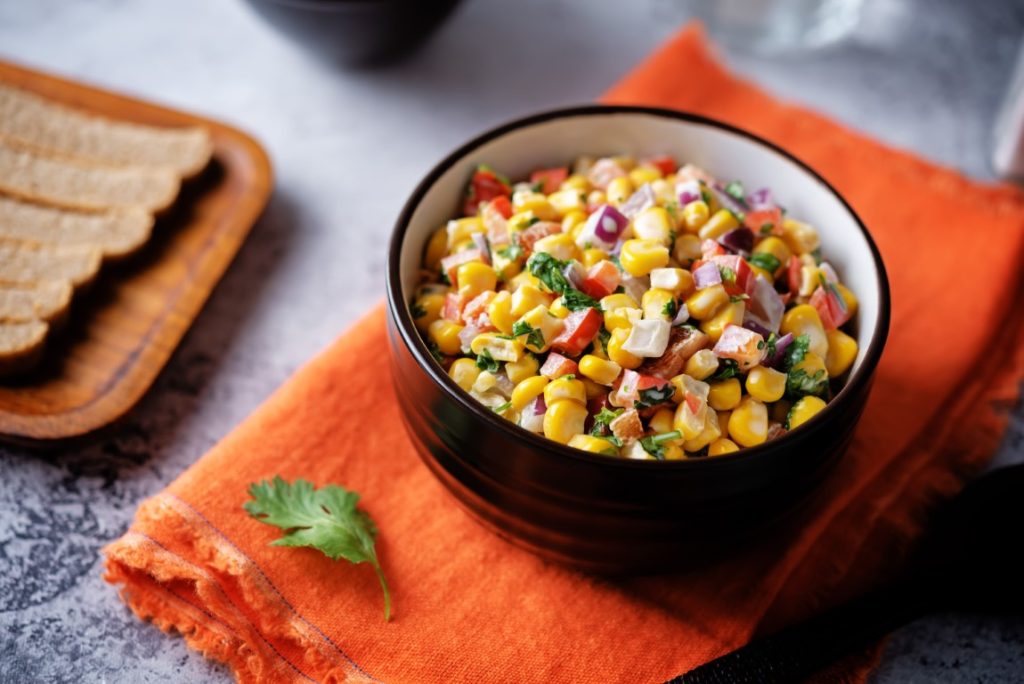 Gather ingredients:
4 cups fresh corn kernels (cut off the cob)
2 cups halved cherry tomatoes (mixed colors, if possible)
1 cup finely chopped red onion
2 ripe avocados, diced
1/2 cup chopped cilantro
Dressing:
1/4 cup olive oil
Juice of 2 limes
1 teaspoon chili powder
1 teaspoon cumin
Salt and pepper, to taste
Instructions:
Combine all salad ingredients in a large bowl (corn, cherry tomatoes, red onion, avocado, and cilantro) and toss together.
Prepare the dressing: combine olive oil, lime juice, chili powder, cumin, salt, and pepper in a small jar with a lid.
Shake dressing vigorously until ingredients are well-mixed and emulsified.
Drizzle the dressing over the mixed salad ingredients in the bowl.
Toss everything together again, making sure to coat all ingredients with the dressing.
Serve immediately, or refrigerate briefly to allow flavors to meld together.
Enjoy your delicious Mexican Corn Salad with family and friends!
That was fresh!