There's nothing quite like the joy I get from preparing a mouthwatering dish for my family and friends. Whenever I have company, I love whipping up a satisfying meal that is both fresh and healthy. And what better way to tickle the taste buds than with a scrumptious seafood paella?
Alright, I'll let you in on a little secret—my love for seafood paella is undoubtedly a teeny-tiny obsession. I mean, seriously, who wouldn't jump at the chance to dig into a plateful of saffron-infused rice bursting with a potpourri of seafood delights? It's lip-smacking good, if I do say so myself!
First things first, gathering the freshest ingredients is key. After all, you can't whip up an out-of-this-world paella without top-notch ingredients. I have a local fishmonger who knows exactly what I like, so whenever I call, they're quick to set aside the best catch of the day just for me. Talk about royal treatment, right?
Once I get my hands on these succulent morsels, I put on my apron and get my trusty paella pan ready for action. You can't go wrong with a generous glug of olive oil, some finely chopped onions, bell pepper, and garlic—oh, the aroma gets me every time! Then comes the sofrito, followed by the pièce de résistance: the seafood. This dish really comes alive as I add the mussels, clams, shrimp, and fish into the mix.
While the paella is cooking, there's always time for a little glass of vino or two. After all, what's a good meal without a bit of fun in the kitchen? With the delightful smells wafting through the air, it's hard not to get a little antsy for a taste.
Finally, a sprinkle of fresh parsley and a wedge of lemon, and voilà—seafood paella perfection is served! Watching the eyes of my family and friends light up as they take their first bite, now that's the icing on the cake! Bon appétit!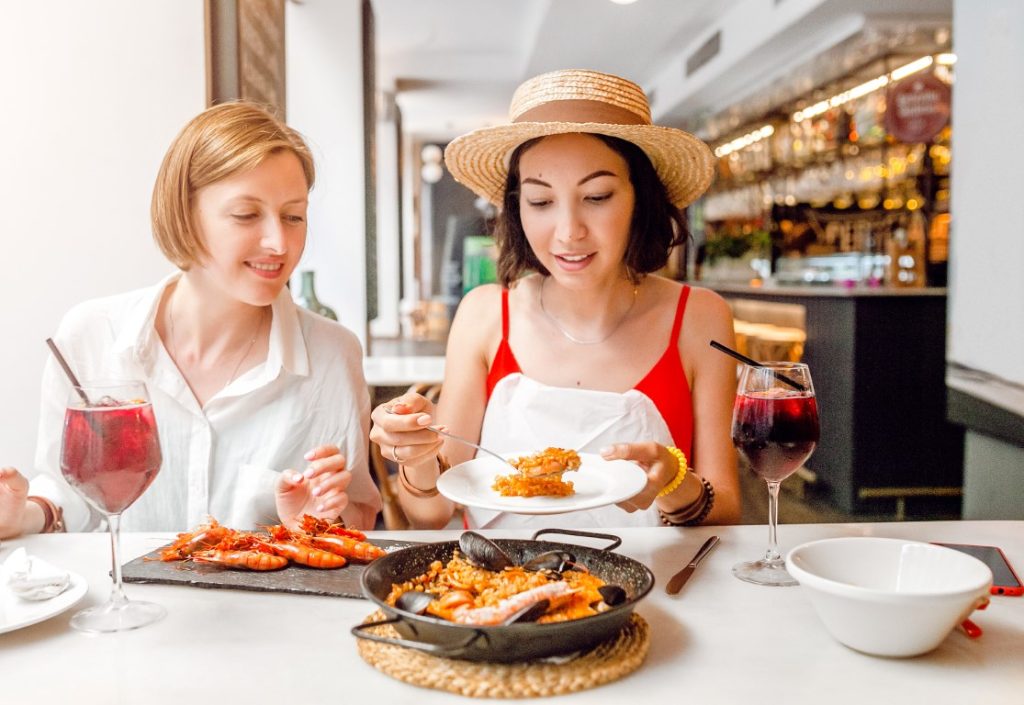 Gather your ingredients:
2 cups Arborio or Bomba rice
4 cups chicken or fish broth
1 large onion, finely chopped
1 red bell pepper, finely chopped
3 cloves garlic, minced
1/2 cup chopped tomatoes (fresh or canned)
Pinch of saffron threads, soaked in a few tablespoons warm water
1 tsp smoked paprika
1/2 tsp turmeric
Salt and pepper, to taste
1/4 cup olive oil
1 lb mixed seafood (e.g., mussels, clams, shrimp, fish)
1/2 cup fresh or frozen peas
Chopped fresh parsley, for garnish
Lemon wedges, for serving
Instructions:
Rinse the rice under cold water and drain well.
Heat the broth in a pot on low heat and keep it warm.
In a large paella pan or wide skillet, heat the oil over medium heat.
Add the onion and bell pepper to the pan, cooking until they're softened.
Stir in the garlic and cook for a minute, just until fragrant.
Add the tomatoes, cooking until they've broken down and developed a sofrito-like consistency.
Stir in the rice, coating it with the mixture in the pan.
Add the saffron (with water), paprika, turmeric, salt, and pepper, combining everything well.
Slowly pour the warm broth over the rice mixture, ensuring everything is evenly spread out.
Allow the rice to cook for about 10 minutes, without stirring.
Gently arrange the seafood pieces in the rice, along with the peas.
Continue to cook the paella for another 10-15 minutes, until the rice is fully cooked and the seafood is cooked through.
Let the paella rest for a few minutes.
Garnish with chopped parsley before serving hot with lemon wedges on the side.
That was fresh!