Alright, folks! Listen up, because today, we're diving into one of my all-time favorite dishes: Wanton soup! I mean, it's not just a typical soup; we're talking about succulent, pillow-like dumplings swimming in a savory, heart-warming broth – it's like a warm hug on a chilly day!
Okay, so let's get down to business. First things first, we'll start by prepping our delightful little wanton parcels of deliciousness. Contrary to popular belief, making wanton wrappers from scratch is a piece of cake! Just mix the flour, salt, and water, and knead away till you get a pliable dough. But between you and me, if you're short on time, store-bought wrappers will do the trick. No judgments here!
Now, for the pièce de résistance: the filling. I'm talkin' juicy shrimp, tender ground pork, scallions, and those secret Asian flavors that'll make your tastebuds dance – think soy sauce, sesame oil, and a cheeky pinch of white pepper. Mix it all up, and let it get acquainted in the bowl.
Next up: the assembly line. It's as easy as plopping a spoonful of that heavenly mixture onto a wrapper, dabbing the edges with water – just a smidge, mind you – and folding our wanton babies with love and care. Don't sweat it, though; practice makes perfect!
The broth is our next order of business. Oh, the broth! Here's a little secret: a good-quality chicken stock as the base is the bee's knees, and don't forget the magic that ginger, garlic, and a touch of sesame oil can bring. Let those flavors meld together, and I swear, you'll be swooning.
Finally, it's go-time. When you're hankering for a bowl, gently lower those wantons into boiling water and cook them till they float up like happy little clouds. Prepare yourself for the grand finale as you ladle that steaming-hot, aromatic broth over the dumplings with finesse. Garnish with some fresh greens, and you've got a feast fit for a king!
In the realm of soups, Wanton soup reigns supreme, and I guarantee this little gem will be your passengers' favorite pitstop. So what are you waiting for? Get your aprons out, and let's get cooking!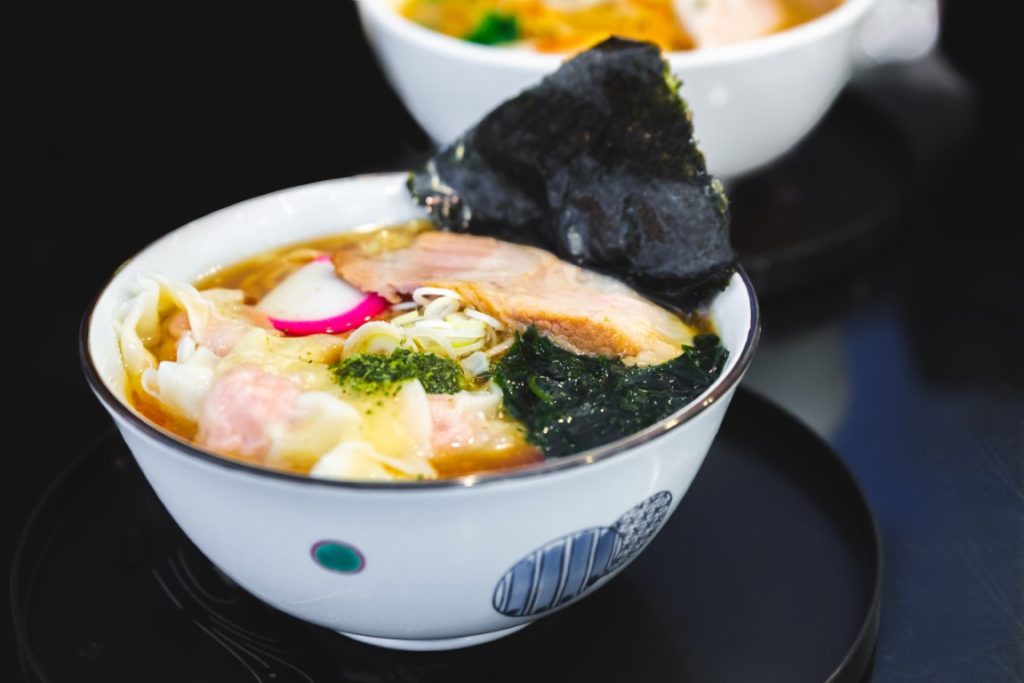 Prepare the wanton wrappers:
Combine 2 cups of all-purpose flour, 1/2 teaspoon salt, and 1/2 cup water in a mixing bowl
Knead the dough until smooth and let it rest for 30 minutes before rolling out the wrappers
Assemble the filling:
Mix 1/2 pound ground pork, 1/2 pound finely chopped shrimp, 1/4 cup chopped scallions, 2 tablespoons soy sauce, 1 tablespoon sesame oil, and 1/4 teaspoon white pepper in a bowl
Create the wantons:
Place a spoonful of filling on a wrapper
Dab edges with water, and fold the wrapper into a triangle or other desired shape, sealing edges firmly
Create the broth:
Heat 2 tablespoons vegetable oil in a large pot, and sauté 2 cloves minced garlic and 1 tablespoon grated ginger until fragrant
Add 8 cups good-quality chicken stock and 2 teaspoons sesame oil to the pot, and bring it to a boil
Lower heat, and let the broth gently simmer for about 20 minutes to allow flavors to meld
Cook the wantons:
Bring a separate pot of water to a boil, and lower wantons into the boiling water
Cook until the wantons float to the surface, then lift them out with a slotted spoon (cooking time will vary based on the size of the wantons, but typically 4-5 minutes)
Serve the soup:
Place cooked wantons in individual serving bowls
Ladle hot broth over the wantons
Garnish with fresh greens or thinly sliced scallions for an extra pop of color and flavor
Enjoy your homemade Wanton soup, and share with friends and family!
That was fresh!