Ah, cucumbers – the unsung heroes of the vegetable world. Light, refreshing, and hydrating – they also pack a real crunch! I've always been a sucker for a good cucumber salad, and let me tell you, I've found a recipe that tantalizes the taste buds like no other – Asian Spicy Cucumber Salad.
Now, we all know cucumbers can be a bit plain Jane, so I love jazzing them up with a little heat and zing. This Asian Spicy Cucumber Salad recipe combines those cool, crisp cucumbers with the bright kick of red pepper flakes, lime juice, and a dash of sweet and salty flavors. Trust me, it's good vibes all around!
Alright, so let's dive into the nitty-gritty of making this lip-smacking side dish. First, I like to start by thinly slicing the cucumber – a mandoline is your best friend here! You want those delicate, paper-thin slices that will soak up every last drop of the dressing.
Speaking of that dressing, it's a veritable melting pot of flavors! In a small bowl, mix together a bit of sugar, soy sauce, rice vinegar, and sesame oil until that sugar dissolves. I generally throw in a handful of minced garlic and ginger, too – don't be shy with these bad boys! Finally, toss in your red pepper flakes and freshly-squeezed lime juice, and voila! You've got a dressing that will make even the most cuke-skeptical folks change their tune.
Here's the icing on the cake: sprinkle in some chopped cilantro and green onions for a pop of color and additional freshness. Once you've given your cucumber slices a thorough dunk in their spicy, tangy bath, let everything chill out in the fridge for a bit. Giving these flavors some time to get acquainted makes a world of difference.
This Asian Spicy Cucumber Salad is the perfect addition to those backyard cookouts or a simple, refreshing snack on a hot summer day. Seriously, once you've tried this spin on cucumbers, there's no turning back. Give it a whirl, and let your taste buds thank me later!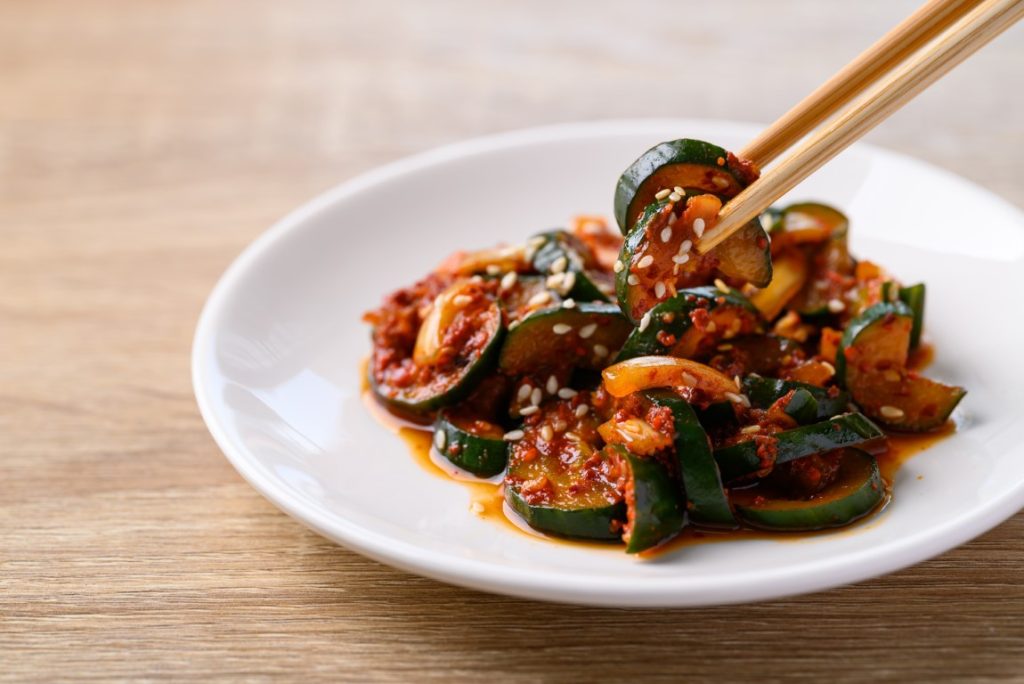 Gather the following ingredients:
2 English cucumbers
1/4 cup rice vinegar
2 tablespoons soy sauce
1 tablespoon sesame oil
2 teaspoons sugar
1 clove garlic, minced
2 teaspoons fresh ginger, minced
1/2 teaspoon red pepper flakes (adjust to taste)
Juice of 1 lime
1/4 cup chopped fresh cilantro
1/4 cup sliced green onions
Instructions:
Wash and trim the ends of the cucumbers.
Using a mandoline or a sharp knife, thinly slice the cucumbers.
In a small bowl, combine rice vinegar, soy sauce, sesame oil, and sugar.
Stir until sugar dissolves completely.
To the dressing, add minced garlic, ginger, and red pepper flakes.
Squeeze in the lime juice and mix well.
Add the cucumber slices to a large mixing bowl.
Pour the dressing mixture over the cucumber slices.
Toss gently, ensuring cucumbers are well coated with the dressing.
Cover the bowl and let it refrigerate for about an hour. (This allows the flavors to meld together and the cucumbers to absorb the dressing.)
Just before serving, add the chopped cilantro and sliced green onions.
Toss once more, making sure herbs are evenly distributed.
Transfer the salad to a serving plate or bowl.
Enjoy as a refreshing side dish or appetizer!
That was fresh!