Nothing brings friends and family together like a heavenly, made-from-scratch Buttermilk Pie, y'all! From the moment I crack the first egg, my heart swells with joy, as I know I'm fixin' to create something special for my loved ones. This classic southern dessert never fails to impress, and shoot, who doesn't love a sweet and tangy treat on a warm afternoon?
Before rolling up my sleeves and diving headfirst into this scrumptious endeavor, I get all my ducks in a row. It's essential, folks. The recipe calls for simple yet fantastic ingredients like sugar, butter, Buttermilk (of course), and a little bit of magic called love—an absolute must-have in any kitchen masterpiece.
With ingredients neatly prepped, I start creamin' the butter and sugar. There's something downright therapeutic about watchin' these two meld together into a fluffy marriage, I must say. Once this love affair is in full bloom, it's time to let the eggs pop in and say howdy to the mix. Funnily enough, just like life, timing is everything when it comes to baking.
Buttermilk – the star of the show – is up next! If you give an inch in this recipe, that tangy, mouthwatering scent will take a mile. Stirrin' it all together, the mixture starts lookin' like the real deal. A few tappin' beats of the whisk later, and voila! My luscious buttermilk concoction is locked and loaded.
Now, pourin' this heavenly mixture into a homemade pie shell requires a bit of finesse. Be gentle, darlin' – it's a labor of love. As the silky goodness meets the flaky pastry, the anticipation is nearly too much for this ole heart of mine.
With a sigh and a grin, I slide this divine creation into the oven, countin' down the minutes until we can sink our teeth into a slice of southern heaven. The scent wafts through the house, hollerin', Honey, you've done it again.
And that, folks, is the magic of a homemade Buttermilk Pie – served fresh and full of love, it's the ultimate embodiment of sweet southern hospitality.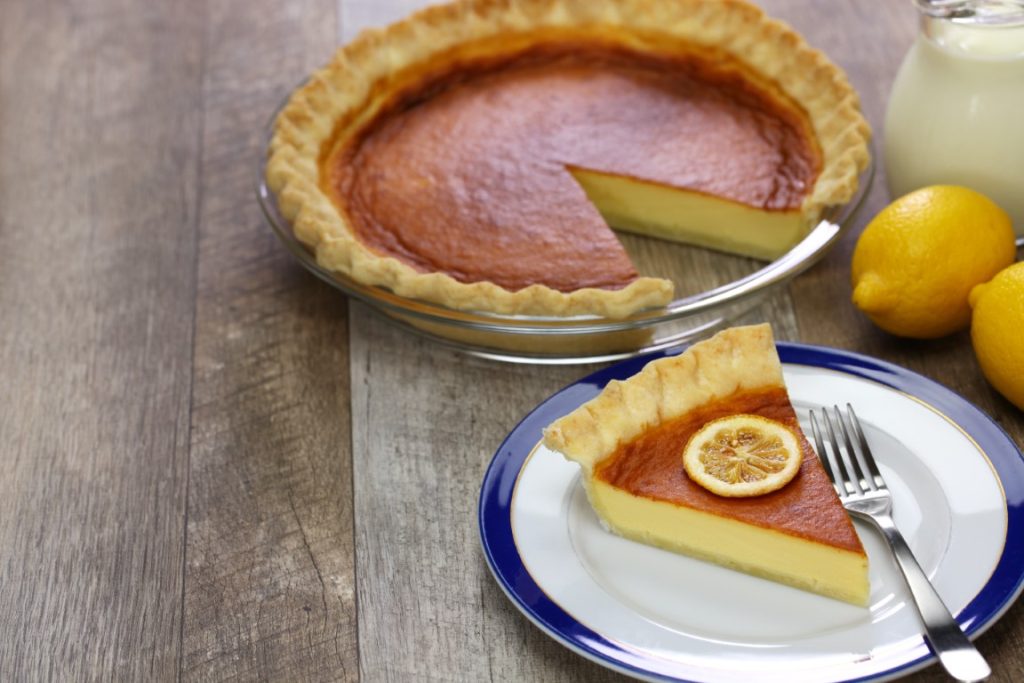 Gather the ingredients for the pie crust and filling:
For pie crust:
1 ¼ cups all-purpose flour
½ tsp salt
1 tbsp sugar
½ cup cold unsalted butter, cubed
¼ cup ice-cold water For filling:
1 ½ cups granulated sugar
½ cup unsalted butter, softened
3 large eggs
1 tbsp all-purpose flour
1 tsp pure vanilla extract
½ tsp salt
1 cup buttermilk
Make the pie crust:
In a large mixing bowl, combine flour, salt, and sugar.
Cut cold butter into the mixture until crumbly.
Gradually add the ice-cold water to the mixture and gently combine until dough forms.
Shape dough into a disc and wrap in plastic wrap.
Refrigerate dough for at least an hour, or overnight.
Instructions:
Preheat oven to 350°F (175°C).
Roll out the chilled pie crust onto a floured surface into a 12-inch circle.
Carefully transfer the rolled-out crust into a 9-inch pie pan, trimming and crimpling the edges.
Prepare the filling:
In a mixing bowl, cream together the sugar and softened butter.
Add the eggs, one at a time, mixing well after each addition.
Stir in the flour, vanilla extract, and salt until combined.
Mix in the buttermilk until the filling is smooth and well-blended.
Pour the filling into the prepared pie crust.
Bake the pie for 50-60 minutes, until the center is set and the crust is golden brown.
Remove the pie from the oven and cool on a wire rack for at least an hour before serving.
Enjoy your homemade Buttermilk Pie warm, at room temperature, or chilled.
That was fresh!