There's nothing quite like a big ol' pot of Chicken Tetrazzini bubbling away on the stove. That hearty, cozy, comfort-food vibe it gives off just makes my heart sing, I tell ya. I absolutely love getting my hands dirty in the kitchen, prepping and chopping away, all in anticipation of the scrumptious final product. To me, there's something particularly special about a homemade meal for family and friends, especially when it involves a lovingly prepared Chicken Tetrazzini.
Now, I always start by getting my mise en place ready, 'cause when it comes to cooking, it's all about being prepared. I mean, who likes frantically searching for the pasta when you've got a pan full of bubbling deliciousness waiting? Not me, that's for sure! Once everything is arranged and ready to go, I get to work on the chicken itself, using carefully selected, all-natural ingredients. After all, if I'm going to put my heart and soul into a dish, you bet your bottom dollar I'll be using the freshest, healthiest options available!
As I sauté the chicken with butter and onions, the smell wafting through the kitchen is simply heavenly. It somehow takes me back to simpler times, to Sunday family dinners filled with laughter and conversation. The next step is just as delightful: The combination of cream of mushroom soup, spaghetti, and that tender chicken…oh boy, we're really cooking with gas now!
Once everything's mixed together, the pièce de résistance is the topping, a blanket of breadcrumbs and oh-so-gooey melted cheese, forming that beautiful golden crust as it bakes. It's about as close to cooking nirvana as it gets, in my humble opinion.
There's a wonderful kind of magic that happens when I gather my loved ones around the table and present them with this divine Chicken Tetrazzini masterpiece. There's that Ooh!, followed by those Aah! sounds as everyone dives in for more. And just like that, all that hard work and preparation becomes oh so worth it. Words can't even begin to describe just how satisfying it is to feed the people I love, one spoonful of cluckin' good Chicken Tetrazzini at a time.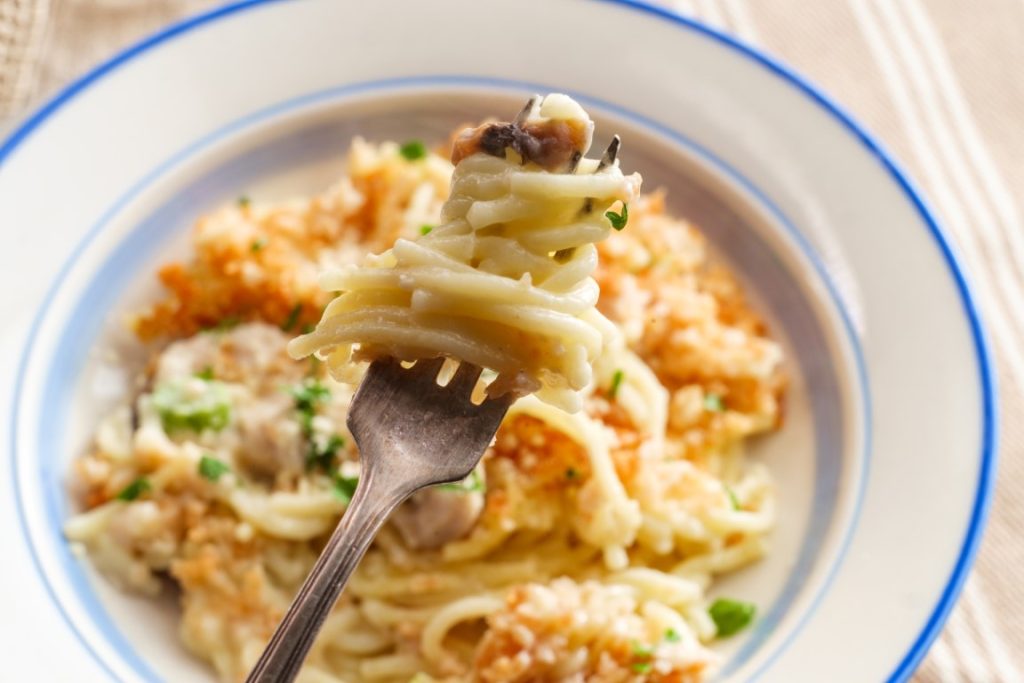 Ingredients:
12 oz spaghetti, cooked al dente
3 cups cooked chicken, shredded
1/4 cup unsalted butter
1/2 cup diced onions
2 cloves garlic, minced
8 oz white mushrooms, sliced
1/4 cup all-purpose flour
2 cups chicken broth
1 cup whole milk
1 cup heavy cream
1/2 cup grated Parmesan cheese
1 1/2 cups shredded mozzarella cheese
Salt and pepper, to taste
1/4 cup fresh parsley, chopped (optional, for garnish)
Preheat oven to 350ºF (180ºC).
In a large, deep skillet, melt the butter over medium heat.
Add onions and garlic, sautéing until softened, about 3-4 minutes.
Add mushrooms, and cook until they release moisture, about 5 minutes.
Stir in the flour, mixing well to ensure no lumps.
Gradually pour in the chicken broth, stirring continuously, followed by the milk and heavy cream. Cook for several minutes until the sauce thickens, stirring as needed.
Add grated Parmesan cheese to the sauce and mix until melted and combined.
Season with salt and pepper to taste.
Stir in the cooked chicken and spaghetti, mixing well to combine.
Transfer the mixture to a greased 9×13 baking dish.
Sprinkle the shredded mozzarella cheese evenly over the top.
Bake the Chicken Tetrazzini for 25-30 minutes, or until the cheese has melted and is golden brown.
Allow the dish to rest for 5 minutes before serving.
Garnish with freshly chopped parsley, if desired. Enjoy!
That was fresh!