If there's one thing that tickles my taste buds and satisfies my culinary spirit, it's the enticing adventure of preparing stuffed peppers. Each pepper is a blank canvas, just waiting to be filled to the brim with fresh, healthy ingredients!
You know, as I mill about my kitchen, with the gentle hum of the oven in the background, there's an incredible sense of joy and anticipation. A thrill of creativity, if you will. Sort of like a kid who's a whiz at sandbox sculptures.
First off, I pick the brightest, most vivacious peppers – they're always the sweetest. It's no cakewalk, the picking, but it's must-do in my book. I often find myself chatting fondly to the peppers, well, who wouldn't! Hold on tight, my beauties; you're about to be jazzed up!
Then comes the gutting part. I carve out their insides, real gentle-like. I know, it sounds rather grisly, but hey, no pain no gain, right?
And now for the fun part, the stuffing! Goodness me, it never feels like stuffing the peppers, but more like tucking in my loved ones with a warm blanket of deliciousness. Each pepper gets a spoonful, two, perhaps even three, until they're bursting with a flavourful concoction of ground meat, herbs, spices, and oodles of cheese.
With a whistle on my lips and a jig in my step, I set my cosy peppers on a blazing hot dance floor, the oven, to roast away until they beautifully meld into a divine gastronomic ballet. When they make their grand entrance out of the oven, believe me, it's worth writing home about!
So, folks, that's the story of my stuffed pepper soiree! It sure ain't rocket science, but it's one culinary ride that I'd reckon every foodie should saddle up for. Don't just let your taste buds to do the talking; let them sing, I say!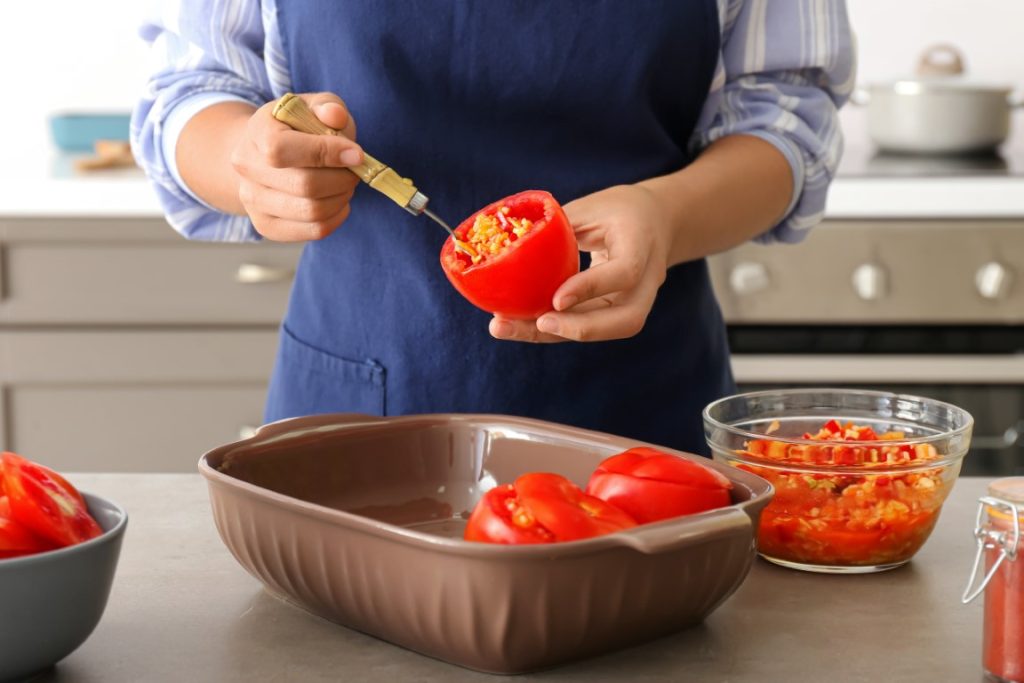 Pick out 6 large, bright bell peppers of any color. Make sure they're firm and ripe.
Preheat your oven to 375°F (190°C) and lightly oil a baking dish.
Cut the tops off the peppers and carefully remove the seeds and ribs. Discard the seeds and ribs but keep the tops for later use.
Cook 1 cup uncooked rice in 2 cups water as per packet instructions.
Meanwhile, heat a tablespoon of oil in a large skillet over medium heat. Add 1 diced onion and 2 cloves minced garlic. Sauté until just translucent.
Add 1 pound of ground beef, turkey or meat alternative to the skillet. Cook until no traces of pink are visible.
Stir in 1 teaspoon of salt, 1/2 teaspoon of black pepper, 1 teaspoon of paprika and 1/2 teaspoon of oregano. Mix until well combined.
Add the cooked rice and 1 cup of diced tomatoes to the skillet. Stir well.
Stuff each pepper with the rice and meat mixture. Place in greased baking dish.
Slice the bottoms of the kept pepper tops and place on top of the stuffed peppers.
Sprinkle with about 1 cup of shredded cheese of your choice.
Cover the baking dish with foil and bake for 30 minutes.
Remove the foil and bake for an additional 15 to 20 minutes, until the peppers are tender and cheese is bubbly and golden.
Serve on a platter and garnish with fresh chopped herbs like parsley or cilantro if desired.
Enjoy these hearty, delicious stuffed peppers!
That was fresh!