Now, we all know the old adage, the way to a man's heart is through his stomach. But honestly, I reckon 'the way to anyone's heart is through some well-stuffed pasta shells.'
Hold the phone! I'm not merely talking about those humdrum boxed pastas you grab off the store shelves. No, sir! I mean those homemade, straight-outta-the-kitchen, loaded-with-love, pasta shells. Now, picture this: Ricotta stuffed pasta shells. Mouth watering yet? Good! Let's dive straight into the backstage, where all the magic happens.
First things first, gather all your fresh ingredients. Nothing beats ripe tomatoes from the farmers market and herbs straight from your kitchen garden. Oh, the aroma is simply intoxicating! Ricotta cheese? Fresh is the way to go, folks. It just gives the dish an extra oomph!
Whip out your apron, wash your hands, and roll up your sleeves. It's cooking time! Cook shells until al dente. Oh, pardon me, it's just an Italian term for to the tooth, meaning your shells should be cooked but still firm to the bite. Ah, isn't learning fun?
Meanwhile, spin your magic with the sauce. Sauté garlic, splash in a generous swig of white wine, you're already halfway there! Throw in the tomatoes and let it simmer on low heat. Ain't nothing but a chicken wing!
Mix ricotta, parmesan, egg, with a handful of finely chopped fresh herbs. Stuff those shells! It's all quite therapeutic, if you ask me. Pour about a ladleful of sauce, arrange your shells and dollop the remaining sauce on top. Sprinkle parmesan with abandon and pop that beauty in the oven.
The result? An applause-worthy, melt-in-your-mouth dish. Ricotta stuffed pasta shells…they'll get 'em every time. Bon appétit, folks!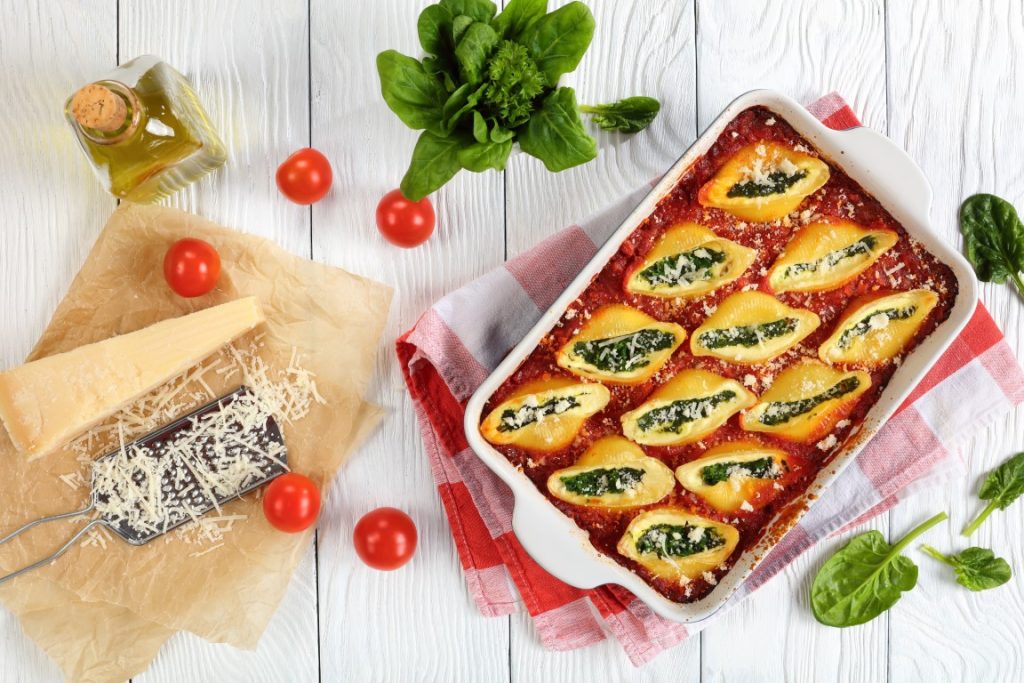 Gather all your ingredients: Ricotta cheese (2 cups), Jumbo Pasta Shells (24 pieces), Tomato Sauce (4 cups), Parmesan Cheese (1 cup), Freshly chopped herbs (2 tablespoons), Garlic (2 cloves, minced), Large egg (1), Gruyere Cheese or Mozzarella Cheese (1 cup, shredded).
Preheat your oven to 375°F (190°C).
Boil water in a large pot with a pinch of salt. Add pasta shells, cooking them until al dente. Drain and set aside.
In a large bowl, combine Ricotta cheese, a 1/2 cup of Parmesan cheese, the large egg, and herbs. Season with salt and pepper according to your taste.
Pour 1 cup of tomato sauce at the bottom of a baking dish to prevent the shells from sticking.
Stuff each cooked pasta shell with your cheese mixture, arranging them in the baking dish as you go.
Once all shells are stuffed and arranged, pour the rest of the tomato sauce over them.
Sprinkle the remaining Parmesan cheese over top, along with the Gruyere or Mozzarella cheese.
Cover the baking dish with aluminum foil and bake for 25 minutes.
Remove foil and bake for an additional 10 minutes until cheese is golden and bubbly.
Let stand for a few minutes before serving, garnishing with additional herbs if desired.
Enjoy your Ricotta Stuffed Pasta Shells! These are fantastic served with a side salad or a fresh baguette.
That was fresh!