Oh my goodness, have I got a treat for you today! You know those times when you're just craving something sweet, but you don't want to completely ruin your healthy eating vibe? Well, you're in luck because I've stumbled upon the absolute perfect recipe for cinnamon donuts that are baked, not fried. Yeah, you read that right, the days of being afraid to indulge in these heavenly delights are ancient history!
So, gather around folks and prepare your taste buds for a culinary experience that'll knock your socks off. First things first, make sure you have all the necessary ingredients within reach, including flour, sugar, baking powder, cinnamon (of course), salt, nutmeg, milk, an egg, butter, and vanilla extract. Are we all set? Perfect, let's dive in, shall we?
One of the things I love most about making donuts is that there's no need for fancy gadgets or complicated techniques. Simply mix the dry ingredients together in a large bowl, creating a heavenly aromatic cloud of cinnamon goodness. In another bowl, whisk together the wet ingredients until they're well blended. Then pour the wet into the dry and mix 'em up just until they're combined. Don't overdo it, or you'll end up with hockey pucks instead of fluffy donuts. You've been warned!
Once your batter's ready, carefully spoon it into a greased donut pan or, if you're feeling adventurous, get your hands dirty and shape 'em freehand. However you roll, just keep in mind that this is supposed to be fun so have at it! Pop those bad boys into the preheated oven at 375°F for about 10 to 12 minutes, or until they're golden brown and cooked through. I'm getting all hot and bothered just thinking about it!
While the donuts bake, we've got just enough time to work on the cinnamon-sugar coating. Grab a small saucepan and melt some butter, then set it aside. Mix up more sugar and cinnamon in a separate bowl, and there you have it – your delicious cinnamon sugar coating.
The moment you've been waiting for has arrived! Dunk those scrumptious, freshly baked donuts in the melted butter, and then roll them around in the cinnamon sugar mixture. Go on, be generous with it! Dare I say, you might just feel like a kid in a candy store.
Well, folks, that's all there is to it. Get ready to share your freshly baked cinnamon donuts with family and friends, and bask in the glow of their compliments. Just don't forget to save one for yourself!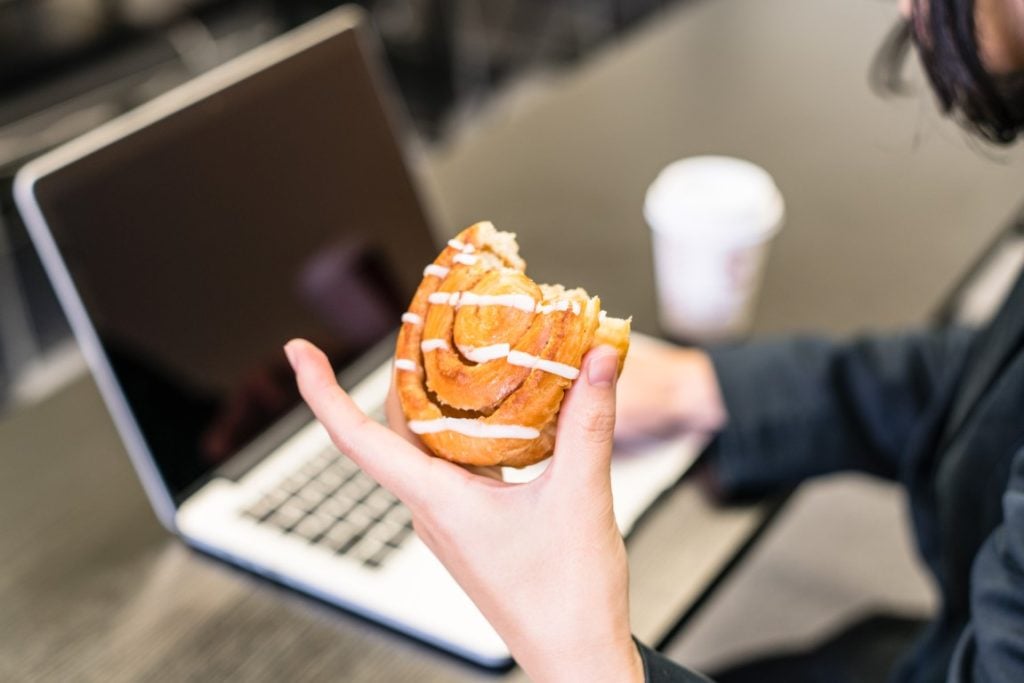 Gather ingredients: flour, sugar, baking powder, cinnamon, salt, nutmeg, milk, egg, butter, and vanilla extract.
Preheat oven to 375°F (190°C) and grease a donut pan.
In a large bowl, whisk together dry ingredients: flour, sugar, baking powder, cinnamon, salt, and nutmeg.
In another bowl, whisk together wet ingredients: milk, egg, melted butter, and vanilla extract.
Slowly add wet ingredients to dry ingredients, stirring until just combined.
Carefully spoon or pipe batter into greased donut pan.
Bake donuts for 10-12 minutes or until golden brown and cooked through.
While donuts bake, prepare cinnamon sugar coating by melting butter in a small saucepan and mixing together cinnamon and sugar in a separate bowl.
Remove cooked donuts from pan and let them cool slightly.
Dunk each donut in melted butter and then roll in cinnamon sugar mixture.
Serve warm, and enjoy!
That was fresh!