Oh boy, oh boy! You guys are in for a treat today. Whenever my nearest and dearest are craving something belly-warming and smile-inducing, they head straight for the ol' trusty Creamy Vegetable Casserole. I swear, it's as if this casserole were born to please taste buds, hearts, and tummies all at once!
First things first, any good casserole starts with the most delicious, hand-picked veggies. Now, I like to mix things up depending on the season and my mood, but my go-to combo typically consists of zucchini, carrots, potatoes, and cherry tomatoes. You just can't go wrong with an all-star cast like that!
Golly, just thinking about those crunchy, colorful veggies makes me giddy. However, things start to get really magical once they're combined with my secret weapon – a luxuriously creamy, cheesy sauce that hugs each and every morsel. Cheese lovers, brace yourselves!
Now, you might be thinking to yourself, How the heck can a recipe so delicious still be fresh and healthy? Have no fear, my friends! I've got a little trick up my sleeve, and that's Greek yogurt. By using Greek yogurt, we still get that irresistible creaminess while keeping things on the lighter side, without a lick of guilt in sight!
Now, let's talk about achieving that perfect golden, bubbly layer of deliciousness—the pièce de résistance, if you will. Simply mix together some panko breadcrumbs and Parmesan cheese, then generously sprinkle it over the top of your casserole. The result? A heavenly, crispy crust that'll have everyone coming back for seconds, thirds, or even fourths!
Do yourself a favor, and whip up a batch of this Creamy Vegetable Casserole next time your loved ones gather around your table. Honestly, there's no greater joy than watching their eyes light up with each and every decadent, flavorful bite. It's truly a symphony of flavors that's sure to bring folks together, and that's what cooking is all about, isn't it?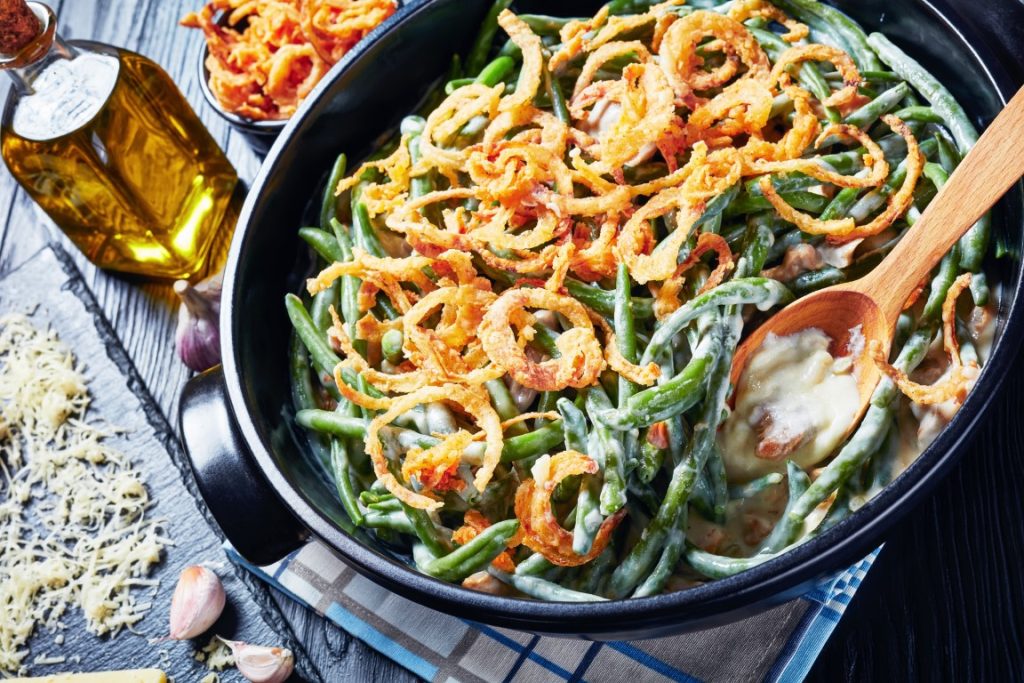 Gather ingredients:
2 medium zucchinis, sliced
2 large carrots, peeled and sliced
2 medium potatoes, peeled and diced
1 pint cherry tomatoes, halved
1 onion, chopped
2 cloves garlic, minced
1 cup grated cheddar cheese
1 cup Greek yogurt
1/4 cup milk
1/4 cup grated Parmesan cheese
1 cup panko breadcrumbs
2 tablespoons olive oil
Salt and pepper, to taste
Instructions:
Preheat oven to 375°F (190°C).
In a large skillet, heat olive oil over medium heat.
Add chopped onion and minced garlic, sautéing until fragrant and softened.
Toss in sliced zucchini, carrots, and diced potatoes, cooking until slightly tender.
Stir in cherry tomatoes, cooking for a few more minutes until they soften slightly.
Season the vegetables with salt and pepper, then remove skillet from heat.
In a large mixing bowl, combine the Greek yogurt, milk, and grated cheddar cheese, mixing well.
Fold the sautéed vegetables into the creamy mixture until all veggies are evenly coated.
Transfer the creamy vegetable casserole mixture to a greased 9×13-inch baking dish, spreading it out evenly.
In a separate bowl, mix together the panko breadcrumbs and grated Parmesan cheese to create the topping.
Sprinkle the breadcrumb mixture evenly over the top of the casserole.
Place the casserole in the preheated oven and bake for 25-30 minutes, or until bubbly and golden brown.
Allow the casserole to cool for a few minutes before serving.
Enjoy your scrumptious Creamy Vegetable Casserole with friends and family!
That was fresh!