The smell of garlic and onions sautéing in a pan always makes my heart skip a beat. Throw in some fresh spinach, tender chicken, and aromatic herbs, and I'm head over heels in love!
So, there I was in my beloved kitchen, getting ready to whip up some scrumptious Chicken Florentine for my family and friends. Honestly, if it weren't for my love of cooking, I'd be lost—especially when it comes to sharing my passion for fresh and wholesome foods with my nearest and dearest.
But, the clock was ticking, and I needed to put my game face on or risk having my guests leave with rumbling bellies. All right, enough chit-chat; let's get down to business.
First things first: I set a pot of water to boil for some pasta. Now, typically, I stick with linguine or fettuccine to accompany this dish, but hey, you do you, honey. Whatever floats your boat, right?
While the water comes to a rolling boil, I get my chicken game on. I usually cut the chicken into strips, but it's cool if you prefer bite-sized pieces. When the chicken is all nice and seasoned, it's time to give it a good ol' sear in a hot skillet.
As the chicken turns a beautiful golden brown, I can't help but let out a satisfied mmm! Now, with the chicken out of the skillet, it's time for the pièce de résistance: the sauce! Garlic and onions sizzle away, releasing their fragrant aroma into the air. Toss in the spinach, splash in some white wine or broth, and sprinkle in a pinch of nutmeg. This sauce is the perfect mix of savory and earthy flavors, I tell ya.
Just as the sauce starts to thicken, I know it's high time to add the chicken back into the mix. Oh, and how could I forget that creamy, dreamy goodness? A scoop of ricotta or maybe some cream cheese swirls in effortlessly, making this dish rich and velvety smooth.
With the pasta cooked to al dente perfection, the only thing left to do is smother it in that SOS-worthy (save our stomachs) Chicken Florentine! Time to gather around the table, folks. This love affair between palate and plate is about to begin!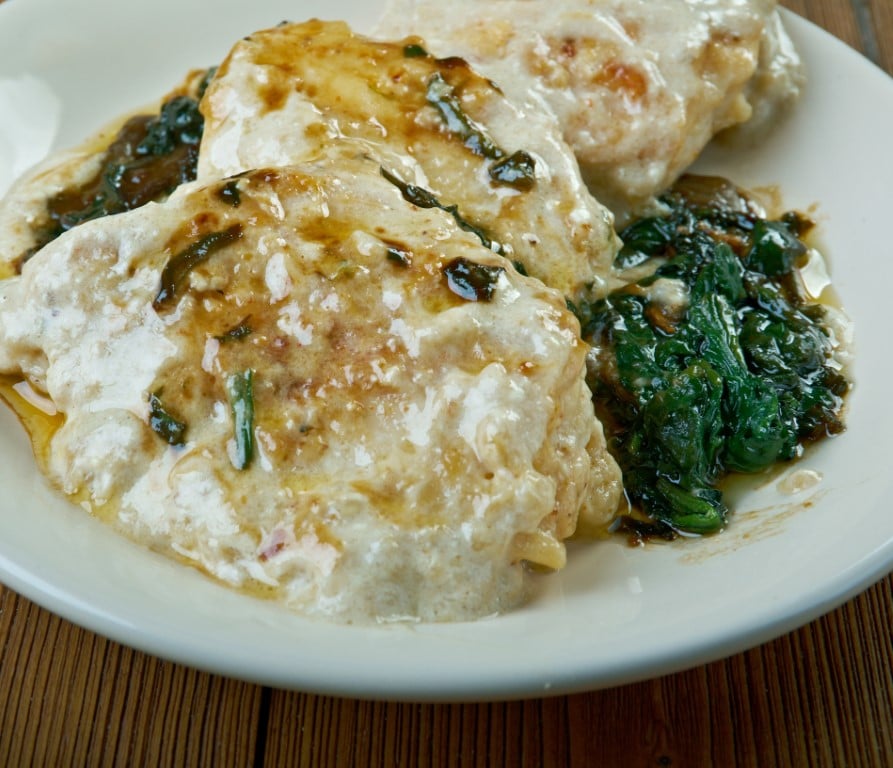 Gather ingredients:
4 boneless, skinless chicken breasts
Salt and pepper, to taste
2 tablespoons olive oil
1/2 cup chopped onion
3 cloves garlic, minced
10 oz fresh baby spinach
1/2 cup white wine or chicken broth
1/2 teaspoon nutmeg
1/2 cup ricotta or cream cheese
1/2 cup grated Parmesan cheese
12 oz linguine or fettuccine
Preheat oven to 350°F (175°C).
Season chicken breasts with salt and pepper.
Heat olive oil in a large skillet over medium-high heat.
Sear chicken in the skillet until golden brown on both sides, then remove from skillet and set aside.
Cook pasta according to package instructions until al dente, then drain and set aside.
In the same skillet, sauté chopped onion until softened.
Add minced garlic to the skillet and cook for 1 minute, stirring frequently.
Add fresh spinach to the skillet and stir until wilted.
Pour white wine or chicken broth into the skillet and bring to a simmer.
Sprinkle in nutmeg and stir to combine.
Stir in ricotta or cream cheese until fully incorporated and the sauce is slightly thickened.
Add seared chicken back to the skillet, spooning sauce over the chicken.
Transfer skillet to the preheated oven and bake for 20-25 minutes, or until chicken is cooked through.
Remove skillet from oven, sprinkle grated Parmesan cheese on top, and broil for an additional 2-3 minutes until cheese is melted and golden.
Serve Chicken Florentine over cooked pasta and enjoy!
That was fresh!