Oh boy, aren't we in for a culinary ride! You know, nothing says family time like skewering bits of succulent chicken onto sticks, right? Just kidding, but there's something so satisfying, so deliciously primal, about Thai chicken satay. And don't even get me started on the peanut sauce… That's akin to nectar from the heaven!
Alrighty then, let's dive straight in, shall we? First up, tackle the chicken. Thin strips are the name of the game, folks. You want 'em to soak up the marinate like sponges and cook evenly. Trust me; you don't want chewy satay. That said, you'd whisk together coconut milk, soy sauce, curry powder and a dash or two of brown sugar, the sweet stuff! Add in the chicken, cover up, and that bad boy's got to chill in the fridge for a bit. Heck, even overnight if you've got the patience of a saint.
Next on the docket, our old friend the peanut sauce. Oh, isn't that a dream! It's a delicious blend of creamy peanut butter, soy sauce, sweet chili sauce, a squeeze of zesty lime juice, and, hey, why not throw in some garlic and ginger for a kick. Now, you've got a sauce that's quite literally bursting with flavor. A lick-your-fingers-clean affair!
Finally, comes the fun part – grilling! Skewered chicken strips on medium-hot grill, a bit of turning here and there, and voila, you've got yourselves a homemade Thai treat!
So, grab your aprons and put on your chef's hat. This Thai Chicken Satay with Peanut Sauce won't cook itself! No time like the present to create a lip-smackingly tasty feast for your loved ones. End of the day, this is a piece of cake! Or should I say, piece of chicken.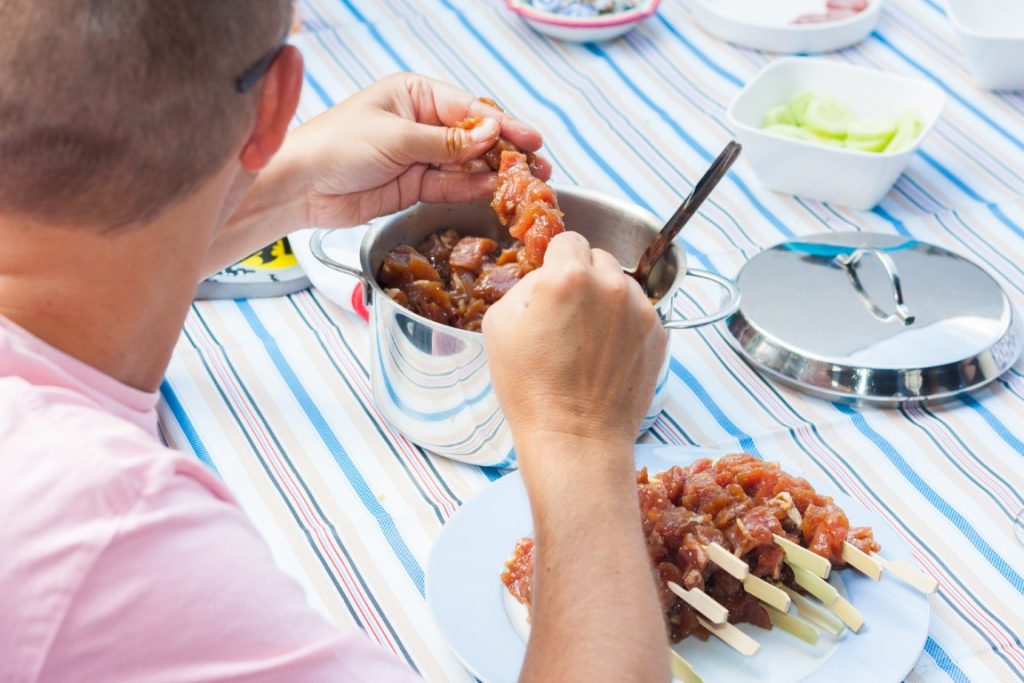 Begin with gathering the necessary ingredients for the marinate: 1 cup of coconut milk, 2 tablespoons of soy sauce, 1 teaspoon of curry powder, 2 tablespoons of brown sugar, and about 1.5 pounds of chicken cut into thin strips.
In a large bowl, whisk together the coconut milk, soy sauce, curry powder, and brown sugar until it's as smooth as silk.
Add the chicken strips into the marinate, making sure to toss them well until they're fully coated.
Cover the bowl and let it chill in the refrigerator for a minimum of 2 hours, but if you're playing the long game, let it sit overnight.
While the chicken is marinating, get started on the peanut sauce. You'll need half cup creamy peanut butter, 1 tablespoon soy sauce, 2 tablespoons sweet chili sauce, juice of 1 lime, 2 cloves garlic, and a small chunk of fresh ginger.
Blend together the peanut butter, soy sauce, sweet chili sauce, lime juice, garlic, and ginger until it forms a smooth, creamy sauce.
Now for some action! Preheat your grill to medium heat.
Thread the marinated chicken strips onto skewers and lay them on the grill.
Grill the chicken for about 3-4 minutes on each side, turning occasionally, until it's cooked to perfection.
Serve the chicken satay sticks warm with the peanut sauce on the side for dipping.
Enjoy this heavenly delight with your family and friends, and brace yourself for some serious compliments coming your way!
That was fresh!