There's nothin' better than cookin' up a storm for my nearest and dearest, and this Butter Shrimp takes the cake – or rather, the shell! Lord knows I can't resist a homecooked meal smothered in an irresistible mix of butter and spices. Gather round, partner, 'cause you're in for a treat!
This finger-lickin' dish is best served hot off the skillet, so grab yer apron, and let's get down to the nitty-gritty. First off, y'all are gonna need a pound of fresh shrimp, peeled and deveined of course. Let me tell you, quality ingredients make all the difference, so don't be cheatin' by buyin' any of those pre-cooked bad boys. You're cookin' with love here!
Now, I reckon you'd better make sure you got some garlic, salt and pepper, thyme, and paprika – but don't get too heavy-handed with the seasonin'! Remember, the shrimp's the star of this hoedown, so make sure his personality shines through.
Melt a generous slab of butter (about 4 tablespoons) in a large skillet over medium heat, and let me warn ya, this golden puddle of heaven will leave you dancin' with delight. Toss in the shrimp and sprinkle the spices – toss, stir, and watch 'em change colors. But keep a close eye on 'em, shrimp ain't for overcook'n!
Now this next step is optional, but I like to throw in a generous splash of white wine to really elevate the flavor. You'll feel like you've got yourself a fancy restaurant dish!
Oh, and don't forget a hefty squeeze of lemon juice. Wait, did I just hear the shrimp sizzle in approval, or is it just me?
Well, there ya have it, folks: the Butter Shrimp hoedown lies right there in your skillet. Grab a fork and dig in! It's the sort of finger-lickin', toe-tappin' dinner guaranteed to leave your loved ones grinnin' from ear to ear, and I'm willin' to bet it'll become a staple in your kitchen repertoire. Happy munchin'!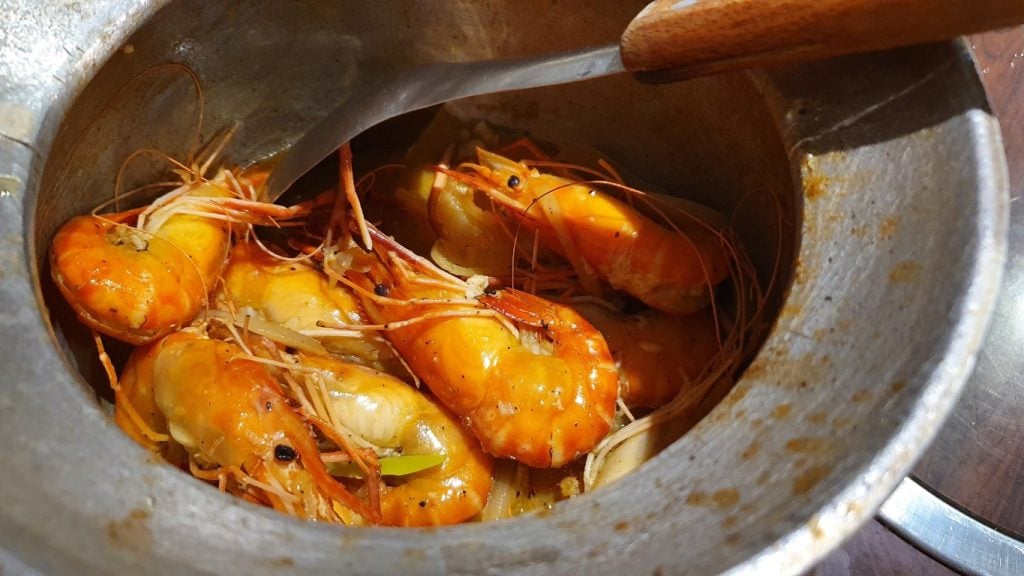 Gather ingredients:
1 lb fresh shrimp (peeled and deveined)
4 tablespoons butter
3 cloves garlic (minced)
Salt and pepper (to taste)
1 teaspoon fresh thyme
1 teaspoon paprika
Optional: 1/4 cup white wine
1 tablespoon lemon juice
Fresh parsley (for garnish)
Prep your shrimp:
Rinse the shrimp under cold water
Pat dry with paper towels
Instructions:
Melt butter in a large skillet over medium heat
Add minced garlic to the melted butter and sauté until fragrant (about 1 minute)
Toss the shrimp into the skillet
Season the shrimp with salt, pepper, thyme, and paprika
Cook shrimp for 2-3 minutes per side or until they turn pink and are cooked through
Optional: Add white wine and let it simmer for additional 1-2 minutes, allowing the alcohol to cook off
Remove skillet from heat and stir in lemon juice
Garnish with fresh parsley, serve immediately over rice or pasta
Enjoy your delicious, lip-smackin' Butter Shrimp!
That was fresh!