Hey y'all! If there's anything I've learned from cooking for my family and friends, it's that the perfect blend of sweet and spicy always hits the spot. And let me tell you, my Sweet & Spicy Glazed Chicken Legs are what dreams are made of. Gather 'round the kitchen, folks, because I'm about to share my secret for lip-smackin' good, finger-lickin' delicious chicken legs that'll have you drooling in anticipation.
First things first, the secret to getting that perfect balance of sweet and spicy is all about proportions. To kick things off with some heat, I use a combo of chili powder, smoked paprika, and a pinch of cayenne pepper (feel free to dial it up or down depending on your taste buds). Now, to sweeten the deal, we'll mix in some brown sugar, honey, and my secret ingredient – pineapple juice! Trust me, it's like a tropical vacation in every bite.
Once you've got that lip-smackin' sauce, marinate those chicken legs for at least an hour (the longer, the better)! This'll give 'em time to soak up all those finger-lickin' flavors. Meanwhile, preheat your oven to a nice and toasty 375°F, and let the anticipation build.
When the oven's ready, lay those marinated beauties out on a baking sheet lined with foil (trust me, this makes cleanup a breeze). Be sure to give 'em a generous drizzle of that sweet and spicy goodness before popping 'em in! Then, let your kitchen fill with the mouthwatering aroma of nothing short of magic.
About 45 minutes later, when those chicken legs are all the way cooked through, and the skin is crisp and golden, it's time to serve up these bad boys. Grab some napkins and gather 'round because these Sweet & Spicy Glazed Chicken Legs will vanish before you know it! Bon appétit, y'all!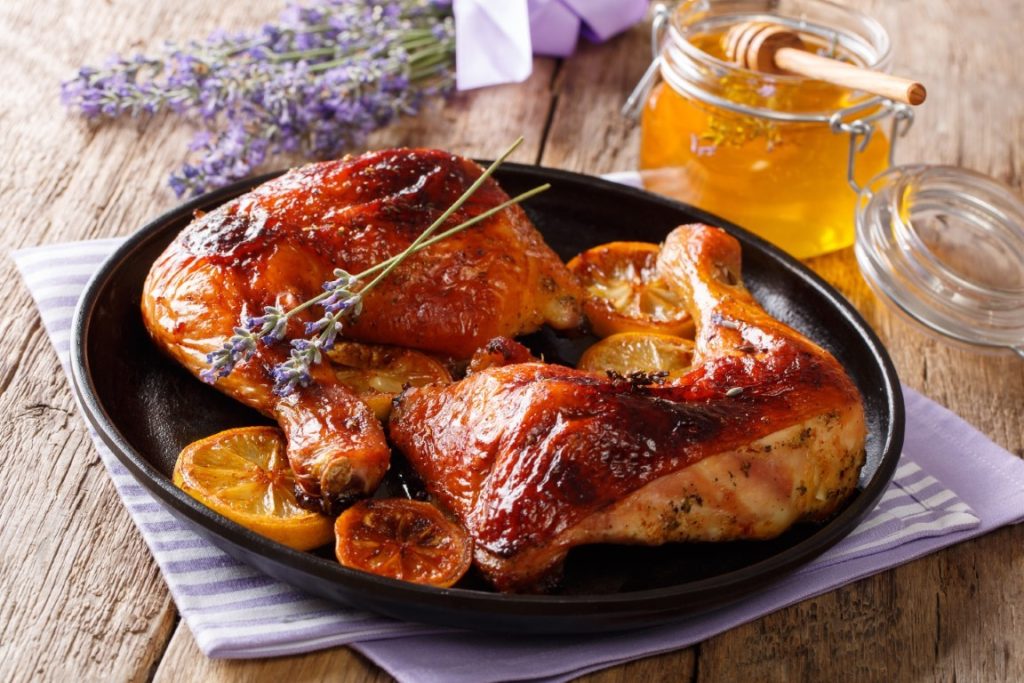 Gather ingredients:
8-10 chicken legs
1/2 cup brown sugar
1/4 cup honey
1/4 cup pineapple juice
1/4 cup ketchup
1 tablespoon chili powder
1 tablespoon smoked paprika
1/2 teaspoon cayenne pepper (adjust to taste)
Salt and pepper, to taste
Prepare the marinade:
In a mixing bowl, whisk together brown sugar, honey, pineapple juice, ketchup, chili powder, smoked paprika, and cayenne pepper
Season the mixture with salt and pepper to taste
Marinate the chicken legs:
Place chicken legs in a large resealable plastic bag or a shallow dish
Pour the marinade over the chicken legs, making sure they are well-coated
Seal the bag or cover the dish and refrigerate for at least 1 hour, or longer for more flavor
Preheat the oven:
Set oven to 375°F (190°C)
Line a baking sheet with aluminum foil
Arrange chicken legs on baking sheet:
Remove chicken legs from marinade, allowing excess to drip off
Place chicken legs on the foil-lined baking sheet, spacing them evenly apart
Drizzle any remaining marinade over the chicken legs
Bake the chicken legs:
Place baking sheet in the preheated oven
Bake for 45-50 minutes, or until the chicken is cooked through and the skin is crisp and golden
Turn chicken legs halfway through the cooking time for even browning
Serve and enjoy:
Remove baked chicken legs from the oven
Allow them to rest for a few minutes before serving
Enjoy with your favorite side dishes and a stack of napkins!
That was fresh!