Oh me, oh my! Pesto has always been a hit with my friends and family. Every time I serve it, I can't help but feel a sense of satisfaction at the tingly sensation those provocative basil flavors bring to each and every one of them. Now, I'm getting a tad carried away here but honestly, a good basil pesto can do wonders to your dinner table. Friends, get ready for an avalanche of vibrant greens and nutty aroma as we embark on this simple yet scintillating basil pesto journey!
Now, let's get this party started, shall we? First up, you're gonna need some fresh basil. And I mean fresh – right off the stem fresh. Pick 'em yourself or take a stroll to your local farmer's market, and soon enough, you'll be swimming in a sea of green, aromatic goodness. Cha-ching!
Okay, so we've got our fabulous basil. Next, let's gather some other delish ingredients. Obviously, we'll need a generous helping of garlic (because really, what's pesto without that punchy garlic kick?), a delightful helping of parmesan cheese (grated to perfection, thank you very much), and pine nuts. Hold up… pine nuts? Well, we actually could sub in a teeny weeny bit of walnuts, cashews, or even almonds if you so desire – the sky's the limit! Drizzle in some extra virgin olive oil and you're pretty much good to go. It's time to let that food processor work its magic!
Side note here: restraint is the key as we don't want to pulverize those babies, just mingle 'em in harmony, you know? A rough, vibrant blend of our soon-to-be pesto paradise is the goal here.
Once you've achieved the texture and consistency that makes your taste buds do a happy dance, grab a spoon and slather that heavenly concoction on pretty much anything your heart desires – pasta, toast, fish – you name it! Heck, dive right in and lick it off the spoon if you're feeling particularly adventurous!
Well, ladies and gents, that about wraps up our basil pesto journey. Here's to you, creating countless culinary memories with this flavorful favorite! Cheers!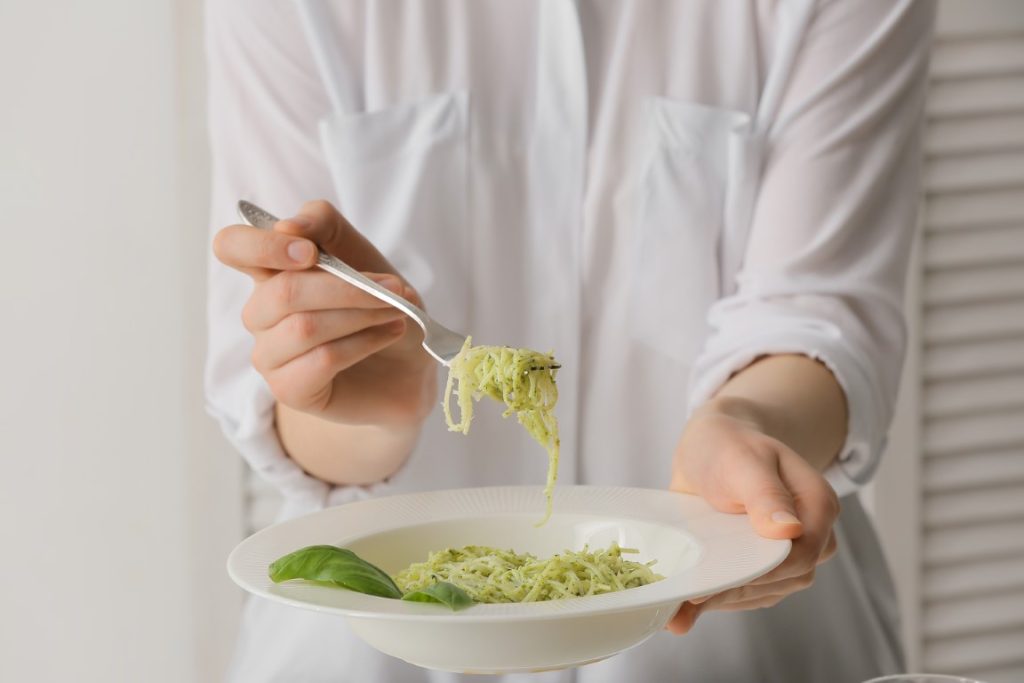 Gather ingredients:
2 cups fresh basil leaves, packed
1/3 cup pine nuts (or substitute with walnuts, cashews, or almonds)
1/2 cup grated parmesan cheese
3 garlic cloves, minced
1/2 cup extra virgin olive oil
Salt and pepper, to taste
Toast the pine nuts:
Preheat a skillet over medium heat
Add pine nuts and toast for 3-4 minutes, stirring occasionally, until golden and fragrant
Set aside and let cool
Combine ingredients in a food processor:
Add the fresh basil, toasted pine nuts, grated parmesan, minced garlic, and a pinch of salt and pepper
Pulse a few times until ingredients are roughly combined
Add the olive oil:
With the food processor running, slowly drizzle in the olive oil until desired consistency is reached
Scrape down the sides of the food processor as needed
Taste the pesto and adjust salt and pepper as desired
Serve and store:
Use the pesto immediately or store in an airtight container in the refrigerator for up to a week
Enjoy your basil pesto on pasta, toast, fish, or vegetables!
Optional: For a creamier pesto, add 2-3 tablespoons of softened cream cheese or mascarpone cheese during the blending process.
That was fresh!