Ah, the sweet aroma of sautéed onions and minced garlic filling up my kitchen! I can't help but feel a tinge of excitement whenever I cook up a storm for my loved ones. And today, I'm whipping up an all-time favorite – Cream of Corn and Potato Soup. You see, there's just something warm and comforting about this splendid bowl of goodness that has everyone in my family craving for seconds.
Now, let's get cracking! First things first, gotta fetch the freshest ingredients. Farmer's market, here I come! Once I've gathered the beautiful golden corn cobs, plump potatoes, and other essential veggies, I know I'm off to a great start. Good quality ingredients truly make a world of a difference, don't they?
With knife skills that would rival any MasterChef contestant, I slice and dice those hearty potatoes, dice a medium onion, and mince fresh garlic. As I sauté the onions and garlic until they're golden and fragrant – oh, you bet I'm already drooling! Then in go those tempting taters, before giving everything a good stir.
Time to shuck and run! I mean getting those corn kernels off the cobs, of course. A handy trick here is to use an inverted small bowl inside a larger one to stabilize the cob while you slice off the kernels. Less mess and corn flying everywhere, I promise.
The moment I add the kernels to the pot and pour in my homemade vegetable broth (store-bought works just as well), I can almost taste that wholesome hearty flavor already. Let it all simmer till the potatoes are tender, then it's time for the pièce de résistance! Blending part of the soup to create that ultimate creamy consistency – without the cream! Trust me, your waistline will thank you later.
Lastly, a generous sprinkle of chopped chives, thyme, and a dash of salt and pepper. Voila! There it is – a home-cooked bowl of Cream of Corn and Potato Soup that's as comforting as a warm hug on a cold day. Bon appétit, y'all!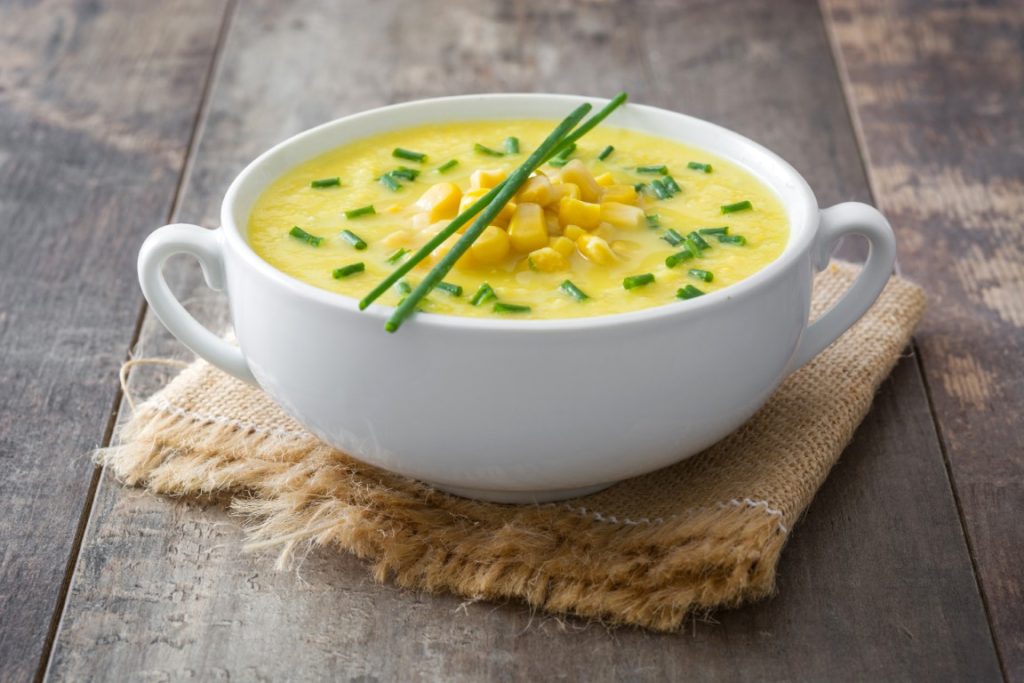 Gather ingredients:
4 cups fresh corn kernels (from about 6 corn cobs)
2 medium potatoes, chopped into cubes
1 medium onion, diced
2 cloves garlic, minced
4 cups vegetable broth (homemade or store-bought)
1/4 cup chopped chives
1/4 cup fresh thyme leaves
Salt and pepper, to taste
Heat a drizzle of olive oil in a large pot over medium heat.
Add onions and garlic, sauté until golden and fragrant.
Mix in the potatoes, cook for about 3 minutes while stirring occasionally.
Add corn kernels to the pot, stirring to combine.
Pour in vegetable broth, bring the mixture to a boil.
Reduce heat to low, let it simmer, and cook until potatoes are tender (about 15 minutes).
Use an immersion blender to partially blend the soup, or transfer approximately half of the soup to a blender and blend until smooth, then return blended soup to the pot.
Stir in chives, thyme leaves, and season with salt and pepper to taste.
Serve hot, garnished with additional chives, thyme, or a sprinkle of paprika if desired.
That was fresh!