Whoa Nelly, if there's one thing that lights my fire, it's gathering my loved ones around a table laden with homemade delights. Alright, here's the dish (no pun intended). I've been rustling up my famous cornbread stuffing for yonks, and I'll be spilled if my folks haven't been clamoring for it every Thanksgiving.
First off, a great cornbread stuffing, in my books, starts with, well, cornbread of course! The secret to moist, fluffy cornbread is in it's simplest form – a mix of good ol' cornmeal, all-purpose flour, and buttermilk. I'm talking about the real stuff, none of this box-mix business.
Once the cornbread's cooked and golden, I let it sit and dry out a bit. Donki's years of kitchen experience tell me that to avoid a soggy stuffing, your cornbread needs a little day-old bread toughness. I cut the cornbread into cubes (about an inch or so should hit the mark), and toss them onto a baking sheet. A low n' slow stint in the oven works like a charm.
Here's the kicker. I can't stress enough how essential it is to generously season your stuffing. Fresh sage, thyme, oregano, and rosemary, I'm taking you straight to flavor town! Trust me, it's a game changer. Combine these herbs with sautéed onions and celery, simmered with a touch of chicken broth, and you've got yourself a stuffing mix that puts regular old bread to shame.
End of the day, what makes this ritual so darn enjoyable isn't just the drool-inducing aroma wafting through my kitchen, but the anticipation of sharing it with my kith and kin. Yep, there's nothing that can hold a candle to my homestyle cornbread stuffing. Smack dab in the middle of the table, it truly is the heart of our feasts.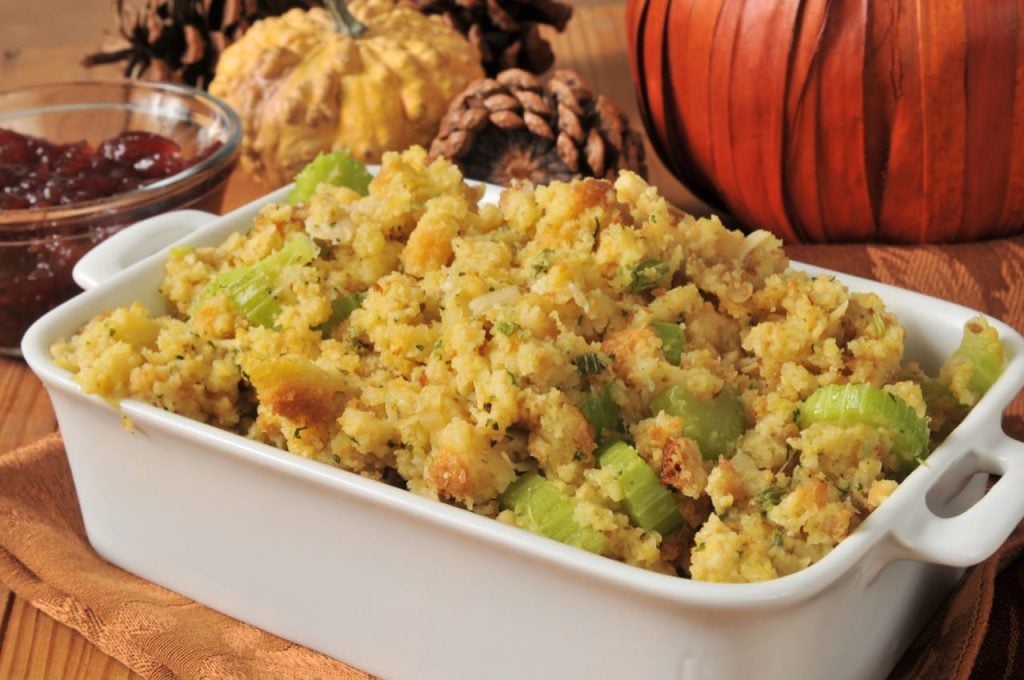 Let's Get To Work!
Preheat the oven to 400 degrees F (205 degrees C).
Grease a 9-inch baking dish and set aside for later.
For the cornbread:
In a large bowl, combine 2 cups of yellow cornmeal, 1 cup all-purpose flour, 1 tablespoon sugar, 2 teaspoons baking powder, and half a teaspoon of salt.
In another bowl, whisk together 2 eggs, 1 1/2 cups buttermilk, and 2 tablespoons of melted butter.
Mix the wet ingredients into the dry until combined.
Pour the mixture into the greased baking dish and bake until golden, about 20 to 25 minutes.
Allow the cornbread to cool, then cut into 1-inch cubes.
For the stuffing:
Decrease oven temperature to 325 degrees F (165 degrees C).
In a large skillet over medium heat, melt 6 tablespoons of butter.
Add 2 diced onions and 4 stalks of sliced celery, cooking until soft.
Stir in 2 teaspoons each of chopped fresh sage, thyme, and rosemary.
Add 1 1/2 cups of chicken broth and bring the mixture to a simmer.
In a large bowl, combine the onion mixture with the cubed cornbread.
Transfer the mixture into a large baking dish, cover with foil, and bake for 45 minutes.
Remove foil and bake for an additional 15 minutes until golden and crisp.
Allow the stuffing to cool slightly before serving. Enjoy!
That was fresh!