Ah, the humble lasagna casserole. It truly brings a little slice of heaven to your dinner table. As an avid home chef, there's nothing I love more than gathering my loved ones around a steaming, ooey-gooey, bubbling dish of pure comfort. From the rich, tomatoey goodness of the sauce to the silkiness of the cheese and the tender pasta sheets, it's like creating a symphony of flavors that complement one another in perfect harmony.
You might think whipping up a lasagna casserole is a piece of cake, but believe me, it takes a bit of elbow grease and attention to detail to transform your tastebuds. But don't worry, I've got you covered with some tips and tricks that I've picked up over the years. With a little bit of patience, you'll be dishing out the most mouthwatering lasagna casserole your friends and family have ever feasted upon.
Now, the secret to a killer lasagna casserole is really all in the sauce. You've gotta give it some love, and by love, I mean time. Start off by sautéing a mirepoix of onions, carrots, and celery, letting them sweat it out until they're nice and tender. Then, add your ground meat – I usually use a mixture of beef and pork for that extra oomph. Once the meat's nice and browned, it's time to add the secret weapon: red wine. Let it simmer until it's reduced, and then pour in crushed tomatoes and let it all simmer for a couple of hours, at least.
While the sauce is doing its thing, we can't forget about the cheese. I'm talking ricotta mixed with beaten eggs, grated Parmesan, and plenty of chopped spinach. This will be the creamy, dreamy counterpart to that rich sauce.
So now, let's get down to brass tacks – the layering. This is where the magic happens, folks. Slather a good bit of sauce on the bottom of the casserole dish, then add a layer of those al dente pasta sheets. Spoon on that heavenly cheese mixture and sprinkle with grated mozzarella. Rinse and repeat until you've got a majestic tower of layered goodness.
Are you ready for the pièce de résistance? Stick that bad boy in the oven for about 45 minutes at 375°F. As that tantalizing aroma fills the air, you'll know you've created a lasagna casserole for the ages.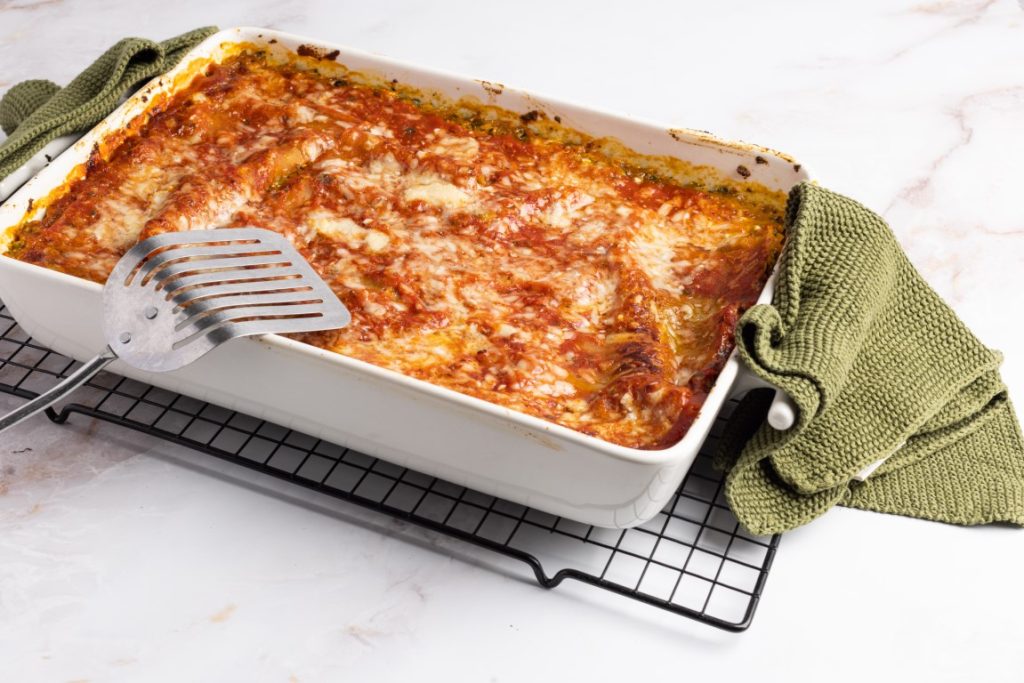 Bon appétit!
Gather ingredients:
1 lb ground beef
1 lb ground pork
1 large onion, diced
2 carrots, diced
2 celery stalks, diced
1 cup red wine
28 oz can crushed tomatoes
2 cups ricotta cheese
2 cups mozzarella cheese, grated
1 cup Parmesan cheese, grated
2 eggs, beaten
10 oz frozen chopped spinach, thawed and drained
12-15 lasagna noodles, cooked al dente
Salt and pepper to taste
Olive oil for sautéing
Instructions:
Prepare the sauce:
Heat olive oil in a large pot over medium heat.
Sauté onions, carrots, and celery until softened.
Add ground beef and pork; cook until browned.
Stir in red wine and simmer until reduced.
Add crushed tomatoes and season with salt and pepper.
Let sauce simmer for at least 2 hours, stirring occasionally.
Prepare the cheese mixture:
Combine ricotta, eggs, Parmesan, and chopped spinach in a bowl.
Assemble the lasagna casserole:
Spread a layer of sauce on the bottom of a large casserole dish.
Top with a layer of cooked lasagna noodles.
Dollop the cheese mixture on top of the noodles and spread evenly.
Sprinkle a layer of grated mozzarella on top of the cheese mixture.
Repeat layers until ingredients are used up, ending with a layer of sauce and mozzarella.
Bake the lasagna casserole:
Cover with aluminum foil and bake for 45 minutes.
Remove foil and bake for an additional 15 minutes, or until cheese is golden and bubbly.
Let the lasagna casserole rest for 10-15 minutes before serving. Enjoy!
That was fresh!