Well, folks, if you're game, let's embark on a culinary journey, where the air fryer takes center stage. Just picture this… a plate brimming with crispy, bite-size cauliflower florets slathered in tangy buffalo sauce. Trust me, it's a hoot and much easier to whip up than you'd think.
Now, don't be a wallflower and dive right into the prep. The first step is to ditch the classic chicken and opt for cauliflower instead. Sure, it's not everyone's cup of tea, but believe me, naysayers will be humming a different tune once they sample these buffalo bites. On top of offering a pleasant crunch, cauliflower packs a nutritional punch. A winner to boot!
Pour over the crown with a light, yet robust batter. Be careful not to make it heavy as lead or you'll end up with gobs of gooey mess instead of delicate, crispy bites. And oh boy, heat up that air fryer! You're about to put on quite a show with the marvel that's oil-free frying.
And bam! Chuck it in the air fryer. Let your kitchen gadget work its magic on these beauties. It does the heavy lifting, as the underdog of healthy cooking, turning out crispy morsels without a whole lot of drama.
As the excitement bubbles over to the last phase, splash those bad boy bites in the tangy buffalo sauce. Remember, a light toss goes a long way. No need to go overboard, folks.
I bet you're licking your lips already! Just lay out a platter of these buffalo cauliflower bites and watch them disappear faster than you can say Air Fryer Antics! Bon Appétit!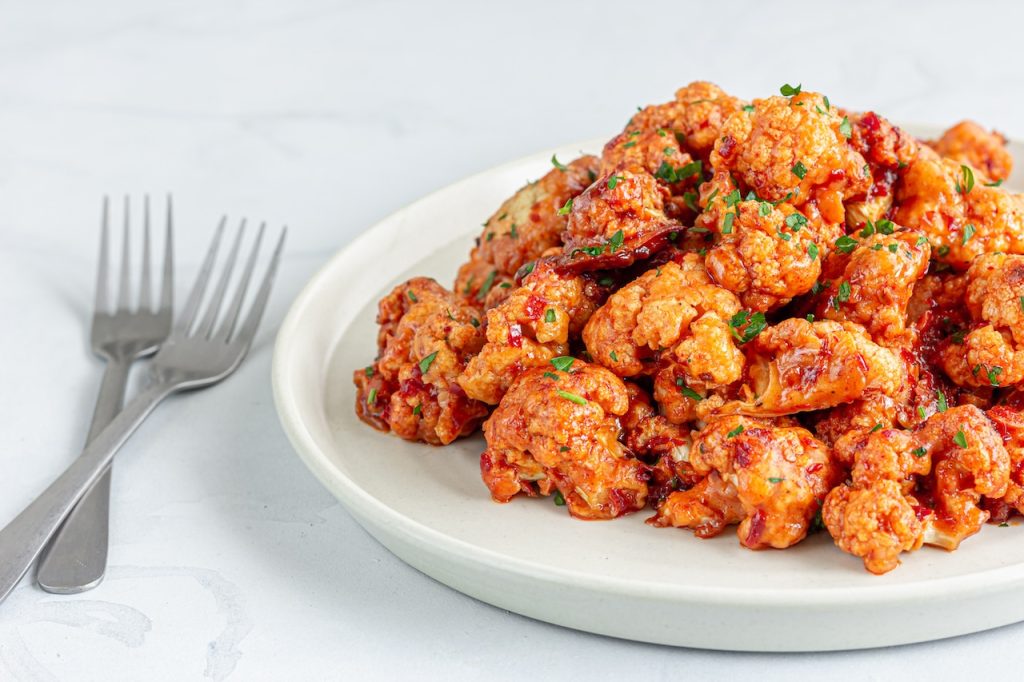 Let's Get To Work!
Gather the necessary ingredients: 1 head of cauliflower, 1 cup of buffalo sauce, 1 cup of flour, 1 cup of water, 1 tablespoon of garlic powder and 1 teaspoon of salt.
Preheat the air fryer to 375°F (190°C).
Break the cauliflower into bite-sized pieces.
Combine flour, garlic powder, and salt in a bowl.
Gradually stir in water to make a batter. It should be thick enough to coat cauliflower pieces without running off.
Dip each piece of cauliflower into the batter, ensuring it's fully coated.
Place the battered cauliflower pieces in the air fryer basket.n
Bake for about 12 minutes or until golden brown and crispy. Remember to flip halfway through.
While the cauliflower is baking prepare the buffalo sauce by heating it in a saucepan or in the microwave.
Once the cauliflower is cooked, carefully remove from the air fryer and place into a bowl.
Pour the heated buffalo sauce over the baked cauliflower pieces.
Toss gently until all pieces are covered in sauce.
Serve immediately with a side of ranch or blue cheese dressing, celery sticks, and carrots.
That was fresh!