Ah, summer! The season of barbecues, picnics, and gatherings with my dear family and friends. And, of course, the season where I put on my chef's hat and whip up some delightful, fresh, and healthy meals for everyone. One of my all-time favorite dishes to create during these balmy months is the lip-smackingly zesty Cilantro Lime Bow Tie Pasta Salad. Boy, is it a crowd-pleaser!
So, if you're itching to make a scrumptious, colorful, and nutritious pasta salad, my friend, look no further, because I've got you covered. First, let's talk ingredients. The stars of the show here are, without a doubt, cilantro and lime. Now, I know cilantro might be a love-it-or-hate-it kinda herb, but trust me, it brings a burst of fresh, fragrant flavor like nothing else. Compliment that with the zing of lime and you have a match made in culinary heaven.
Now, let's get down to business. For this salad, I like to start by cooking up some bow tie pasta (also known as farfalle). These little bows not only look adorable, but they also hold up well when combined with the other ingredients. Once the pasta has been cooked to al dente perfection and cooled, the real fun begins.
To assemble, dice up some cherry tomatoes, slice a bell pepper, and chop some crisp cucumbers to amp up the freshness factor. I also like to throw in some avocado for a bit of creaminess—talk about a party in your mouth! For the dressing, mix together lime juice, minced garlic, and a touch of honey. Throw in a generous amount of cilantro, and you've got yourself a zesty, tangy, and slightly sweet concoction that'll have everyone lining up for seconds.
Give it all a good mix, and voila! A vibrant, delicious Cilantro Lime Bow Tie Pasta Salad, perfect for anyone to enjoy on a sunny, summer day. Now I've got myself craving a bowl! Time to roll up my sleeves and get cooking. Bon appétit!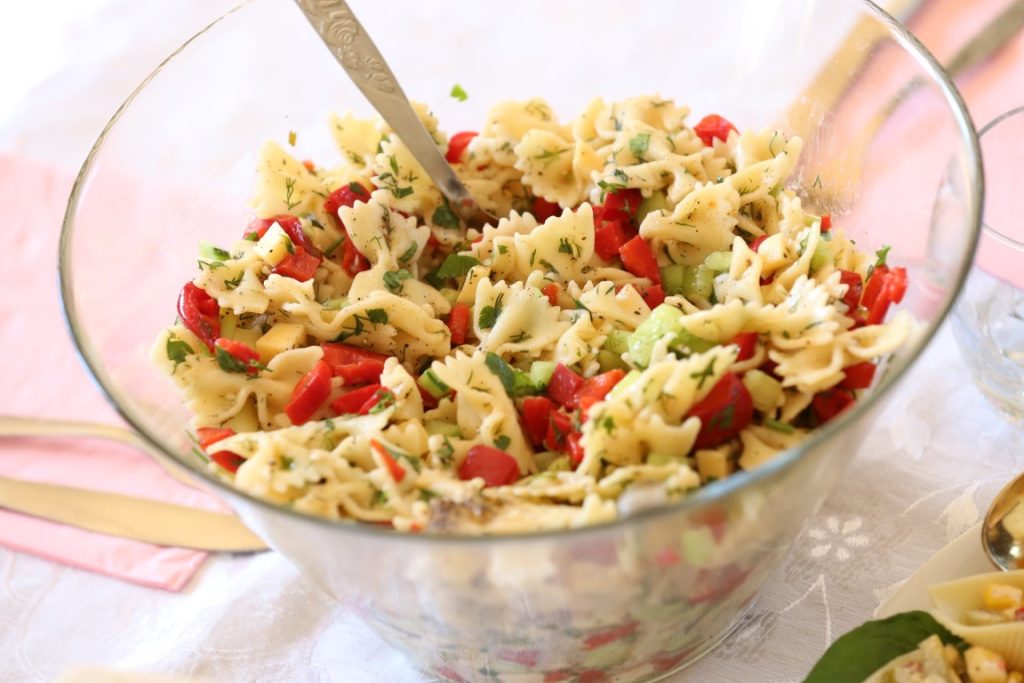 Gather ingredients:
12 oz bow tie pasta (farfalle)
1 1/2 cups cherry tomatoes, halved
1 bell pepper, thinly sliced
1 cucumber, chopped
1 large avocado, diced
1/2 cup chopped cilantro
Juice of 2 limes
2 cloves garlic, minced
2 tablespoons honey
Salt and pepper, to taste
Instructions:
Cook bow tie pasta according to package instructions for al dente results; rinse under cold water and allow to cool completely before mixing with other ingredients.
Halve cherry tomatoes, thinly slice bell pepper, chop cucumber, and dice avocado; set aside.
Chop cilantro finely and set aside.
Prepare dressing by juicing the limes into a small bowl, then add minced garlic, honey, salt, and pepper; whisk to combine.
Add chopped cilantro to dressing, stirring until well incorporated.
In a large salad bowl, combine cooled bow tie pasta with cherry tomatoes, bell pepper, cucumber, and diced avocado.
Pour cilantro lime dressing over pasta and vegetables; toss gently to evenly coat and distribute.
Chill pasta salad in the refrigerator for at least 2 hours for optimal flavors; mix gently before serving.
Serve and enjoy your refreshing Cilantro Lime Bow Tie Pasta Salad at your next summer gathering or barbecue!
That was fresh!