Let me tell you: as a big fan of comfort food, Beef Stroganoff occupies a special place in my heart (and my cooking repertoire!). This classic Russian dish has the most scrumptious combination possible: tender beef, creamy sauce, and a mixture of delicate mushrooms. Oh boy, does it hit the spot!
Whenever I'm hosting a cozy dinner with family and friends, I eagerly jump at the opportunity to whip up Beef Stroganoff. And to top it all off, I believe in using fresh and healthy ingredients, because doesn't everyone deserve the absolute best?
Now, let's dive into the adventure of preparing this belly-warming dish! I start by slicing my beef into thin strips, making sure to trim the fat. Next, it's time to season that beef with a healthy pinch of salt, pepper, and oh, just a smidgen of smoked paprika to give it that extra zing!
Don't forget, folks – it's all about those mushroom varieties! I usually go for an assortment of button, cremini, and shiitake to add that unique flair. Then, I'll slice 'em up and sauté in a pan with a touch of olive oil for that healthier alternative.
Now, for that lip-smacking, finger-licking good part: making the creamy sauce. I grab a separate skillet and melt some unsalted butter (a little less guilt, right?), whisk in flour, and cook until it's a beautiful golden color. Then, I pour in my low-sodium beef broth and a dollop of low-fat sour cream. Finally, I throw my beauties in – beef and mushrooms – and let them simmer in the silkiest, sultry sauce known to mankind.
Once ready, you can spoon your glorious Beef Stroganoff over a bed of fresh-cooked egg noodles or, for a lighter alternative, steaming quinoa. Whatever your heart desires!
And there you have it – a steaming, delicious Beef Stroganoff not only soulfully satisfying but jam-packed with fresh and healthy ingredients. Bon appétit!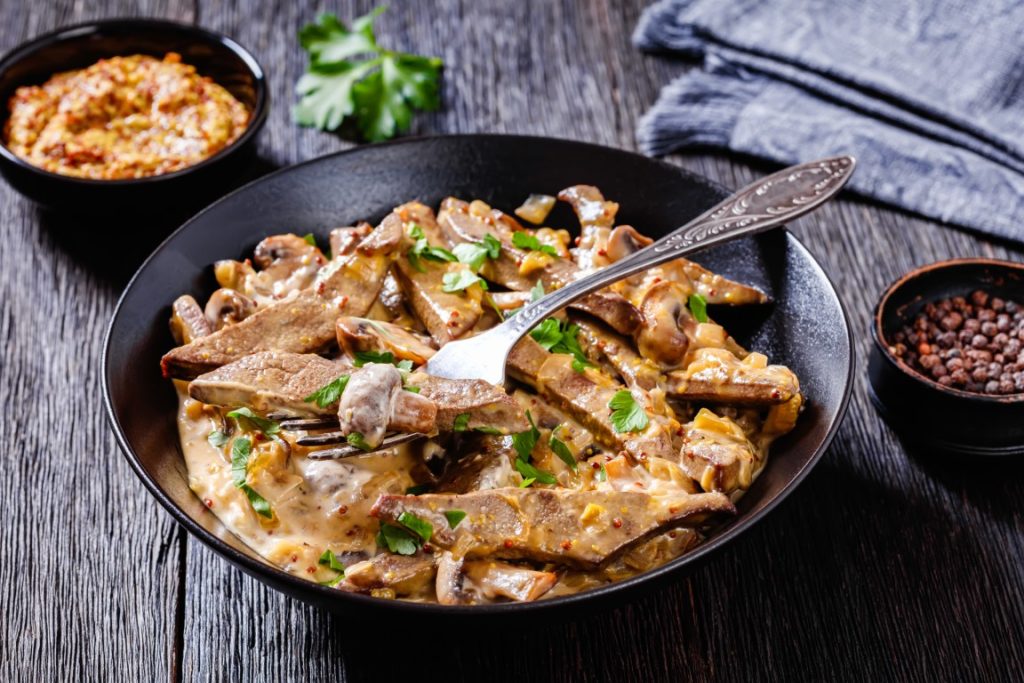 Gather ingredients:
1 lb beef sirloin, thinly sliced
Salt and pepper, to taste
1 tsp smoked paprika (optional)
1 tbsp olive oil
2 cups mixed mushrooms (button, cremini, shiitake), sliced
2 tbsp unsalted butter
2 tbsp all-purpose flour
2 cups low-sodium beef broth
1 cup low-fat sour cream
Fresh chopped parsley, for garnish
Cooked egg noodles or quinoa, for serving
Season beef with salt, pepper, and smoked paprika (if using).
Heat olive oil in a large skillet over medium-high heat.
Sauté beef until browned, about 4-5 minutes. Remove from skillet and set aside.
In the same skillet, cook mushrooms until softened, about 5 minutes. Remove from skillet and set aside with the beef.
In a separate skillet, melt unsalted butter over medium heat.
Whisk in the flour and cook until golden in color, about 1-2 minutes.
Slowly whisk in the beef broth, stirring continuously to avoid lumps.
Add sour cream and stir until smooth and well combined.
Return cooked beef and mushrooms to the skillet, stirring to coat them evenly with the sauce.
Lower heat and let the mixture simmer for 5-7 minutes, or until the beef is cooked through and the sauce has thickened.
Serve Beef Stroganoff over cooked egg noodles or quinoa.
Garnish with fresh chopped parsley and enjoy!
That was fresh!