Well, hot diggity dog! When it comes to dishing up a delectable dinner for my nearest and dearest, I can't resist diving into the world of spicy, flavorful Cajun cuisine. And let me tell you, my Cajun Seafood Pasta is a surefire crowd-pleaser that'll have everyone clamoring for seconds!
To start, I rummage through my pantry to rustle up the ingredients for my homemade Cajun seasoning. It's a zesty blend of paprika, cayenne pepper, garlic powder, onion powder, and a medley of herbs that'll set your taste buds alight. With my spice mix good to go, it's time to hit the kitchen and get cookin'!
I heat up a drizzle of olive oil in a large skillet and toss in a colorful medley of diced bell peppers, onions, and garlic. I let them sizzle away until they're tender and fragrant, filling the air with an aroma that's simply irresistible.
Now, for the main event – the seafood! I add a medley of shrimp, scallops, and chunks of fish to the skillet, giving them a generous dusting of my homemade Cajun seasoning. I cook the seafood to perfection, taking care not to overdo it – nobody wants rubbery shrimp, am I right?
As the seafood sizzles, I get to work on the pasta. I cook up a batch of fettuccine until it's perfectly al dente and toss it with a splash of olive oil to prevent sticking.
Finally, it's time to bring it all together! I toss the cooked pasta with the succulent, spicy seafood and veggies, adding a splash of cream and a sprinkle of Parmesan cheese for a touch of indulgence. The end result? A mouthwatering, Cajun Seafood Pasta dish that'll transport your taste buds straight to the bayou. Bon appétit, y'all!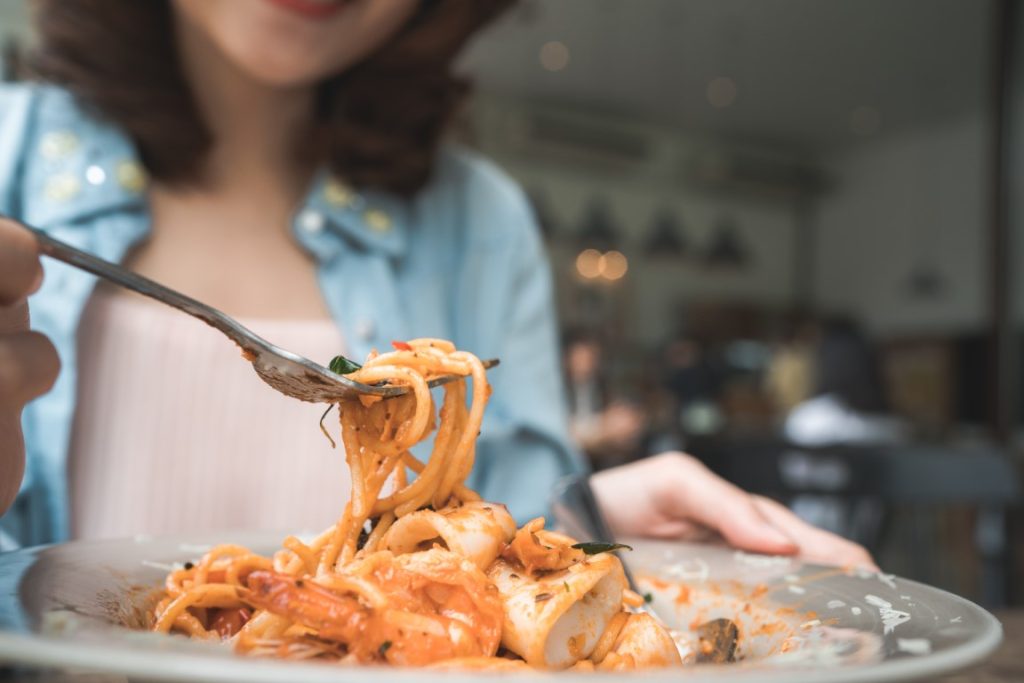 Ingredients:
1 lb. of spaghetti or fettuccine pasta
1 lb. of shrimp, peeled and deveined
1 lb. of crawfish meat (optional)
1 lb. of scallops (optional)
1 green bell pepper, thinly sliced
1 red bell pepper, thinly sliced
1 yellow onion, thinly sliced
4 cloves of garlic, minced
1 cup of chicken or seafood broth
1 cup of heavy cream
1/2 cup of grated Parmesan cheese
1/4 cup of chopped fresh parsley
2 tablespoons of Cajun seasoning
4 tablespoons of butter
Salt and pepper, to taste
Instructions:
Cook pasta according to package directions. Drain and set aside.
Meanwhile, melt the butter in a large skillet over medium-high heat. Add the bell peppers, onion, and garlic. Cook until the vegetables are tender, stirring occasionally, about 5-7 minutes.
Add the shrimp, crawfish (if using), and scallops (if using) to the skillet. Cook until the shrimp are pink and the scallops are opaque, about 5-7 minutes.
Sprinkle Cajun seasoning over seafood mixture, and continue cooking until the seafood is well coated.
Add the chicken or seafood broth to the skillet and scrape up any brown bits from the bottom of the pan. Bring to a boil and let it simmer for about 5 minutes.
Stir in the heavy cream and Parmesan cheese. Let the sauce simmer until it thickens, about 5 minutes.
Add the cooked pasta to the skillet, and toss until well coated with the sauce.
Season with salt and pepper to taste. Sprinkle chopped parsley on top and serve hot.
That was fresh!