Ah, the sweet smell of baking blueberry muffins! I absolutely adore whipping up a batch of these scrumptious treats for my family and friends, especially when I use fresh, juicy blueberries. There's just something magical about popping them in the oven and letting the blueberry goodness waft through my home.
First things first, I make sure I've got all the ingredients on hand. It's super important to have fresh blueberries, 'cause, let's face it – nothing beats the real thing. I've tried using frozen ones before, but they just don't have the same pizazz, if you ask me. Besides, what's better than plucking those delightful blue gems right from your own garden (or the farmer's market if you don't have green thumbs like yours truly)?
Once I've gathered all the bits and bobs needed for baking, I roll up my sleeves and get down to business. I whisk together the dry ingredients – flour, baking powder, and a touch of salt (to bring out the flavor of the blueberries, of course!). Creating a little well in the center of the dry mixture is key because that's where I'm going to pour in the liquid gold. Yes, I'm talking about that good old melted butter, sugar, eggs, and a splash of vanilla extract.
Then comes the fun part—gently folding in those glorious blueberries! I've learned that less is more in this department, so as not to crush the li'l guys too much.
After all that mixing and folding, my batter is ready to embark on its muffin tin journey. I'm not one to skimp on portion sizes, so I fill those bad boys to the brim, much to the delight of my taste-testers.
The final step is popping the tin into the oven, and now, the waiting game begins! As the muffins bake, an aroma of blueberry heaven takes over, and I can barely contain my excitement. Is it normal to do a little happy dance by the oven? Because that's how much I love baking these muffins.
When the moment of truth finally arrives, I pull those golden brown muffins out of the oven, and…voilà! Perfection, every single time! And the best part? Watching my loved ones' eyes light up as they take a bite of blueberry bliss. Now that's what I call a baker's paradise!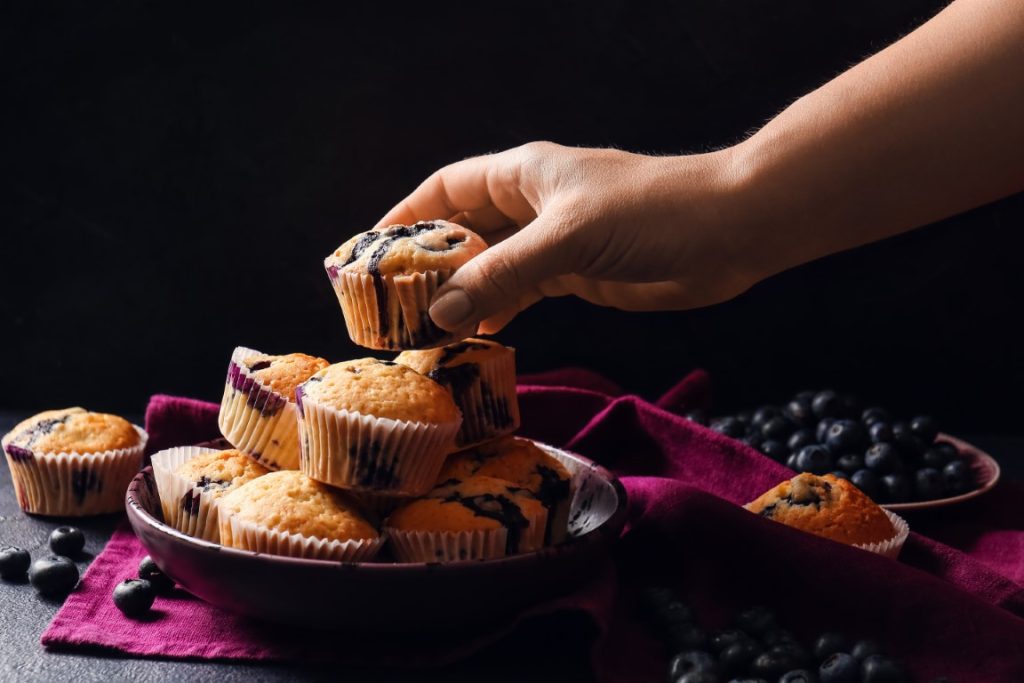 Preheat oven to 400°F (200°C) and grease a 12-cup muffin tin or line with paper liners.
In a large bowl, whisk together:
2 cups all-purpose flour
2 tsp baking powder
1/4 tsp salt
Create a well in the center of the dry ingredients.
In a separate bowl, whisk together:
1/2 cup melted unsalted butter, cooled slightly
3/4 cup granulated sugar
2 large eggs, room temperature
1 tsp pure vanilla extract
1/2 cup milk
Pour the wet ingredients into the well of the dry ingredients.
Mix gently until just combined, being careful not to overmix.
Gently fold in:
1 1/2 cups fresh blueberries (rinsed and dried)
Fill each muffin cup to the brim with batter.
For a crunchy topping, sprinkle each muffin with a pinch of coarse sugar (optional).
Bake for 20-25 minutes, or until a toothpick inserted into the center of a muffin comes out clean.
Allow muffins to cool in the tin for 5 minutes before transferring them to a wire rack to cool completely.
Enjoy your homemade blueberry muffins with family and friends!
That was fresh!