Oh boy! As a home cook who's passionate about cooking scrumptious meals for my loved ones, I just can't wait to share my delightful memories of the cozy afternoons spent in the kitchen whipping up a mouthwatering batch of Sweet Potato Curry. Let me tell you, there's nothing quite like witnessing the ear-to-ear smiles on everyone's faces as they dig into a heartwarming bowl of this incredibly delicious and nutrient-packed curry.
So, picture this: it's a chilly Sunday afternoon, and I'm feeling all fired up. I've got this itch to cook something that would not only tantalize the taste buds but also nourish our souls. After rummaging through the fridge, convincing myself that there's absolutely no room for store-bought curry paste, and feeling the orange glow of inspiration, I get cracking on prepping the fresh ingredients – it's game on!
Let's start with the star of the show, shall we? I like handpicking my sweet potatoes for their vivacious hue – somehow, the brighter, the better! Then, as I scrub and dice them into bite-sized chunks, my anticipation for the curry grows stronger. No matter how often I cook this dish, it always feels like the first time; a little nervous yet brimming with excitement.
Next up, we've got the spices. Trust me, it's all in the details! I absolutely adore swishing my fingertips through the intense medley of turmeric, cumin, and coriander powder that ignite not just the fragrance but the beauty of the curry. Nothing beats the satisfaction of grinding these aromatic spices in my trusty old mortar and pestle. Can't you just smell the magic all around?
What can I say? I live for that moment when my loved ones tuck into their meal, savoring every mouthful, and sipping every last drop of curry that lingers in the bowl. Their eyes widen, their hearts are full, and I couldn't be happier. So, I say go for it, folks. Put on your apron and step into your kitchen sanctuary – there's a bowl of Sweet Potato Curry waiting for your unique loving touch. Just remember, variety is the spice of life, and a little love is the secret ingredient. Now, chop chop, let's get cooking!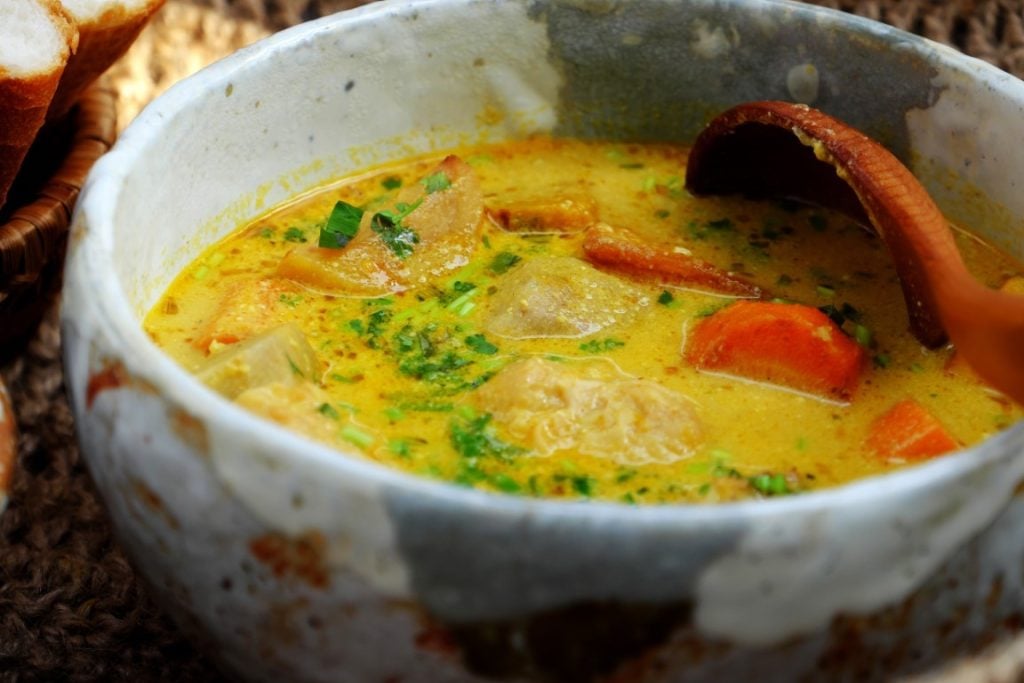 Sweet Potato Curry Recipe:
Ingredients:
2 medium sweet potatoes, peeled and diced into bite-sized chunks
1 tablespoon vegetable oil
1 onion, finely chopped
2 garlic cloves, minced
1-inch piece of ginger, minced
1 teaspoon ground coriander
1 teaspoon ground cumin
1 teaspoon ground turmeric
1 teaspoon paprika (optional)
1 teaspoon chili powder (adjust to taste)
1/4 teaspoon ground black pepper
1 15-oz can of diced tomatoes
1 14-oz can of coconut milk
1 15-oz can of chickpeas, drained and rinsed
2 cups baby spinach leaves, roughly chopped
Salt, to taste
Fresh cilantro, for garnish
Cooked rice or flatbreads, for serving
Instructions:
Heat vegetable oil in a large pot over medium heat.
Add chopped onion and sauté until soft and translucent, about 4-5 minutes.
Add minced garlic and ginger, sauté for another 1-2 minutes until fragrant.
Stir in ground coriander, cumin, turmeric, paprika, chili powder, and black pepper, and let the spices cook for about 1 minute to release their flavors.
Add diced sweet potatoes to the pot and stir, ensuring they are coated in the spices.
Pour in diced tomatoes and coconut milk, stirring to combine.
Bring the mixture to a boil, then reduce the heat and let it simmer for 20-25 minutes until the sweet potatoes are fork-tender.
Add drained chickpeas and chopped spinach to the pot, and cook for another 5 minutes until heated through and the spinach has wilted.
Taste and adjust seasoning with salt, if necessary.
Remove from heat and garnish with fresh cilantro before serving over rice or with flatbreads. Enjoy!
That was fresh!