Hold onto your hats, folks! When I'm in the mood to treat my nearest and dearest to an exotic, flavor-packed feast, I can't help but whip up a batch of my lip-smacking, creamy butter chicken. It's the ultimate comfort food that'll have everyone at the table licking their plates clean!
To kick things off, I rustle up a tantalizing marinade for the chicken. I combine a dollop of yogurt with a bevy of aromatic spices – think garam masala, turmeric, cumin, and a pinch of cayenne pepper for a bit of a kick. I coat the chicken in this heavenly mix and let it marinate for a couple of hours, letting all those flavors meld together.
While the chicken marinates, I set my sights on the pièce de résistance – the butter chicken sauce! I melt a generous knob of butter in a large pan and sauté some finely chopped onions until they're soft and golden. In goes a generous helping of minced garlic and grated ginger, followed by a sprinkling of those all-important spices – garam masala, paprika, and a touch of cinnamon.
Once those spices are toasted to perfection, I stir in crushed tomatoes and let the sauce simmer away, allowing the flavors to meld together like a symphony. As the sauce bubbles, I cook up some fluffy basmati rice – the perfect accompaniment for my butter chicken masterpiece.
With the sauce ready to go, I grill the marinated chicken until it's cooked through and charred in all the right places. Then, I add it to the sauce, along with a splash of cream for that luscious, velvety finish.
And voilà! My scrumptious butter chicken bonanza is ready to be devoured. I dish up heaping portions over rice, garnish with a sprinkling of cilantro, and watch as my guests dig in with gusto – butter me up, this is a winner!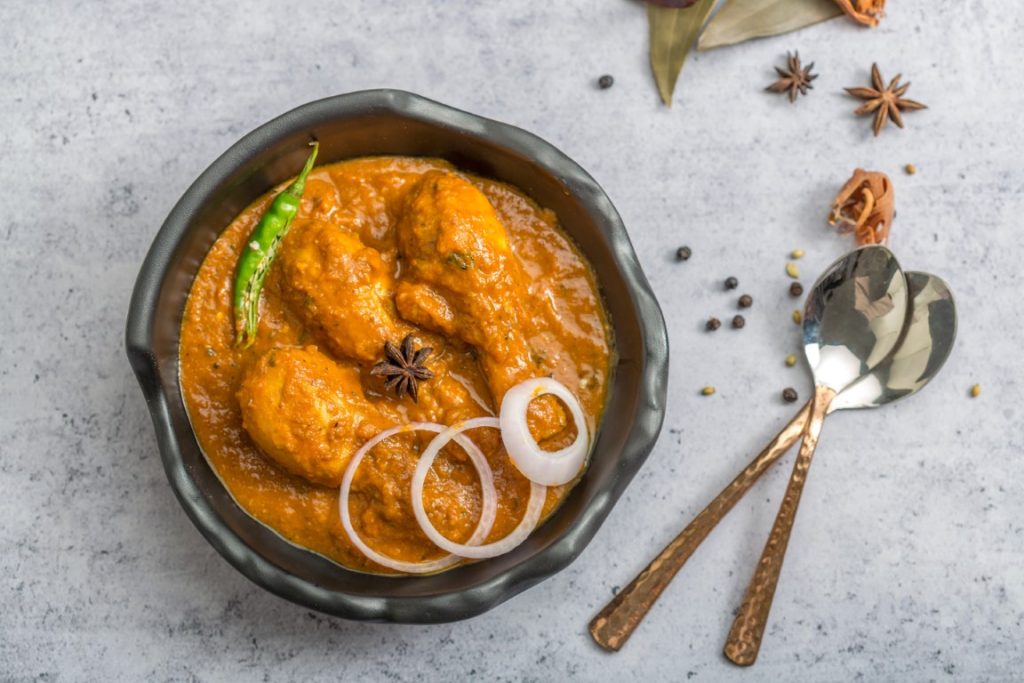 Ingredients:
For marinade:
1 lb boneless, skinless chicken breast, cut into bite-sized pieces
1/2 cup plain Greek yogurt
1 tablespoon garlic paste
1 tablespoon ginger paste
2 teaspoons garam masala
1 teaspoon paprika
1/2 teaspoon turmeric
1/4 teaspoon cayenne pepper
Salt and black pepper, to taste
For sauce:
4 tablespoons unsalted butter
1 medium onion, finely chopped
4 cloves garlic, minced
1 tablespoon ginger paste
1 teaspoon ground cumin
1 teaspoon ground coriander
1 teaspoon garam masala
1/2 teaspoon turmeric
1/4 teaspoon cayenne pepper
1 (15-ounce) can tomato sauce
1 cup heavy cream
Salt and black pepper, to taste
Chopped fresh cilantro or parsley, for garnish
Instructions:
In a bowl, mix together all ingredients for the marinade. Add chicken and toss to coat. Cover and refrigerate for 2-4 hours.
Preheat oven to 400°F.
Transfer the chicken and marinade onto a lightly greased baking sheet. Bake for 20-25 minutes or until the chicken is cooked through.
In a saucepan, melt the butter over medium heat.
Add the chopped onion and cook until softened, about 3-4 minutes.
Add the minced garlic and ginger paste and cook for another minute, stirring constantly.
Add the cumin, coriander, garam masala, turmeric, and cayenne pepper. Cook for 1-2 minutes, stirring constantly, until fragrant.
Pour the tomato sauce into the saucepan and stir to combine.
Add the heavy cream and stir to combine.
Bring the mixture to a simmer and let it cook for 5-7 minutes or until the sauce has thickened slightly.
Add the baked chicken to the sauce and stir to coat.
Remove from heat and season with salt and black pepper to taste.
Serve hot with steamed rice or naan bread. Garnish with chopped cilantro or parsley.
That was fresh!