I love it when the kitchen is steeped in the tantalizing wafts of simmering tomato sauce. There's something inherently comforting about the aroma, and making something from scratch is more rewarding than ordering take-out, don't you agree? There's no denying that pizza is the life of any gathering. So, when I whip up a storm, my go-to recipe is my special homemade pizza sauce.
First things first, each ingredient is a chapter in the love story, the fresher – the better. I pick lively, plum tomatoes from the local farmer's market, garlic and oregano – a match made in heaven! A dash of olive oil and a splash of red wine complete the ensemble. Remember, making a pizza sauce is a labor of love, so no shortcuts!
Well now, butter me up and call me a biscuit, but no can opener is invited to this party! I hand crush the tomatoes, and it gets messy, but that's half the fun! Next up, let's sauté the garlic until it's soft and golden, before going bananas with the oregano. Some say I have a heavy hand with herbs, but I argue that they are the soul of any dish.
The next step is where the magic starts – combining everything and letting it simmer. Honesty hour – this is the test of patience! Stick to the slow and steady pace, because good things come to those who wait. The resulting velvety sauce worth the wait! I tell you, it's like a symphony in a pot, each ingredient giving its own solo performance and then working together to create something amazing.
Can't you just picture it? Smeared on a thin, crispy base, topped with bubbly mozzarella—Hold your horses! I've got a pizza to make! Hope you'll try this at home folks, trust me, it's worth every delicious minute!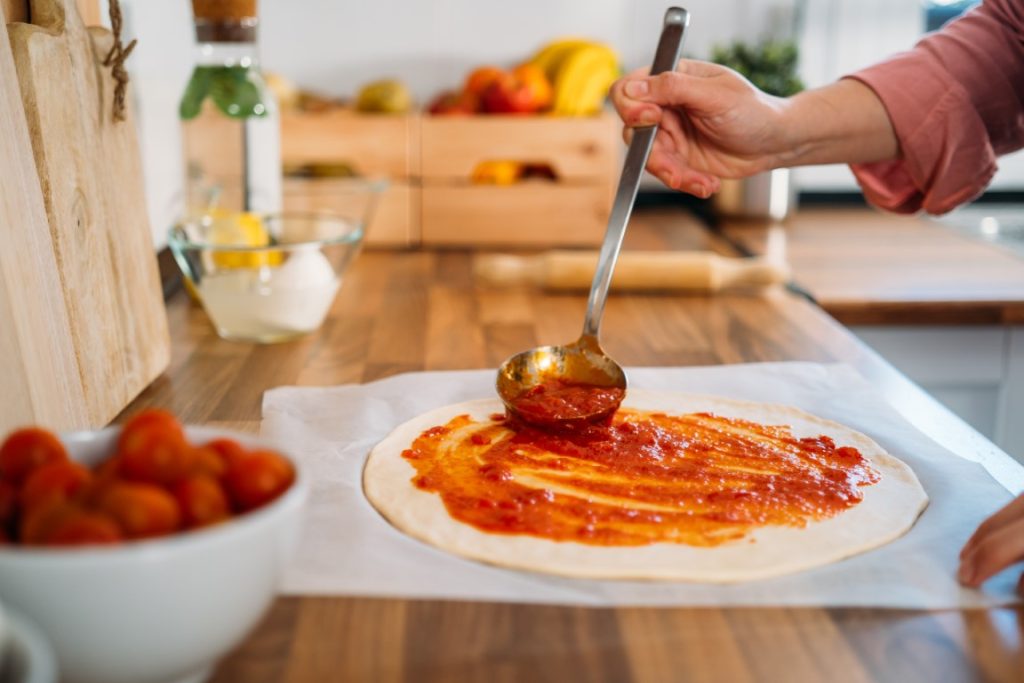 Gather all your ingredients. You'll need:

8 ripe tomatoes
2 garlic cloves
1 teaspoon fresh oregano
2 tablespoons olive oil
1/2 cup red wine
Salt and pepper to taste

Wash and core the tomatoes.
Roughly chop the tomatoes and set them aside.
Peel and finely chop the garlic.
Heat the olive oil in a large saucepan over medium heat.
Add the garlic and oregano to the saucepan. Cook until the garlic becomes golden and the oregano releases its aroma.
Pour in the chopped tomatoes.
Stir in the red wine and season with salt and pepper.
Simmer the sauce, stirring occasionally, until it thickens to your desired consistency. It usually takes around an hour.
Remove the sauce from the heat and allow it to cool.
Once cooled, using a blender or food processor, puree the sauce until smooth.
Taste and adjust the seasoning if needed.
Use immediately to make a pizza. If you have extra, store it in a jar in the fridge for up to a week or freeze it for future use. Enjoy!
That was fresh!