Hot-diggity-damn, folks! It's time to roll up those sleeves and get ready to dive bell, book, and candle into whipping up the best tomato soup ever.
First thing's first, don't be fooled by the simplicity of this humble dish. There's a whole lot more to it than meets the eye, and it's about to take your senses on an intoxicating roller-coaster ride. Hold the press for this hearty bowl of goodness!
I start by hunting around for the ripest, juiciest tomatoes at the farmers' market. They're the star players, so scrimping on quality? No siree, not on my watch! Ah, that moment, when the aroma of fresh tomatoes prickles your nose…it's like signing a sweet deal with nature.
Once these ruby beauties are nestled warmly in my kitchen, the real fun kick-starts. I chop 'em, lightly sprinkle with salt and allow them to sweat it out for a while. Holy moly, this boosts the flavor, granting them a golden ticket to Deliciousville.
In the meantime, I sauté a symphony of onions and garlic, letting their heavenly smells do the tango in my kitchen. Before you can say hot potato, I toss in the tomatoes! Giving the ensemble a techno beat with my blender, et voila, the soup's ready to smother your taste-buds with its veritable treat.
The result is a downright soul-stirring, tongue-tingling tomato soup that shouts Warmth and Comfort! It's undoubtedly a heart-is-where-the-hearth-is kind of dish; the kind that goes down a treat when you're chilling with your fam-jam or the gang.
Right, that's enough nattering from me! Go cook up a storm folks, and prepare to bowl 'em over with bowlfuls of this mind-blowing tomato soup. Happy slurping!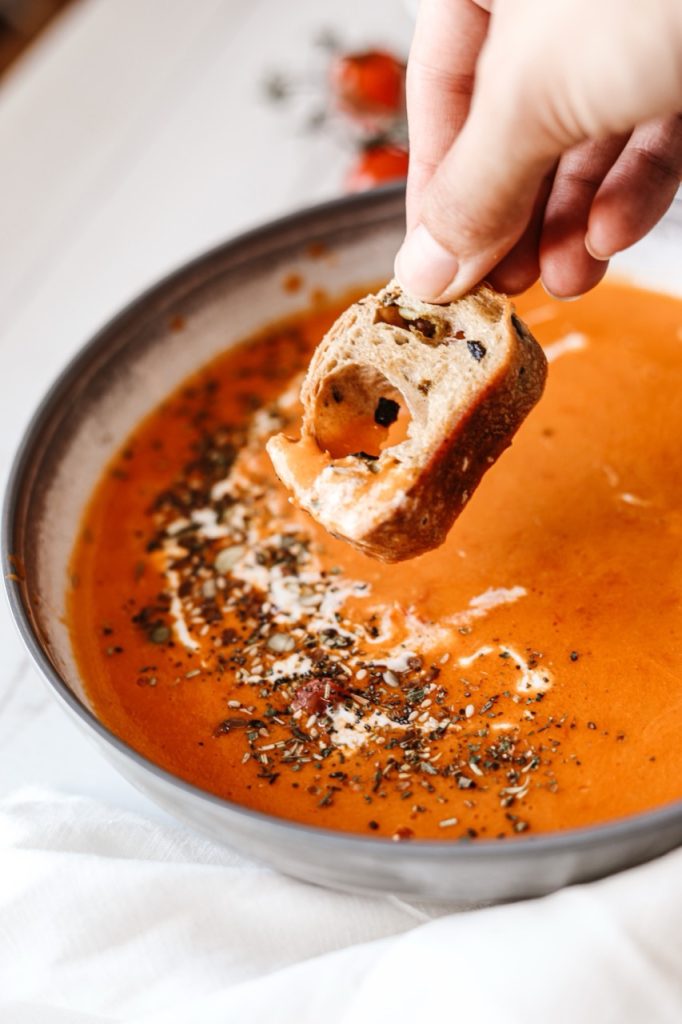 Let's Get To Work!
Start by sourcing about 2 lbs of ripe, juicy tomatoes from your local farmers' market.
Gently wash and chop your tomatoes into quarters, placing them in a bowl.
Sprinkle your tomatoes with a pinch of salt and set them aside for around 15 minutes. This will allow them to sweat and enhance their natural flavors.
Now take 1 large onion and 2 cloves of garlic, finely chop them for the base of your soup.
Heat 2 tablespoons of olive oil in a large pot over medium heat.
Toss in the chopped onion and garlic, and sauté them until golden brown.
Include your quartered tomatoes, coating them in the oil, onion, and garlic mixture, and cook for about 10 minutes until they are soft and succulent.
For an enhanced taste, add a sprinkling of fresh or dried herbs such as thyme, rosemary or basil.
Now it's time to give everything a good stir before adding 4 cups of vegetable stock.
Bring the soup to a boil then reduce the heat and let it simmer for 30 minutes.
Using a hand blender or a countertop blender, puree the soup until it becomes a smooth consistency.
Return the soup to the pot, turn the heat down to low and let it simmer for an additional 5 minutes.
Taste and adjust the seasoning with additional salt and pepper as desired.
To serve, garnish with a drizzle of cream, a leaf or two of fresh basil, and a crack of pepper.
Don't forget to serve it piping hot for maximum comfort and perfect for those chilly winter nights, or serve it cold in the summer for a refreshing meal! Enjoy!
That was fresh!