Whipping up some scrumptious blueberry cornmeal muffins has become my go-to delight whenever my family and friends pop over for a visit. I must say, I've got this recipe down to a fine art now, and there's nothing quite like watching their eyes light up when they take that first heavenly bite. Let me tell you, folks, these babies are the real McCoy!
So, the first thing I do is gather up all my fresh ingredients. I firmly believe that fresh is best, and wouldn't dream of cutting any corners in this department. I head over to my hometown farmers' market and hunt down the juiciest, freshest blueberries you'll ever see – and let me tell you, they're always worth their weight in gold!
Once I'm all set with my berries, it's time for a small confession – I can be a bit of a neat freak. I roll up my sleeves, and, with military precision, I lay out my measuring cups, mixing bowls, and other nifty cooking tools. I just can't stand messing around when it comes to making my blueberry cornmeal muffins!
Now, down to the nitty-gritty – the muffin mix. For a twist, I like to use cornmeal – it gives the muffins this golden hue and that little extra texture that has your taste buds singing hallelujah! And while we're at it, who says muffins have to be a guilty pleasure? Honey, I opt for natural sweeteners like honey or maple syrup, and whole wheat flour to make these treats a tad healthier than your average muffin.
Finally, it's time to let the games begin – mixing it all up, folding in those mouthwatering, juicy blueberries, and putting everything in the oven with a smidge of anticipation. The hardest part, of course, is waiting and watching as the tantalizing aroma fills the kitchen. But, patience is a virtue – believe me, they're worth the wait!
And there you have it, folks – the magic behind my blueberry cornmeal muffins. These marvelous morsels always leave my loved ones wanting more, and that's exactly how I like it!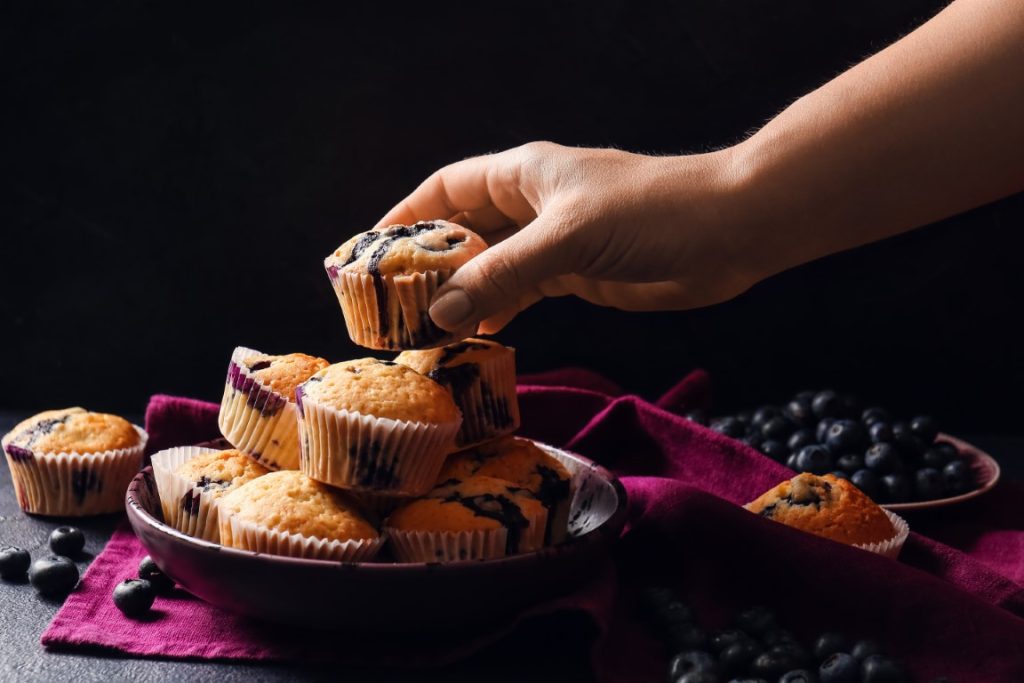 Blueberry Cornmeal Muffin Recipe:
Preheat oven to 375°F (190°C), and line a standard 12-cup muffin tin with paper liners or grease with non-stick cooking spray.
Dry ingredients:
1 1/4 cups whole wheat flour
3/4 cup cornmeal
2 tsp baking powder
1/4 tsp baking soda
1/4 tsp salt
Wet ingredients:
1/3 cup honey or maple syrup
2 large eggs, lightly beaten
3/4 cup unsweetened almond milk or milk of choice
1/4 cup melted unsalted butter or coconut oil
1 tsp pure vanilla extract
Fold in:
1 1/2 cups fresh blueberries, rinsed and dried
In a large mixing bowl, whisk together the dry ingredients.
In a separate medium bowl, mix together the wet ingredients.
Gradually pour the wet ingredient mixture into the dry ingredients, stirring gently until just combined. Do not overmix.
Carefully fold in the blueberries.
Scoop the batter evenly into the prepared muffin tin, filling each cup about 2/3 full.
Optional: Sprinkle some coarse sugar on top of each muffin for a crunchier crust.
Bake for 18-22 minutes, or until a toothpick inserted into the center comes out clean.
Remove from oven and let the muffins cool in the tin for 5 minutes, then transfer them to a wire rack to cool completely.
Enjoy your scrumptious blueberry cornmeal muffins!
That was fresh!