Oh boy, I absolutely love experimenting with new recipes and surprising my loved ones with a delectable treat, and let me tell you, these churro cookies are a game-changer! They're just the perfect mix of sweet, crispy, and cinnamony goodness – it's hard not to go back for seconds (or thirds!). I mean, who doesn't enjoy a classic churro? Well, you're in for a real treat with this innovative spin.
Now, before we dive headfirst into this scrumptious adventure, let's get our ducks in a row and talk about preparation. I always like to gather all my ingredients first, just to make sure nothing's missing. It would be a real bummer to start mixing the dough only to realize I'm out of vanilla extract, you know what I mean?
Alright, ingredients are gathered and we're ready to rock and roll. I'll start by whipping up that heavenly cinnamon sugar mix that'll coat the cookies. Word to the wise though, don't skimp on the cinnamon, it really makes a world of difference. Now that our homes smell like a warm embrace from a kindly cinnamon fairy, let's tackle that dough.
Mixing the dough is honestly child's play, and it'll only take a jiffy to get it right. I like to chill my dough for a bit, just so it's easier to roll out – trust me, it'll save ya from a sticky mess! Once we've got a nice, even roll, it's cookie cutter time. Stars, circles, or even good ol' gingerbread man shapes – it's your call. The more creative, the better, I say!
Now, we're cooking with gas! The cookies are shaped and ready for their sweet and spicy cinnamon sugar bath. Into the oven they go, and before you know it, magical smells waft through the house.
Voilà! Churro cookies are born, and let me tell ya, they never fail to impress. My family and friends devour them at lightning speed, and I can't blame 'em. It's truly a match made in culinary heaven, and I can't wait to share these bad boys at the next get-together. Give 'em a whirl, and you won't be disappointed!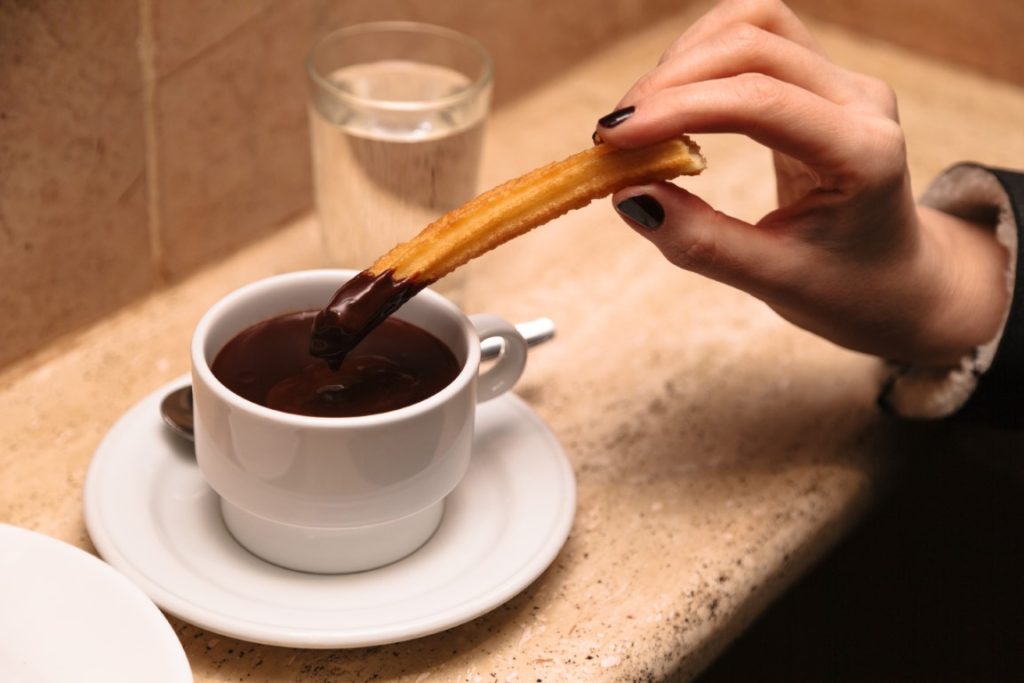 Gather ingredients:
1 cup all-purpose flour
½ teaspoon baking powder
¼ teaspoon salt
½ cup unsalted butter, room temperature
1 cup granulated sugar
1 large egg
1 teaspoon pure vanilla extract
3 tablespoons granulated sugar (for topping)
1 teaspoon ground cinnamon (for topping)
Instructions:
Preheat oven to 350°F (180°C) and line two baking sheets with parchment paper or silicone baking mats.
In a medium bowl, whisk together flour, baking powder, and salt. Set aside.
In a large bowl, use an electric mixer to cream together butter and 1 cup granulated sugar until light and fluffy.
Add the egg and vanilla extract to the butter-sugar mixture and beat until well combined.
Gradually add the flour mixture to the wet ingredients, mixing until just combined.
Cover the dough with plastic wrap and refrigerate for at least 30 minutes or until firm enough to handle.
In a shallow dish, mix together 3 tablespoons granulated sugar and ground cinnamon for topping. Set aside.
Roll out the chilled dough on a lightly floured surface to about ¼-inch thickness.
Use your favorite cookie cutter shapes to cut out cookies and place them on the prepared baking sheets, leaving about 1 inch of space between each cookie.
Bake in preheated oven for 10-12 minutes, or until edges are just starting to turn golden.
Remove cookies from oven and immediately, but gently, toss them in the cinnamon sugar mixture to coat evenly while still warm.
Transfer coated cookies to a wire rack to cool completely before serving.
Enjoy your delicious churro cookies with family and friends!
That was fresh!