Ah, spaghetti and meatballs – the ultimate comfort food that's been stealing hearts and filling stomachs for centuries! There's just something so satisfying about twirling that fork around the spaghetti strands, then taking a bite out of a perfectly cooked meatball. Whenever I have friends or family over, I can't resist the urge to whip up a batch of this oh-so-delicious dish.
Now, the secret to the most scrumptious spaghetti and meatballs lies in, you guessed it, the sauce! The key is to let it simmer for hours; bringing out all those scrumptious flavors. Trust me, your taste buds will thank you later.
First things first, let's talk meatballs. I love mixing ground beef and pork for that extra depth in flavor. Adding some fresh minced garlic, chopped parsley, breadcrumbs, and grated parmesan will elevate those meatballs to a whole new level, trust me. Oh, and don't forget the beaten egg to hold everything together like a loving grandma's hug!
Now, gently roll 'em into golf ball-sized meaty goodness (no need to be super precise here). Then, sear those babies in a hot pan with a little olive oil. You'll definitely want to brown them but remember, they'll finish cooking in the sauce. Speaking of which, it's time to get saucy!
For the sauce, start with sweated onions and garlic, then toss in canned tomatoes, fresh basil, a pinch of sugar, and a dash of red pepper flakes for some excitement. Now, in go those mouth-watering meatballs. The waiting game begins, as you let that pot of deliciousness simmer for a few hours. Hey, patience is a virtue, right?
As your masterpiece comes together, it's time to prepare the spaghetti. Cook it to al dente perfection, because nobody likes mushy pasta. Toss it together with some of that heavenly sauce, and ladies and gentlemen, we are ready for a feast!
Serve it family-style, garnish with some fresh basil leaves, and listen to those sighs of delight as your guests dig in. So, there you have it – the secret sauce (literally) to a crowd-pleasing spaghetti and meatballs. Happy cooking, food lovers!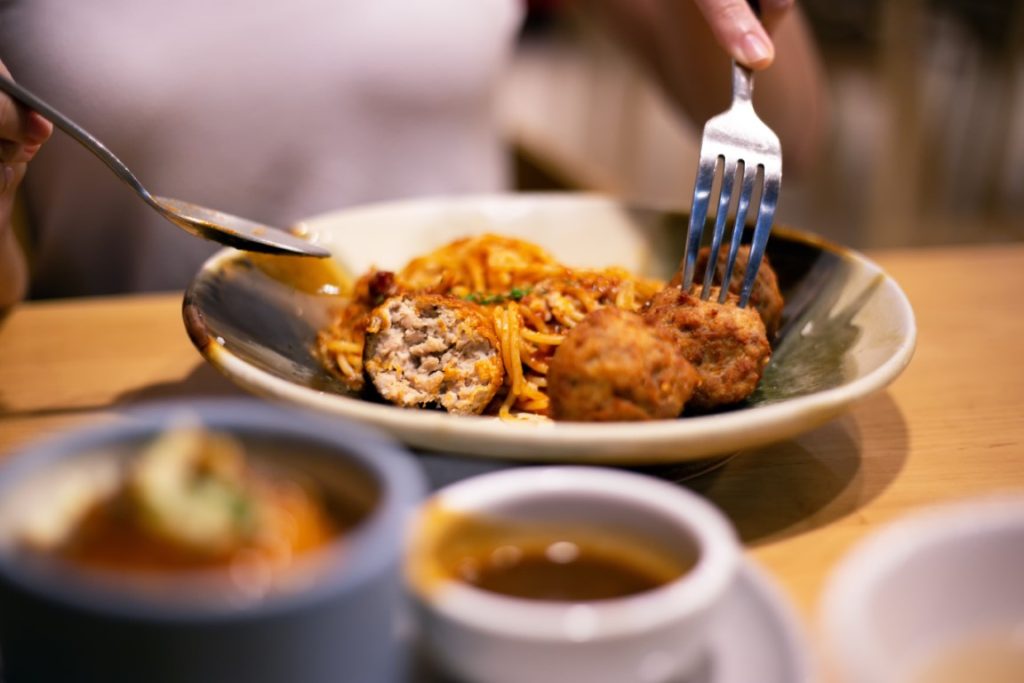 Gather ingredients:
1 lb ground beef
1 lb ground pork
1 cup breadcrumbs
1/2 cup grated Parmesan cheese
1/4 cup chopped fresh parsley
3 cloves minced garlic
1 large beaten egg
Salt and pepper
Olive oil
1 medium onion, chopped
2 cans (28oz each) crushed tomatoes
1/4 cup fresh basil leaves
1 tsp sugar
1/2 tsp red pepper flakes
1 lb spaghetti
Make meatballs:
In a large bowl, combine ground beef, pork, breadcrumbs, Parmesan, parsley, minced garlic, beaten egg, salt, and pepper.
Mix until well combined, then form into golf ball-sized meatballs.
Brown meatballs:
Heat a large skillet with a drizzle of olive oil over medium heat.
Add meatballs and cook, turning occasionally, until browned on all sides.
Remove and set aside.
Make sauce:
In a large pot, heat a few tablespoons of olive oil over medium heat.
Add chopped onion and cook until softened.
Add minced garlic and cook for 1-2 minutes.
Stir in crushed tomatoes, sugar, and red pepper flakes.
Add fresh basil leaves, then season with salt and pepper to taste.
Cook meatballs in sauce:
Add browned meatballs to the pot, ensuring they are submerged in the sauce.
Reduce heat to simmer and cook for 2-3 hours, until flavors meld and meatballs are cooked through.
Cook spaghetti:
Bring a large pot of salted water to boil.
Cook spaghetti according to package instructions until al dente.
Drain and set aside.
Serve:
Combine cooked spaghetti and sauce, then top with meatballs.
Garnish with more fresh basil and grated Parmesan if desired.
That was fresh!